AT&T LG Optimus G Pro Leaks Before May 1 Launch
A new leak shows the upcoming LG Optimus G Pro with AT&T branding, possibly confirming at least one carrier for the new phone.
LG will announce the new Optimus G Pro for the U.S. on May 1 at an event in New York City, and the leaked photo seems to confirm the phone will come to AT&T sometime after the event. The leaked image comes from @evleaks and shows the same phone that LG included in its invitation to the event, albeit with new branding.
The 5.5-inch 1080p Optimus G Pro is LG's competitor to the Samsung Galaxy Note 2, though it lacks the stylus that Samsung's phablet has.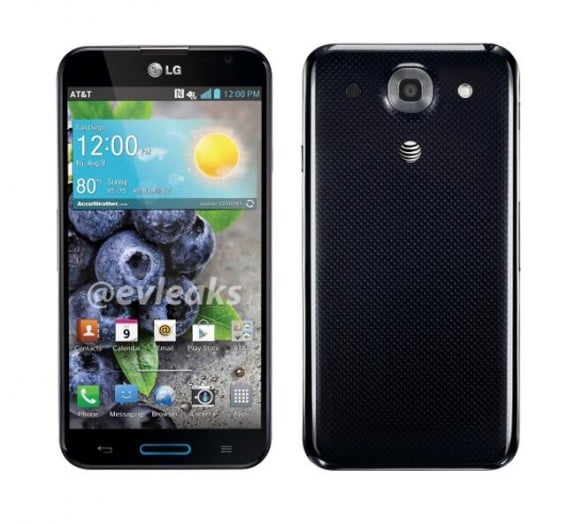 Another leak from Engadget claims the AT&T variant of the LG Optimus G Pro will use a 1.7GHz Snapdragon 600 processor with 2GB of RAM and 16GB of storage. The phone will also likely feature a large 3,140mAh battery, a 13MP rear-facing camera and a 2.1MP front-facing camera. Of course, it will have radios to support AT&T 3G and 4G LTE.
The specs of the phone are fairly similar to those of the new Samsung Galaxy S4, though LG's phone uses a larger display (which is therefore less pixel dense). The main differences aside from the screen will lie in the software.
The LG Optimus G Pro may use the same outdated Android 4.1 Jelly Bean as the HTC One as opposed to the more recent Android 4.2.2 the Galaxy S4 uses. LG will include its own skin on top of the phone as well as a number of its own apps.
Those apps include QSlide which is similar to Samsung's multiview feature, Dual Recording (use both camera at once, again like the Galaxy S4), VuTalk for share notes, Tag+ for NFC, QuickMemo and Notebook. There may also be an app that lets users change the LED around the phone's home button. Unsurprisingly, almost every app is similar to apps on the Samsung Galaxy S4.