AT&T, U.S. Cellular Reveal Galaxy Tab Plan and Pricing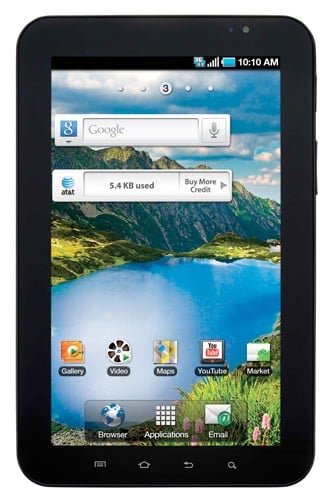 AT&T will be the last of the four major carriers to reveal and make available Samsung's Galaxy Tab Android tablet, and the carrier is doing so with the highest price tag of its big rivals. The non-contract version of AT&T's offering will net $649.99, a full $50 more than what other carriers are offering the Tab for, on November 21. That said, the higher price does give you $50 back in credit to spend on Samsung's Media Hub for the movies and TV shows that you may want to own or rent, so it's really a break-even at the end of the day if you're buying into Samsung's digital download ecosystem.
As far as data plans go, AT&T's offering is in line with the company's iPad offering with a $15 and $25 plan for either 250 MB or 2 GB of data per month, contract free.
U.S. Cellular will also be joining the four big national carriers to offer the Galaxy Tab. The regional carrier will be making the Galaxy Tab available on-contract for $399 after a mail-in rebate on November 19th. The 200 MB data plan will run for $14.99 while $54.99 will net you 5 GB.
T-Mobile, Verizon Wireless, and Sprint had made their versions of the Galaxy Tab available for purchase last week. A contract-model from Sprint would cost $400 on-contract with a 2GB data plan with unlimited messaging for $29.99 per month or a 5GB data plan with unlimited messaging for $59.99 per month. Verizon's off-contract model would cost $600 plus $20 for 1 GB of data, $35 for 3GB, $50 for 5 GB, or $80 for 10 GB per month with no contract required. T-Mobile USA offers a contract-free version of its Tab for $600 and a contract version for $400 with either contract or contract-free plan versions. T-Mobile charges $40 for 5 GB of data on-contract while a 1 GB monthly access (no contract) option for the tab is $50 for 30 days; 250 MB on-contract costs $25 per month while 300 MB costs $30 for 30 days on a no-contract option and a week pass sans contrast cost $10 for 100 MB.
For AT&T, the carrier did not say whether or not it is locking its Galaxy Tab down to only be able to install applications from Android Market or if sideloading is a possibility. In the past, AT&T has said that it would only allow Android smartphones to get apps only through Android Market for a better user experience and to ensure that everything works smoothly. Sideloading is a procedure that allows apps obtained either as a direct website download or from a PC to be loaded or installed onto a device. Those apps would therefore not be obtained from Android Market.
Considering that the carrier currently enjoys a U.S. exclusivity with Apple on the iPhone, it would be interesting to see how the Galaxy Tab fares against the iPad, which boasts a larger screen and a cheaper price in the U.S. at $630 for the base 16 GB WiFi + 3G model. Rival Verizon Wireless has also as of recently begun to offer the iPad for sale on its network. Rather than offering a model with integrated 3G like AT&T, Verizon's model is just the WiFi model bundled with a mobile hotspot, such as the MiFi, and priced similarly to AT&T's model with WiFi + 3G built-in.
Source: Engadget