Barnes & Noble Slashes Nook Tablet Prices, New Nooks Expected Soon
Barnes & Noble is possibly preparing for a new Nook Tablet by cutting the prices on current models of the Nook Tablet and Nook Color.
According to Geeky Gadgets, Barnes & Noble recently cut the Nook Tablet 8GB by $20 from $199 to $179. The 16GB Nook Tablet saw an even deeper cut of $50 from $249 to $199. The Nook Color was also cut by $20 from $169 to $149.
The book retailer will likely announce a new Nook Tablet in September, which explains the price cuts. Cutting prices is an easy way to clear out some inventory before the new version arrives. It's the same tactic Amazon pulled last week on the Kindle and retailers are using on the iPhone 4S.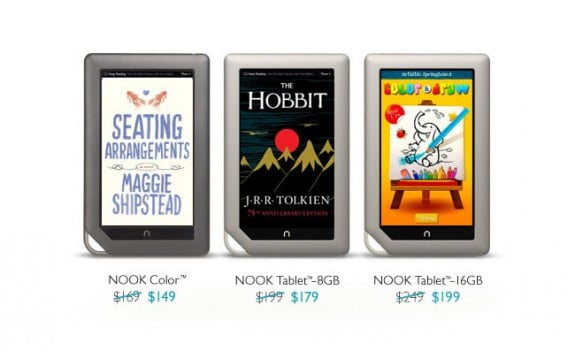 With the price cuts, the Barnes & Noble Nook Tablet models undercut the Nexus 7 tablets with the same storage space. The 16GB Nook Tablet now costs as much as the 8GB Nexus 7. Unfortunately, however, the Nook Tablet doesn't have quite the same features as the Nexus 7.
The Nook Tablet and Nook Color both run modified versions of Android 2.3 with a custom skin and a specialized app store. While Nook Apps does offer a number of popular Android apps, like the Kindle Fire the main purpose is for reading. Every app in Nook Apps is available in other app stores, and other tablets can use the Barnes & Noble Nook app to read books.
We don't know much about any future Barnes & Noble tablets, but we'd like to see something with a higher resolution screen and a faster processor. We know Barnes & Noble has a "strategic partnership" with Microsoft, but we doubt the company's next tablet will use Windows RT or Windows 8.

As an Amazon Associate I earn from qualifying purchases.