Battlefield 1: Which Edition to Buy?
If you're thinking about putting in an order for Battlefield 1 allow us to take you through each edition of the game and tell you which one you might, and might not, want to order today.
Its been several months since the release of Battlefield 1 and DICE continues to update the game in new and interesting ways.
The company's released several free updates including its brand new Winter Battlefield 1 update for all three platforms. These updates have delivered new features and fixes for lingering issues. The game is far more stable than it was at launch.
DICE has also launched a Battlefield 1 Community Test Environment (CTE) and it's poised to release the Battlefield 1 DLC 1 dubbed They Shall Not Pass. Battlefield 1 is as exciting as ever and you might be feeling tempted to pickup a copy.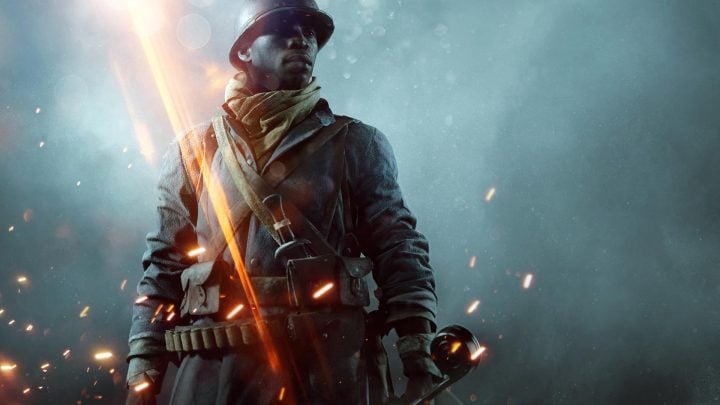 You can buy Battlefield 1 at a number of retailers and if you've thought about putting in an order you've no doubt encountered the game's various editions.
Today we want to go over each of those Battlefield 1 editions and try and help you make the right choice for you and your console.
Battlefield 1 Standard Edition
The most basic version of Battlefield 1 is the Standard Edition. This version usually retails for $60 but we've seen a ton of Battlefield 1 deals emerge in 2017. You should be able to find it for $40 or cheaper.
As the standard version, it delivers the least amount of content. You get a copy of the game and that's it. The game's Premium Pass is sold separately and you'll miss out on some additional items including themed weapons and vehicles.
So who should buy this edition of Battlefield 1? Simple:
Newcomers to the Battlefield series.
Those that don't have a ton of time to play games.
It's the safest, and cheapest, version of Battlefield 1.
Battlefield 1 Deluxe Edition
If you're willing to pay a little more for your copy of Battlefield 1, you could opt for the Battlefield 1 Deluxe Edition.
The Battlefield 1 Deluxe Edition, once known as the Early Enlister Edition, comes with a number of bonuses. Those bonuses come with a real cost to you though.
For $20 (or so, there are deals out there) more you'll get a copy of the game, two theme packs, five Battlepacks that contain a variety of items (and maybe even a rare item or two if you're lucky), and some new appearances for the game's vehicles. Here's how that breaks down.
Red Baron Pack: Vehicle Package: Red Baron's Triplane, Sidearm: Red Baron's P08, Emblem: Red Baron's Flyer Pin.
Lawrence of Arabia Pack: Horse: Lawrence of Arabia's Black Stallion (new visual appearance for the horse), Weapon: Lawrence of Arabia's SMLE, Sidearm: Lawrence of Arabia's Jambiya, Emblem: Lawrence of Arabia's Emblem.
New visual appearances for the largest vehicles in the game: Frontline Camouflage Train, Night Raid Airship, Dazzle Camouflage Dreadnought.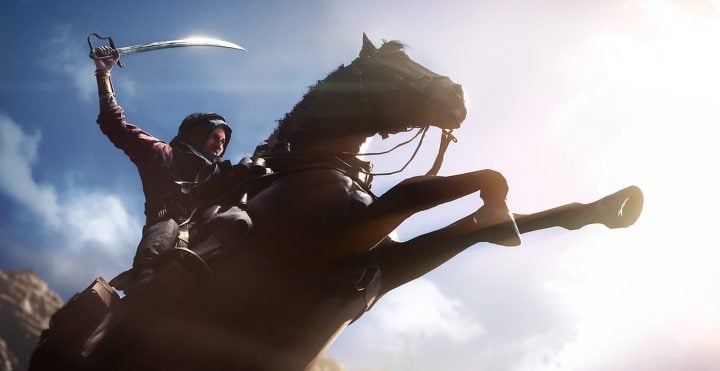 So who should shell out the extra cash for this edition of Battlefield 1?
People who know they are going to invest a ton of time in Battlefield 1.
People that enjoy having more than just the base items/skins unlocked at the start.
Battlefield 1 Collector's Edition
Amazon is also selling an exclusive Battlefield 1 Collector's Edition. It'll cost you a pretty penny but it'll net you a ton of Battlefield related stuff.
This edition comes with a copy of the game and some unique items including a collector's edition statue that stands 14″ high, a deck of Battlefield 1 playing cards, a steelbook case, a messenger pigeon tube with exclusive DLC content (Doughboy M1911), an exclusive patch, and premium packaging.
If you select the Deluxe version of the Collector's Edition (which is actually a bit cheaper than the Standard version is right now), you'll get everything that comes with the Deluxe Edition we outlined above.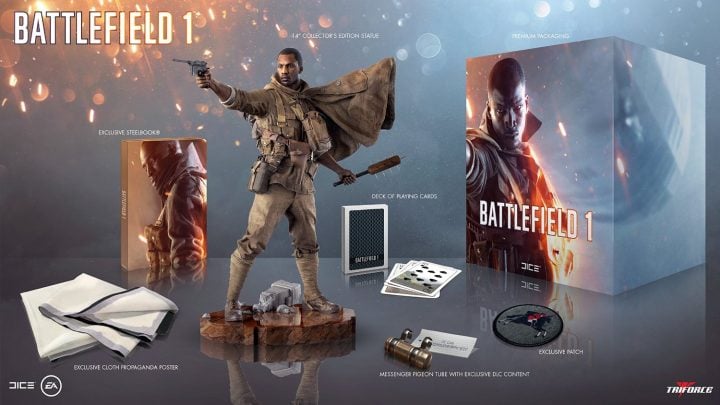 This version of the game is, in our opinion, aimed at one person in particular: The diehard Battlefield fan. (Or someone who needs to have every single piece of Battlefield 1 DLC, whatever the cost.)
Most people should opt for the Standard or Deluxe edition of Battlefield 1.
Battlefield 1 Ultimate Edition
On top of these three options there's also a Battlefield 1 Ultimate Edition that nets you the Deluxe Edition and the Battlefield 1 Premium Pass. The Premium Pass is a Season Pass that nets you all four DLC expansions, battlepacks, dog tags, and more.
The Battlefield 1 Ultimate Edition is currently $130 most places. (Deluxe Edition is $80, Premium Pass is $50, 80+50=130) We haven't seen too many deals for the Ultimate Edition, at least not yet.
This version is aimed at those that want all of Battlefield 1's content though it should only be purchased if you can't find any deals on the Deluxe Edition and the Battlefield 1 Premium Pass.
We've seen several deals on those two so be sure to look around before you commit to the Ultimate Edition. You might save yourself some money
Digital vs. Physical Edition
You'll also need to decide if you want to buy a physical or digital copy of Battlefield 1. There are a few differences between the two.
If you decide to order the physical version of Battlefield 1, you'll be able to sell it to a store like GameStop for credit toward another game. Or you can sell it for straight cash via eBay or Craigslist or another site of your choosing.
You'll also be able to lend your copy of Battlefield 1 out to friends or family members if you grow tired of it after you've exhausted the content.
Note that EA isn't selling Battlefield 1 for PC with a disc in the United States. You'll be able to buy the box in stores but it won't come with a disc. It'll come with a code instead.
Some of you might have a mountain of discs and cases sitting around collecting dust. Buying the digital version will help you cutdown on potential clutter.
If you are the parent to a destructive child, or if you yourself take horrible care of your games, it might be wise to buy a digital copy to avoid damage to the disc.
There's also the convenience factor. If you buy the game digitally, you won't have to look for and/or pop in the disc every time you want to play Battlefield 1. If you're the lazy type, the digital format might be perfect for you.
13 Things to Know About Battlefield 5
Battlefield 5 Release Date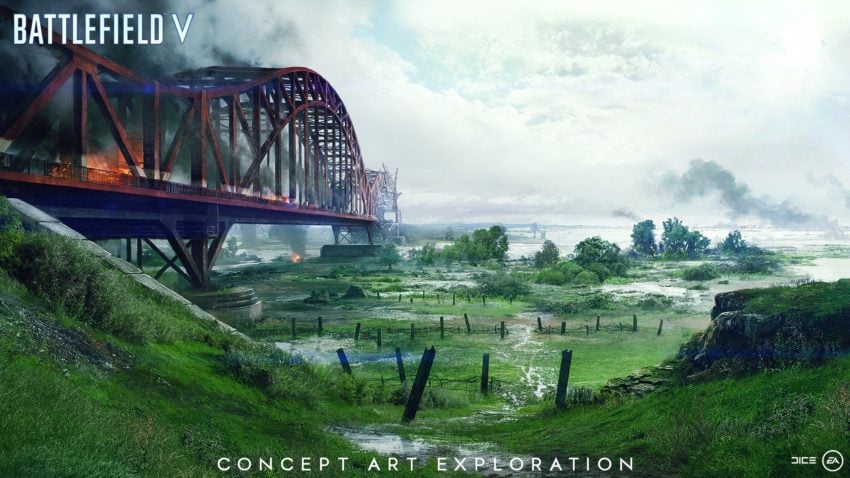 If you're excited about the next Battlefield game you're probably wondering when it'll go on sale.
Earlier this year EA said that it planed to release the next Battlefield game in October, 2018 and the company is sticking to that window.
Battlefield 5's worldwide release date is confirmed for October 19th, but there are actually three Battlefield 5 release dates.
Battlefield 5 will open up for EA and Origin Access members on October 11th.
Those who pre-order the Battlefield 5 Deluxe Edition will get access on October 16th while those who buy the standard version of the game will get access to the game's content a few days later on October 19th.