5 Best Amazon Fire 7 Cases (2017 Version)
The Amazon Fire 7 tablet is more durable than the iPad, but it is still a good idea to invest in a case to upgrade the protection and keep your tablet safe from drops. You can also use some of the best Fire 7 tablet cases to add features and change up the style of your tablet. All these cases are for the 7th generation 2017 version of the Amazon Fire 7 tablet.
Our favorite cases for the Amazon Fire tablet 7 include kick stands or make it easier to hold on to the case. If you are looking for a case for kids, you should consider upgrading to the kids version of this tablet that comes with a rugged case and a no questions asked exchange policy if you break it.
Since the Amazon Fire 7 tablet is a budget device at $49.99, and often on sale for $29.99, we are keeping all of our picks below $30 so you don't need to break the bank when you protect your tablet.
Best Amazon Fire 7 Cases
Official Fire 7 Tablet Case – $24.99
Fintie Silicone Fire 7 Case – $12.99
Poetic SlimFolio – $10.95
Amazon Fire 7 Kids Case – $24.99
Smart Amazon Fire 7 Case – $13.99
While there are not as many cases out there as you might see for an iPad, there are plenty of great options at affordable prices. Make sure that if you don't choose from this list you get a case that works with the 7th generation Fire 7, or the 2017 Fire 7 tablet, since older cases will not likely fit this model right.
Official Fire 7 Tablet Case - $24.99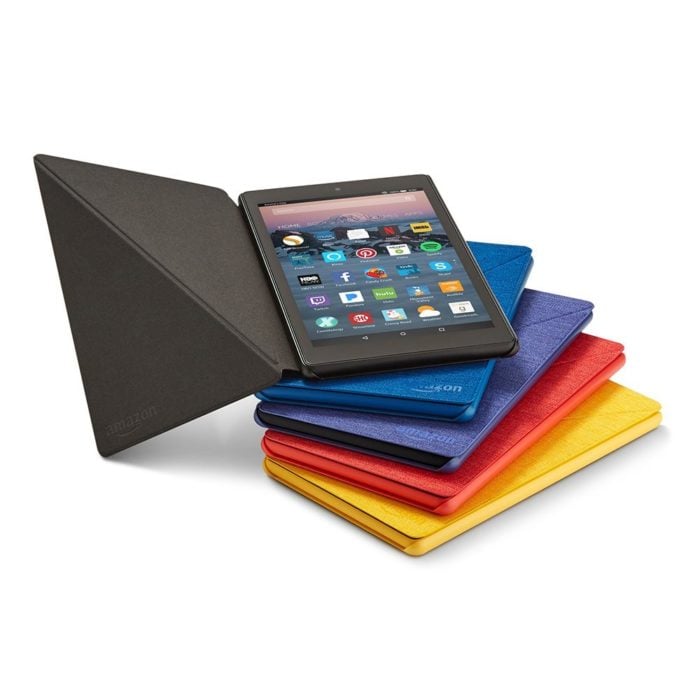 The official Amazon Fire 7 case is an origami style with a front cover that protects your screen and a tough back to keep the tablet safe. It's slim and lightweight so you don't ad much bulk, but you do get new features.
When you are ready to use your Fire 7, the front opens up and can fold behind so you can hold the case in one hand. Or you can fold it back into a kickstand that puts the Fire upright in portrait or landscape orientation so it's just as nice for watching movies as it is reading books.
The magnets built into the cover keep it closed and also help with the folds that let you use the kickstand. The case is available in multiple colors and the exterior is a nice fabric that is soft to the touch and there is a microfiber inner that helps protect the screen. The colors match the Fire 7 tablet color options.
While many reviews like the stand, one of the biggest complaints is that the stand is not sturdy enough. If you need something with a sturdier base look at another option on our list.

As an Amazon Associate I earn from qualifying purchases.