Best Apps for Cheap Flights
Tired of spending hours searching for the best deals on flights? There are apps for iPhone, iPad, and Android that can help you find affordable flights very quickly. In this guide we'll take a look at some of the best apps for finding cheap flights.
With these apps, you can find great deals, compare prices across different airlines and booking sites, and book your next trip with confidence. They'll also help you save a ton of time while planning your next trip.
Most of these apps are free though some require fees in order to take advantage of some features. All of them let you buy your tickets, pick your seats, and even share your trip details within the app itself. And most of them offer free phone and chat support if you run into a problem.
Skyscanner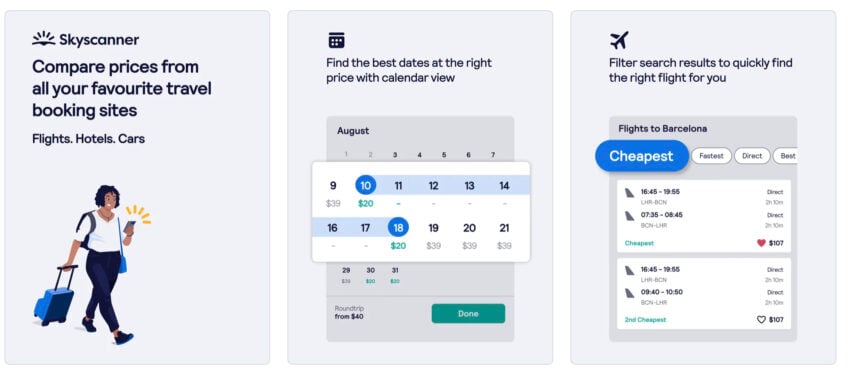 Skyscanner is an extremely popular flight search engine that compares prices from various airlines, travel agents, and booking sites and it will help you find the best deals for your trip.
The app include a calendar view that breaks down the cheapest flights in whatever month you're looking to fly. You can then setup alerts that will tell you when the price changes for the time you select.
It also has useful filters that allow you to search for flights based on airline, departure and arrival times, class, and the number of stops.
Hopper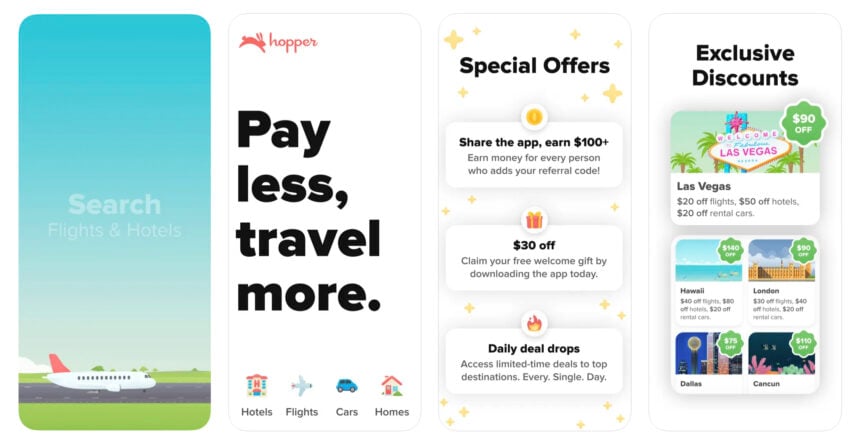 Hopper uses data analysis to predict when flight prices will be at their lowest, allowing you to book flights at the best possible prices.
Like Skyscanner, it includes a calendar view that lets you take a quick look at future flight prices. It will also tell you when it expects prices to drop, or rise, which is useful if you're planning a trip months in advance.
You can also use Hopper to freeze a flight's price and the company will cover up to $300 if the price of the flight you select goes up.
Fareness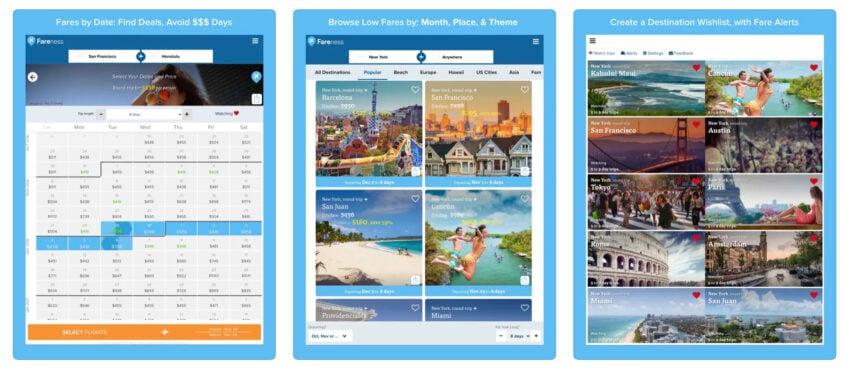 Fareness is another app that shows you airfares on a calendar, giving you a quick and easy way to find cheap tickets. If your dates are flexible, you may be able to save up to 70% on your trip.
However, in order to take full advantage of the app, you'll need to subscribe once the seven day free trial ends. Fareness is $4.99 a month, but a subscription might be worth it if you do a lot of traveling throughout the year.
CheapOair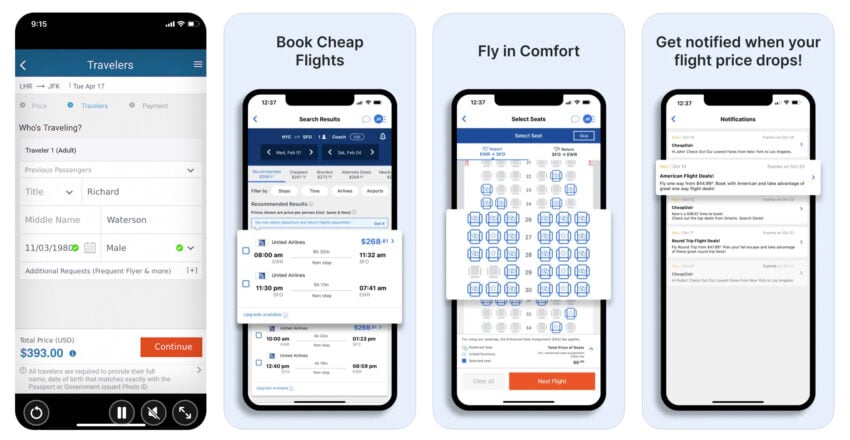 CheapOair specializes in finding affordable flights. It analyzes daily flights from over 500 airlines around the world.
Once you search for your destination and dates, CheapOair will show you the cheapest flights available. If you don't want to book right away, you can setup price alerts.
Kayak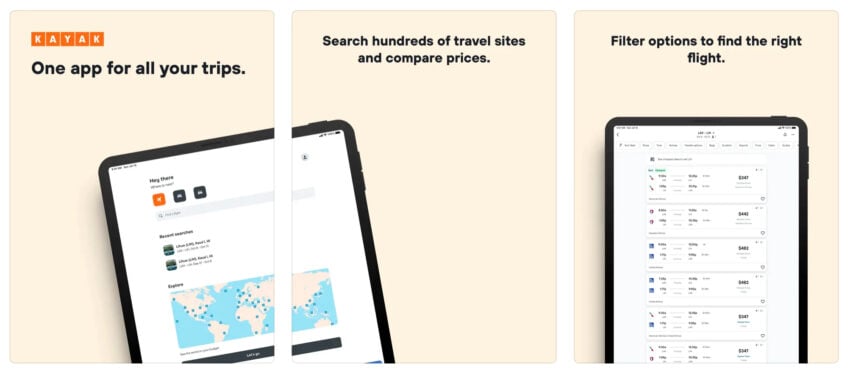 Kayak is a travel search engine that allows you to compare prices from various airlines which makes it easy to find the best possible pricing for your trip.
The Kayak app also offers a variety of features to help you plan and manage your trips. These include flight status updates, airport maps, and price alerts.
Momondo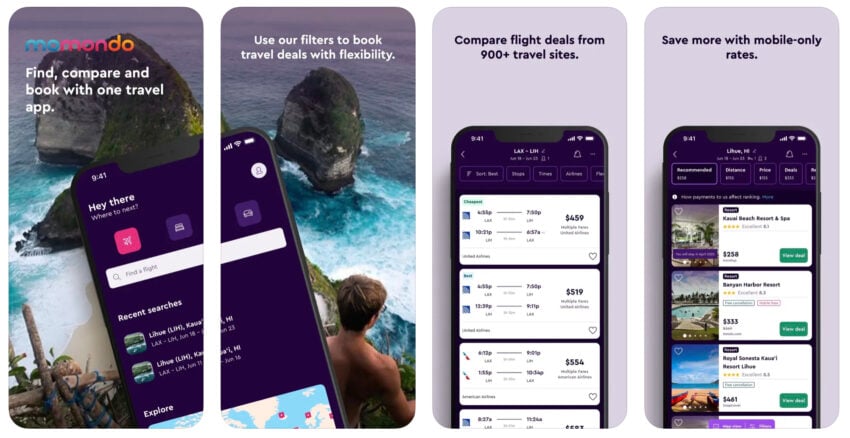 Momondo is another popular flight search engine that compares prices from various airlines and booking sites to find you the best deals on flights.
The app has a user-friendly interface and lets you search for flights by destination, date, and even by your budget. You can also search by preferred airlines, travel class, and even time of day.
The app also offers a price calendar feature that shows users the cheapest flights for the entire month, making it easy to find the best deals out there.
Expedia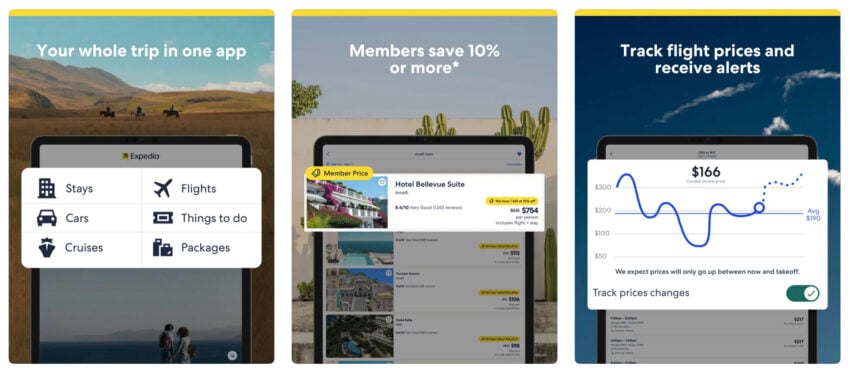 Expedia is a comprehensive travel booking platform that allows you to book flights, often at heavily discounted prices. It's an aggregator and will show you the best prices across airlines and travel sites.
The app also offers a price match guarantee. If you find a cheaper flight within 24 hours of booking, the company will refund the difference and give you a $50 travel coupon for future travel.