Best Fighting Games for Android
This guide shares a list of the best fighting games for Android. And while fighter titles aren't as popular as they've been in the past, there are several great titles worth trying.When it comes to gaming on our Android smartphones and tablets the options are almost endless. Die-hard fans of the genre will love the roundup of fighting games for Android below.
These games were once the most popular titles on consoles. Over the years that trend has faded. Now though, stunning graphics and easy on-screen controls make them perfect for Android. That said, not all of them are worth downloading or buying. As a result, we've rounded up the best options worth trying.
Read: 10 Best Racing Games for Android
In the past, we've detailed shooter games, racing titles, casual games and more. Now, it's time for the old-school fighters to make a comeback. As long as you have a fairly new phone or tablet that can handle the graphics, these are the fighting titles you gotta try.
With 8-core processors and Quad-HD screens, many Android games are near console quality. Then, we're expecting games to improve throughout 2018.
With that said, it's time to recommend some awesome games worth playing today. We have everything from original favorites like Mortal Kombat, boxing games, Injustice for mobile and more. If you search this genre on the Google Play Store you'll find countless games, but only a handful are worth spending money on.
Over the past year or two Android games have improved by huge margins and are getting better with each release. Not to mention Android 8.0 Oreo changes and Google's Vulcan gaming API should usher in an entirely new level of quality titles. We're looking forward to exciting games throughout 2018. Without further delay, these are the best fighter games for Android available today. Take a look at our list (in no particular order) then check out the slideshow below for more details and links to download each one.
Best Fighting Games for Android
Mortal Kombat X
UFC Mobile
Brothers: Clash of Fighters
Injustice: Gods Among Us
Real Boxing 2: Rocky
The King of Fighters '97
Samurai Shodown II
Shadow Fight 3
The games detailed here will keep you busy for hours, on the edge of your seat, and keep those fingers moving. We're starting with Mortal Kombat for nostalgia, then suggest others you'll surely enjoy.
We didn't get a ton of new exciting games in 2017, but we're expecting more throughout 2018. However, Shadow Fight 3 arrived and is hands-down one of the best titles of the year. If you're looking for a way to pass your time, play some of the games in our slideshow below.
Mortal Kombat X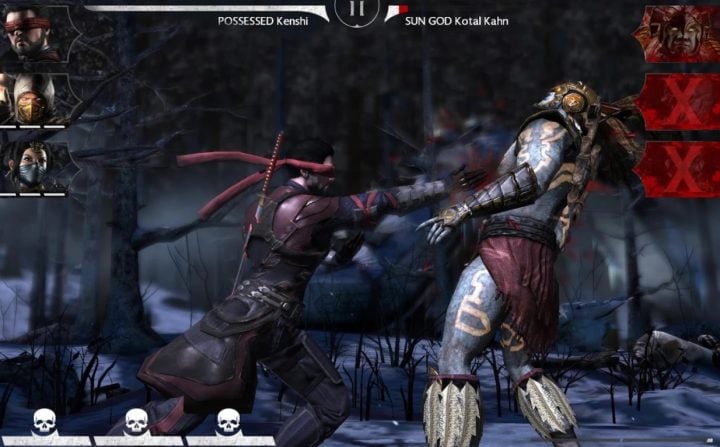 This list is in no particular order, but it seems fitting to start with an original. The classic Mortal Kombat we all know and love. Their latest title for mobile, dubbed Mortal Kombat X takes all the bloody battles and round-house kicks from the console and optimized it for mobile devices.
It has all the characters we've come to love and expect from MK, and some new ones to keep things fresh and fun. Surprisingly the on-screen touch controls are very good too. They manage to be easy enough to master in a short amount of time, and don't make you feel like you might mess up or lose a battle because of them. It's touchscreen controls done right. The 3x3 battles are really fun, and it's completely free.
However, this is one bloody and violent game, so we'd probably not recommend it for younger children.
... FINISH HIM!

As an Amazon Associate I earn from qualifying purchases.