11 Best Flight Tracking Apps (2023)
These are the best flight tracking apps for iPhone, iPad, and Android. These apps will help you save time, get you to your gate on time, and help you make your connection.
Traveling can be stressful, especially when you need to be somewhere at a certain time or if you need to catch a connecting flight in order to get home at a reasonable hour.
One way to relieve some of this stress is by using an app to track your flight. Flight tracking apps have come a long way and they now provide you with an incredible amount of information about your flight.
Over the years I've used many flight tracking applications, mostly to help with the anxiety I typically feel when it's time to go on a trip.
I always recommend downloading the app from your favorite air carrier, but most of these apps only supply basic information about your trip. Some of them, the Hawaiian Airlines app for example, need a ton of work.
If you want more than boarding and departure times, you'll need to turn to apps on Apple's App Store and the Google Play Store for help. If you don't have the time, or money, to spend looking for the best flight tracking app for you and your needs, you're in the right place.
These are my favorite flight tracking apps and I rely on these when I travel. I tend to use FlightAware more than the others, but all of them are capable. I recommend trying all of them in order to see which user interface is most comfortable for you.
These apps will help you track an inbound flight, figure out where your delayed plane might be, manage your flights, and stay up to date with gate assignment changes.
Most of the apps are free though some of them require an upfront fee or a monthly subscription to unlock additional features. Be sure to read reviews before you spend your money.
FlightAware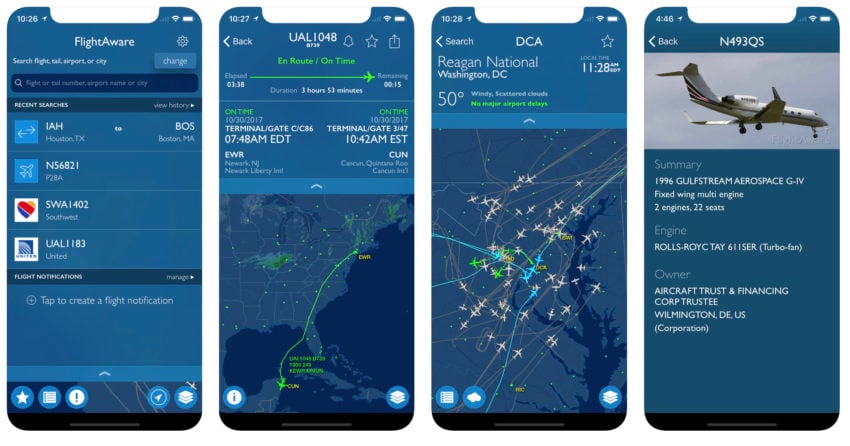 When I want or need to track my flight I typically use FlightAware. It's consistently the most accurate and the most useful and best of all, it's free. The paid version does away with ads.
FlightAware is a comprehensive travel app for iPhone and Android that allows you to easily track your flight. Simply enter your airline and flight number, you can also search by route or by airport, and you'll get a live look at the most important details regarding your trip.
You'll get gate information, you'll get up-to-date information about your departure and arrival times (these often update faster than the airline app), and you can even check where your plane is at the moment if it's not at your gate.
I sometimes check the progress of my flight while on board so I can mentally prepare myself for what's ahead. Sometimes it's nice to know you've only got an hour left on a five hour flight.
If you're planning to pick a loved one up from the airport you can use FlightAware to get up-to-date information about a flight's arrival time.
And for those who can stomach them, I can't, you can flip on push notifications to get all of this information sent to your device so that you don't have to stop what you're doing.