Best Galaxy S10e Screen Protectors
These are the best Galaxy S10e screen protectors available that will help you keep your phone safe. With a big fancy 5.8-inch screen sporting a cutout for the camera, a screen protector is highly recommended.
Galaxy S10e screen protectors come in two main styles and durability levels. You can buy a cheap film at most carrier retail stores, or opt for strong chemically strengthened glass protectors.
Our list has a few recommendations under $8, which is better than spending $200 to replace a shattered screen. Or, more reputable options from popular brands cost upwards of $50 but ensure the highest levels of protection against life's daily hazards.
Best Galaxy S10e Screen Protectors
Whitestone Dome Glass for the Galaxy S10e – $50
Spigen NeoFlex TPU Film 2 Pack – $9
BodyGuardz PureGlass – $40
LK Tempered Double Defense Glass – $10
InvisibleShield Glass+ VisionGuard – $45
IQShield LiquidSkin 2 Pack Film – $8
amFilm Tempered Glass Easy Kit – $10
QITAYO Premium Tempered Glass – $9
1. Whitestone Dome Glass for the Galaxy S10e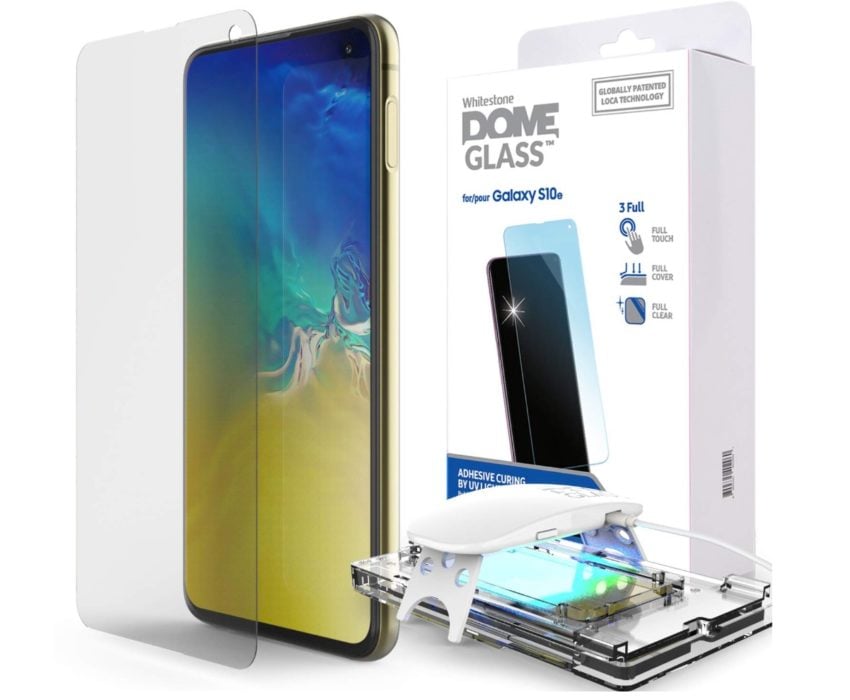 The first Galaxy S10e screen protector we'll recommend is the award-winning Whitestone Dome Glass kit. This company perfected the installation process and ship every screen protector with a UV light that chemically cures the protector to your phone. Ensuring a perfect fit that won't come off, excellent touchscreen sensitivity response, and durable protection.
We like that Whitestone supplies an easy installation alignment tray too, that way you'll always put the protector on perfectly the first time. Align the tray and secure your phone in place, then drip the "liquid clear adhesive" onto the screen. Lower the tempered glass screen protector down and cure it with the included UV light. It's that simple.
Whitestone is part of the "made for Samsung" program which guarantees a perfect fit and great experience.
2. Spigen NeoFlex TPU Film 2 Pack
Next up is the Spigen NeoFlex film for those that don't want to spend $50 on screen protection. Spigen is a brand we know and trust that makes great cases, and they promise the NeoFlex film will fit your Galaxy S10e like a glove and is compatible with cases. That way when you throw your phone in a case it won't raise up the edges and ruin your screen protector.
The Galaxy S10e is the first Galaxy in a few years with a flat screen, instead of curved edges, so most screen protectors should fit perfectly. Spigen's NeoFlex film promises 99.9% clarity, a bubble-free installation that's easy, and a precise cutout for the front-facing camera. Plus, this military-grade film won't discolor over time and has a unique self-healing technology that fills in scratches over time. This is an excellent and affordable Galaxy S10e screen protector, and you get two, in case you mess up or ruin the first one.
3. BodyGuardz Pure Glass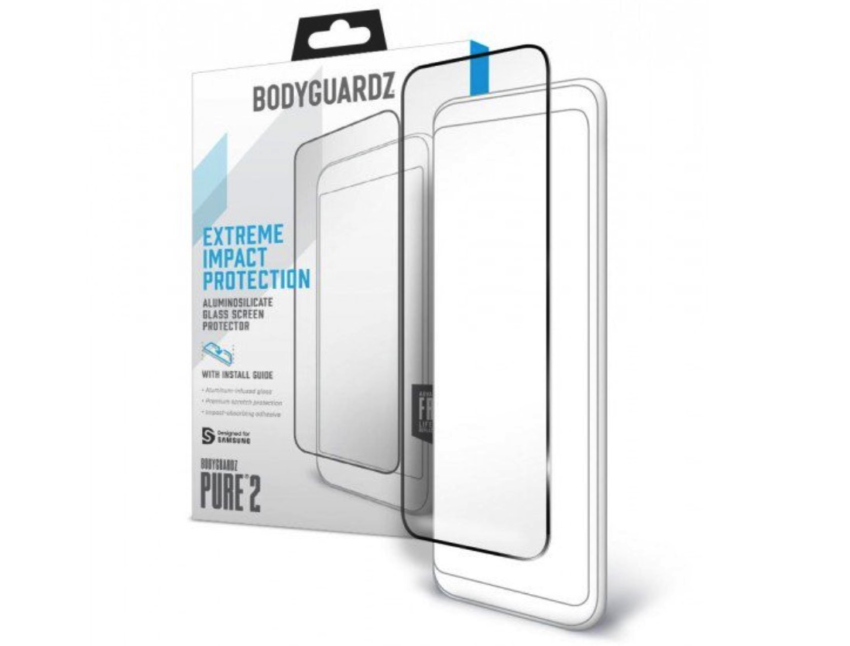 Buy it Now from BodyGuardz for $40
The BodyGuardz Pure 2 premium glass for the Galaxy S10e claims to be a "cut above the rest" in terms of the glass used to keep your screen safe. We've used their products for years with success, and this is another excellent option for Galaxy S10e owners.
Perhaps the best part about this screen protector is the enhanced border protection that's color-matched to the phone. That way the glass blends in with the rest of the phone. They also use a 2D rounded beveled edge, so the sides are smooth as you're swiping and typing away on the Galaxy S10e. Plus, they use an extra layer of "border adhesive" on the edges to ensure the screen protector won't peel, chip, or get pulled off from a case. It's some of the toughest and most durable glass on the market, so give it a try.
4. LK Tempered Double Defense Glass 3-Pack
One of the best brands of screen protection for the Galaxy S7 and Galaxy S8 came from LK, known as Lightning Knight. They're back with new "double defense" tempered glass for the Galaxy S10e, and you get three screen protectors for one low price. Yes, this is a 3-pack yet it's only $10.
With LK you get an easy alignment frame for the perfect installation every time, lifetime replacements should your glass crack, break, or raise up and come off the screen, and top-quality glass with a military-grade 9H hardness rating. Like the phone itself, LK glass comes with an oleophobic anti-fingerprint coating to keep the screen clean. And unlike some of our other protectors, this does NOT have a cutout for the front camera, which means the camera lens will never get scratched.
5. InvisibleShield Glass+ VisionGuard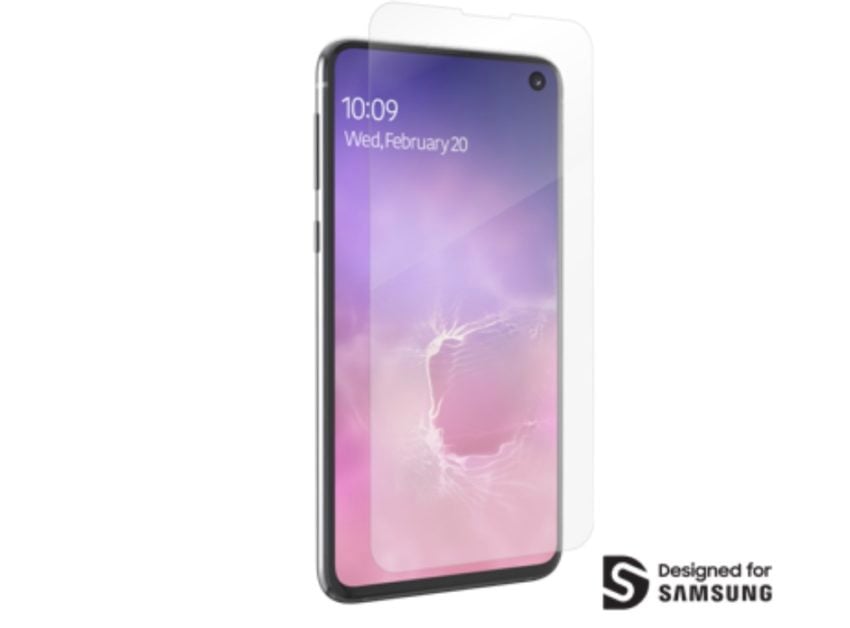 Everyone should know about Invisibleshield by now, as they pioneered screen protectors many years ago. Well, ZAGG is back with an all-new type of Invisibleshield glass screen protection. This is the Glass+ VisionGuard which promise to keep your Galaxy S10e screen safe AND keep your eyes safe at the same time.
This tempered glass screen protector has the usual ZAGG industry-leading chemically strengthened glass, but they've also built a blue light filter into the protector. Similar to the Night Mode on your phone, this glass will help prevent eye strain by blocking the blue light from the screen. However, it does this without changing the look or colors of the screen. So you'll enjoy the vibrant Galaxy S10e screen without worry of getting it scratched or having eye fatigue. It's pricey but worth it.
6. IQShield LiquidSkin 2 Pack Film
Next up is the popular IQShield LiquidSkin for the Galaxy S10e. This is a 2-pack so you'll have a protector for you and your significant other, or a spare to keep as a backup. Each IQShield comes with a proprietary screen protector easy installation tray, spray solution, squeegee, lint-free cloth, and easy to follow instructions.
Their film is extremely thin, durable, and vividly clear. Plus, it has a unique self-healing property where over time little micro scratches will actually disappear. Each piece of film is flexible yet tough, won't yellow or discolor over time, and they promise that LiquidSkin doesn't have that weird texture or "orange peel" look once you apply it to your phone. If your IQShield skin ever comes off, scratches or gets ruined in any way, they offer a lifetime easy replacement warranty program.
7. amFilm Tempered Glass Easy Kit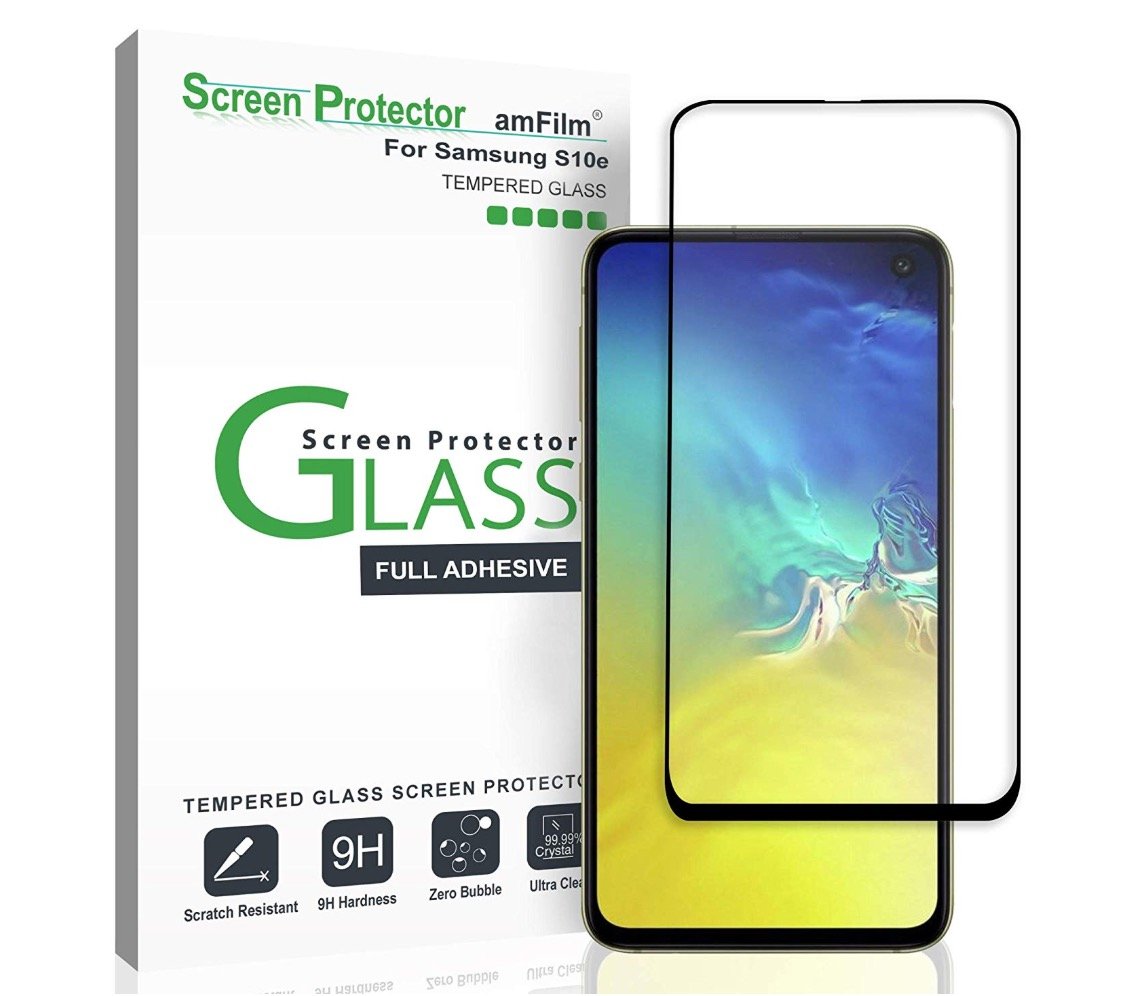 Next up is the amFilm tempered glass easy installation tray kit. amFilm was one of the most popular and highest-rated screen protectors for the Galaxy S7 and Galaxy S8, so naturally, we knew they'd offer something great for Samsung's latest phones.
The amFilm tempered glass for the Galaxy S10e is just 0.03mm thin, so you'll barely notice it on your device, and it's thin enough you can still use a case. Then, it meets all the usual 9H hardness levels and is one of the toughest glass options on the market. Plus, they provide an easy installation tray so you'll get the perfect install on the first try.
8. QITAYO Premium Tempered Glass
Last but not least, for now, is another cheap yet durable piece of glass for those that want total protection. While we've only tried one QITAYO product in the past, it worked great. Plus, this tempered glass has solid reviews on Amazon, which are real reviews, suggesting it fits great and offers plenty of protection.
So while ZAGG and WhiteStone are big-name brands with great products, these last two recommendations should deliver a similar experience and protection without the high price tag. If you're on a budget, give this or the amFilm a try.
In closing, unlike the Galaxy S10 and S10+ where the sides are curved and the fingerprint sensor is inside the glass, the S10e is flat. That means any and all screen protectors should fit great. So while we recommend a durable glass first, if you hate glass screen protectors a film from Spigen or IQShield is your best bet. We'll update this list with more options as we try them out and find the best Galaxy S10e screen protectors.