Best Grilling Apps for 2016
Here are the best grilling apps to help you grill better steaks, burgers, chicken and more on the best cooking surface available — your grill.
There are plenty of amazing iPhone grilling apps and Android grilling apps that can help you become a grill master in minutes.
The best grilling apps help you grill the perfect steak or season the perfect chicken breast as you fire up your grill for the season.
Some of the best grilling apps are free, but there are a number of them that you need to pay for. We like grilling apps that focus on this type of cooking compared to basic recipe apps.
Best Grilling Apps
Wether this is your first grill, or your just trying to become a better cook on the grill, you can use these apps to spice up your dinner. These apps are perfect for figuring out;
how long to cook a steak
how to grill different dishes
finding recipes
mastering your grill or BBQ.
Most of these apps will work on the iPad, iPhone and Android, so you can be as mobile as you want. It certainly beats cutting steak apart to figure out if you've cooked it long enough. We even have an app with an optional thermometer that will wirelessly send the temperature to your iPhone or iPad.
Weber Grills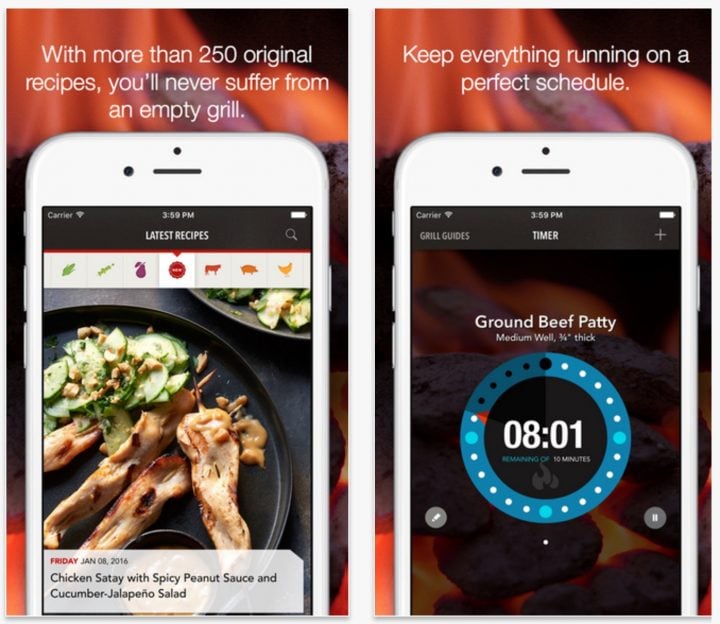 Use the free Weber Grills app to get access to 250 amazing recipes and a timer that can help you track how long each different item on your grill needs to be cooked to make sure they are done just right.
There are grill guides that show you how long to cook, whether you should cook direct or indirect and more. The app also trains you will Grill Skills lessons that will shoe you setup, knife skills, food prep and grilling tips.
The Weber app also allows you to create a shopping list and favorite your recipes.
GrillTime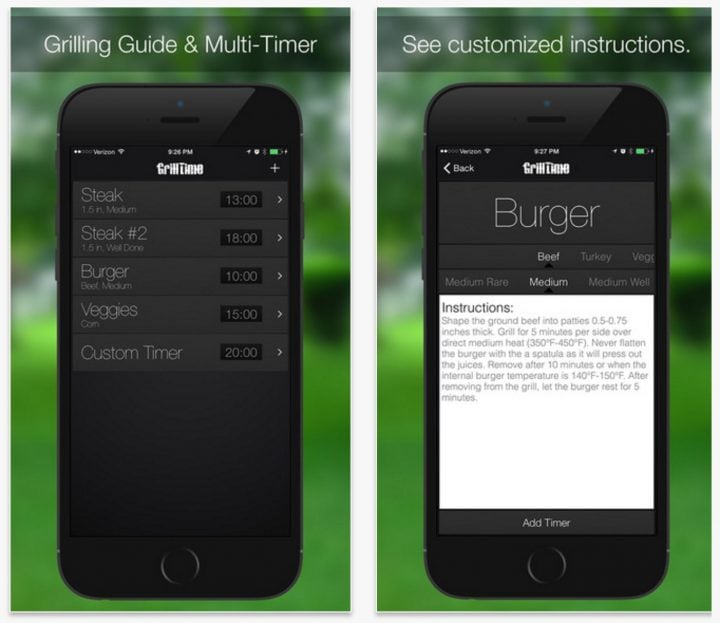 The GrillTime app is free on Android and $1.99 on iPhone. This app allows you to quickly set timers for cooking steak, burgers, chicken, pork, fish, veggies and more.
You just choose the thickness and how done you want the meat and you are ready to go. If you need to set a custom timer or run multiple timers at the same time, you can do that too. Set timers for;
Steak
Hamburger
Chicken
Pork
Fish
Sausage & Hot Dogs
Lamb
Turkey
Veggies
Fruit
There are also reminders on when to flip items and an Apple Watch app to control timers, view instructions and more.
$1.99 on iPhone and Free on Android
Grill It!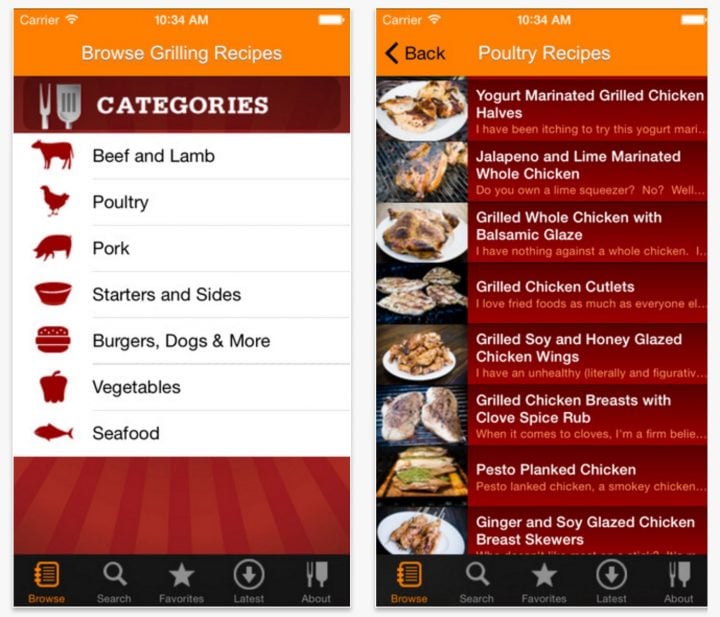 If you need an inspiring collection of grilling recipes that covers everything from steak to seafood, check out Grill It! for the iPhone and Android.
One of the things we really like about the Grill It! app is the inclusion of starters and vegetables, which round out a meal. You'll get specific recipes and instructions so you aren't left guessing how to grill new foods.
Grill It! -is 99 cents and available on iPhone and Android
Omaha Steaks Steak Time
Grab over 100 steak recipes and learn all about how to cook steaks in the Omaha Steaks app from Steak 101. The included videos will help you figure out how to put grill marks on a steak and how to prep your steak. One of the best free grilling apps for the iPhone and iPad.
You don't need Omaha Steaks to use this, so you can get to work with the steaks you have at home or plan to buy.
This includes options that connect to iGrill and also supports Smoking and Roasting meats.
Free on iPhone, not available on Android.
iGrill from Weber
For $39.99 to $99.99 you can buy a wireless monitor that you put in your steak or chicken. This is compatible with iPhone and Android and allows you to monitor your grilling from the table, your couch or while you visit.
The iGrill system is a combination of an app and a wireless temperature monitoring station that will beam your steak's temperature to your iPhone or Android. View the temperature on the iGrill device or on your paired device. The app allows you to set timers and view time remaining so you know when to start the other parts of your meal.

As an Amazon Associate I earn from qualifying purchases.