5 Best HTC U11 Screen Protectors
In this buying guide we explain why you need a screen protector for the HTC U11 and share a list of the best HTC U11 screen protectors available. Keeping your screen looking new is as easy as buying a good quality screen protector.
While the HTC U11's display is resilient it is far from scratch proof, unless you buy the limited edition Sapphire glass model. Most don't, which is why we recommend a good screen protector.
There are a few different styles of HTC U11 screen protectors, from cheap films to a durable tempered glass. We've found some as cheap as $7.85, or 2-packs that only cost a few dollars more. Either way, a screen protector is a small price to pay when compared to the $200+ it'll cost to repair a damaged or broken display.
We recommend investing in a high-quality screen protector from a reputable brand to protect your $700-800 smartphone. However, spending less than $10 on a quick film is still better than nothing. Especially if you don't keep it in a case.
Some choose to buy a film screen protector because tempered glass coverage doesn't always fit right. And while that works just fine, tempered and strengthened glass is the safest route. Choosing tempered glass means you have something more durable and scratch resistant than a film.
You may consider skipping a screen protector after buying a case, but a case doesn't fully protect the 5.5-inch screen from life's daily hazards. Keys in a purse or pocket can still cause a lot of damage. So, spend a few dollars and get absolute coverage with our recommendations below.
Many popular brands aren't offering screen protectors for the HTC U11, but that doesn't mean good options aren't available. In fact, we've rounded up quality protectors from brands we've used in the past just for you. Not to mention most come in a 2-pack for added peace of mind. Grab one today from our slideshow below.
SuperShieldz Tempered Glass 2-Pack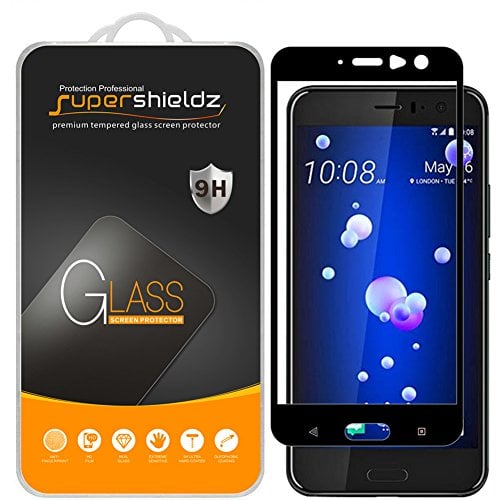 One of the first one our list is SuperShieldz, a trusted name in smartphone accessories. The company uses tempered and reinforced glass and it comes in a 2-pack. Meaning if one installation goes wrong there is an extra. Or after damage, you'll be able to pull it off and add another in minutes.
SuperShieldz uses a perfectly cut piece of glass to cover the entire phone without blocking ports of sensors. The glass has an anti-fingerprint coating for improved clarity, promises a bubble-free installation and comes with a lifetime warranty. So if the second one breaks too, they'll replace it no questions asked.
Last but not least, this screen protector has a black frame around the entire thing, rather than just covering the square screen. Meaning it offers 100% protection to the glass front of your device.

This article may contain affiliate links. Click here for more details.