Best iPhone 6s Accessories
What iPhone 6s accessories do you need to buy? While the new iPhone 6s is pretty impressive right out of the box, the best iPhone 6s accessories will let you do more with your new iPhone.
After using the iPhone 6s for a week and the iPhone 6 for a year, we've had more than enough time to identify the essential accessories for the iPhone 6s that can fix small annoyances, make your iPhone 6s easier to use and deliver improvements on a some shortcomings.
These are the gadgets that we love and our favorite iPhone 6s accessories to use, daily or weekly.
If you use your iPhone 6s for specialized activities you will undoubtedly want to look for more accessories that match your hobbies, work and passions, but this is a great list to get you started with your new iPhone.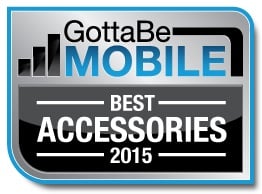 Most iPhone 6 versions of accessories will work fine with the iPhone 6s, but you should research before buying if you cannot test it out in store.
There is no need to spend a fortune on the best iPhone 6s accessories, but we avoid the cheapest options and go for quality across the board.
Here are the best iPhone 6s accessories you can buy. These are the essential companions that will make your new iPhone better.
iPhone 6s Case
One of the first iPhone 6s accessories we buy is an iPhone 6s case. You can use this to add room to carry credit cards, get protection from drops and upgrade the style of your iPhone 6s.
We recommend checking out our best iPhone 6s cases list to find one that matches your style. With these cases you get incredible looking and well-designed cases that protect your iPhone from damage.
If you prefer to live without a case and take advantage of the better waterproofing and grippier texture of the iPhone 6s, jump to the next slide for another essential accessory.