Here are the best iPhone SE cases you can buy to protect the smallest iPhone Apple sells.
The iPhone SE is a small iPhone that is easier to hold than the larger iPhone 7 or iPhone 7 Plus, but many users will want to put it into a case to add functionality or protect it from drops and damage.
iPhone 5 and iPhone 5s cases will work as an iPhone SE case with most designs. This makes it easier to find the best iPhone SE case at a good price that matches your needs. You can buy official iPhone SE cases, but there are many better options out there.
We'll walk through a selection of the best iPhone SE cases that you can buy. These are our favorites from the iPhone 5, iPhone 5S and some updated models for the iPhone SE.
The absolute best iPhone SE case protects the iPhone, prevents damage when you drop it and does not add a lot of bulk. As a bonus, we share some very affordable options that will help you protect the $399 iPhone SE without breaking your bank.
You can buy some of these iPhone SE cases from Apple, and there are also many options at Best Buy, Amazon and direct from carrier stores.
Keep in mind that if you get an employee discount on your cell phone service you may also get a discount on your iPhone SE case from your carrier. This can cut the price of an amazing iPhone SE case by 25%.
Use this list of the best iPhone SE cases to help you pick the perfect case for your new iPhone. We'll show you how to add protection, turn your iPhone SE into a wallet, what iPhone SE battery case you need to check out, an amazing luxurious iPhone SE case and a waterproof iPhone SE case.
Speck iPhone SE Clear Case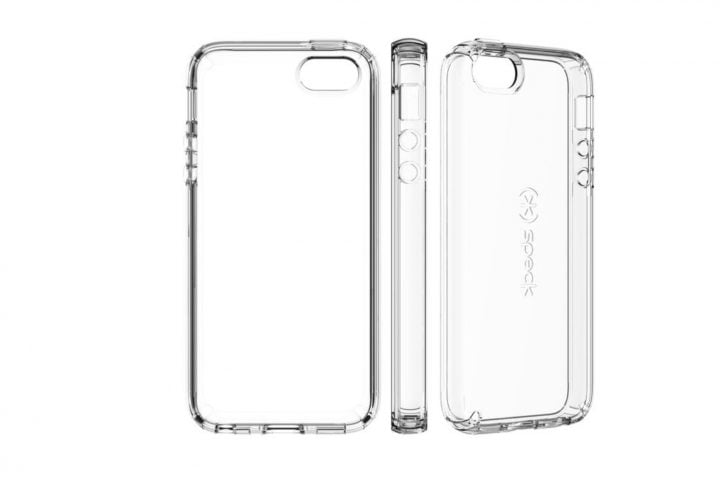 The Speck iPhone SE clear case is an excellent option if you want to protect your iPhone SE, and show off the color you chose. We are impressed with the clarity of the Speck clear iPhone cases and the company offers a 30-day guarantee.
While this case adds a good amount of protection and a raised lip to help protect the screen it does not add much thickness to the iPhone and you can see the iPhone SE design through it.
There are button covers for easy access to volume and power. Openings for the Lightning connection and headphone jack are wide enough for the standard cables and for many third-party options.
$34.95 at Speck

As an Amazon Associate I earn from qualifying purchases.