Best iPhone SE Screen Protectors
These are the best iPhone SE screen protectors you can buy. With the right iPhone SE screen protector it is easy to keep your new iPhone screen scratch free and even help avoid a broken screen when you drop the iPhone.
These are not at all like the cheap plastic film that leaves bubbles, makes it hard to see and tough to use your screen. When you use a glass or high quality screen protector, you get the same feel as when you tap on the bare glass.
We are partial to tempered glass iPhone SE screen protectors that do an amazing job of protecting your iPhone screen from damage, and some even come with a replacement guarantee for the protector.
The iPhone SE screen protectors on this list are easy to install, without constantly re-applying and checking them. If your iPhone SE case includes a front cover, like a waterproof case, you may not be able to use another screen protector with it, so check that before you buy.
Here are the best iPhone SE screen protectors you can buy. If you don't invest in AppleCare+, this is a purchase you should definitely consider.
InvisibleShield Glass iPhone SE Screen Protector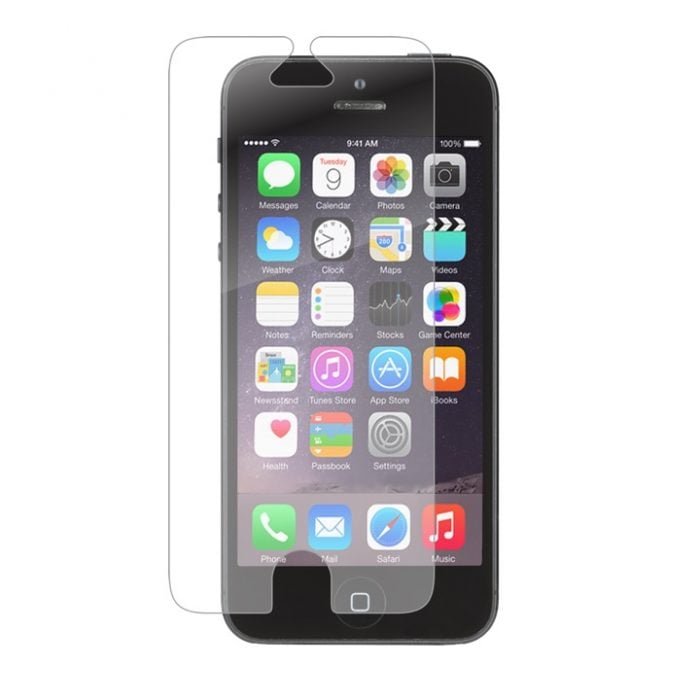 The InvisibleShield Glass is a tempered glass iPhone SE screen protector that allows you to use your iPhone without a noticeable difference in how the screen looks or how it feels.
This is the brand and the style that's saved our iPhone 6, iPhone 6s an iPhone 6 Plus from multiple drops. if the screen protector breaks,InvisibleShield will send you a replacement free. This happened to us once, but the iPhone screen was fine.
Use the included tabs to apply easily and reposition if needed. The glass will self apply once you get it started and bubbles disappear.
$19.99 at Amazon
Spigen Glas.tR iPhone SE Screen Protector
The Spigen Glas.tR is an affordable iPhone SE screen protector made of tempered class. This can withstand pressure, repel scratches and protect your screen if you drop the iPhone SE.
The edges of the screen protector are rounded so that you don't have a sharp edge to hold on to.
You get two protectors in this pack, so you can share with a friend or have a backup in case you break your screen protector.
$9.99 at Amazon
Moshi iVisor AG iPhone SE Screen Protector
In addition to standard screen protectors, there are also options that help cut down the glare that can prevent you from using your phone in some bright outdoor settings.
The Moshi iVisor AG screen protector for the iPhone SE is one of those options. This includes an anti-glare screen coating that will help make it easier to use your iPhone SE wherever you need to.
Moshi boasts a bubble free design and if you need to remove any dust, you can clean it and reapply. Available with a black or a white front.
$7.29 at Amazon
Tech21 Impact Shield Screen Protector
The Tech21 Impact Shield iPhone SE screen protector is easy to apply thanks to a slide on position guide that makes sure you center it exactly on your screen. Drop it on and then remove the outer layer so you are good to go.
This include self-healing material that will help keep your iPhone SE screen and the protector looking good over the long haul.
$24.99 at Amazon
5 Reasons to Wait for the iPhone SE 2 & 8 Reasons Not To
Wait A Little Bit Longer
Unlike the flagship iPhone models, there's no definitive release cycle for the iPhone SE. The first edition landed in March of 2016, but the company skipped a release in March of 2017 and March of 2018.
For reference, the original iPhone SE was announced on March 21st in 2016. Pre-orders started on March 24 ahead of a release on March 31st. Apple re-released the phone nearly a year later on March 24th, 2017 with larger storage options.
Apple recently announced new hardware including new iPad Pros and a new MacBook Air. However, it didn't announce a new iPhone.
Everything is up in the air right now. That said, with specific dates emerging, cases arriving in retail stores, and references to a new iPhone appearing at Apple and Verizon, there's a very chance we see a launch sometime in April.
With that in mind, some of you might want to hang around for a few more days to see if Apple launches the device. At this point, we'd expect an announcement via a press release on the company's website.
If you can't wait any longer, you might want to start looking into iPhone SE 2 alternatives.