Whether you're trying to teach a young kid how to count or struggling through an advanced college math class, there are several apps that can make math less painful. This list focuses on iOS math apps and games since some  of the best math apps are only available for iPhones and iPads, not for Android devices.
As the father of a budding mathematician, I've spent countless hours talking to teachers and other educators about which math apps are best and why kids should (and shouldn't) use them. I've also watched my son's math skills blossom over the past couple of years thanks to some of the math apps listed below. Though he's only halfway through Kindergarten,  he understands several math concepts typically taught in second and third grade.
I've also spent quite a bit of time researching math apps for older kids that are both excelling and struggling in math. Some kids are able to absorb complex math apps through iPhone and iPad apps better than in classroom settings. With math apps, there's no embarrassment of being called on by teachers and most apps allow kids to work at their own pace.
Perhaps the best thing about using math apps as part of children's math education is that  parents' math skills no longer limit what kids can learn at home. For more advanced math classes, some of the apps may be able to teach you more than the average college professor.
Best Math Apps:
Endless Numbers
Free in App Store, $11.99 to unlock
Endless  Numbers is one of the best math apps to introduce basic math concepts such as counting, ordering and addition to pre-schoolers and kindergarteners. Designed to be be fun and stress free, the game presents numbers 1 through 100. Animated Endless Monsters help visualize counting and add a dose of humor to the app. Kids love Endless Numbers and there aren't  any quizzes.
Endless Numbers is listed in the App Store as free, but it only comes with a five digit starter pack. If you want your kid to get the full Endless Number experience, you will need to pay $6.99 for a starter pack (1-25) or $14.99 (1-100). You can upgrade from the starter pack to the full pack for an additional $11.99. Unfortunately, in-app purchases can't be shared with Apple's Family Sharing feature, which means some families may have to buy the same content more than once.
Wet, Dry, Try
One problem with a lot of math games and apps is that kids  tap and swipe at numbers rather than actually writing them. Wet, Dry, Try is a popular app that several teachers recommend for developing handwriting skills. The numbers section of the app is very straight forward. This app presents numbers on a virtual chalkboard. A calm voice guides the student through tracing the number by wetting it, drying it off, and then writing the number in chalk. Mistakes are  gently corrected and students earn stars for their efforts. The app requires more handwriting accuracy to earn additional stars.
Wet, Dry, Try will run on both iPhones and iPads, but the developer recommends using a tablet. While the app can work with an iPad stylus, teachers recommend children use their fingers.
Wet, Dry, Try is available in the App Store for $4.99 for families. Teachers and schools can license Wet, Dry, Try: Classroom Edition  for $3.99 per student per year. The classroom edition of the app comes with the Live Inights and reporting features outlined in the above video.
Montessori Numbers
Available for Phone and iPad $2.99 in the App Store
Montessori schools rely heavily on physical objects like wooden blocks and beads to teach math to young kids. Montessori Numbers digitizes the Montessori method of teaching young children math the basics of math with digitized blocks and beads. Tapping and swiping at these manipulatives teaches kids the relationship between numbers and quantities.  The app can teach kids how to count and pronounce numbers up to 1,000, understand place values, and how to trace numbers. It is one of the best math apps for kids that aren't quite ready to tackle addition and subtraction.
Montessori Numbers is available for both iPhone and iPad for $2.99.

DreamBox
Sign up at DreamBox.com
DreamBox is an incredible app that offers highly personalized lessons for Kindergartners through 8th graders.  DreamBox features Intelligent Adaptive Learning, calculating up to 800 data points every minute to optimize each child's lessons. DreamBox is primarily designed for classroom environments, but parents can sign up for family accounts as well. DreamBox is  packed with more than 2,000 lessons ranging from counting all the way up to algebra and geometry.
The DreamBox iPad apps are superb. The DreamBox Green app containing lessons for K-5, while DreamBox Blue is for grades 6-8. Children get to pick adventures, such as helping pirates escape a deserted island. As they work through adventures, students earn tokens that can be spent in an arcade made up with a few carnival games that involve numbers, such as skee ball.
Parents can follow their kids progress in the DreamBox Family Dashboard. There they can see exactly what their kids are working on, how much time they've spent on the app and
The DreamBox math apps are free to download, but require a subscription of $12.95 per month per student for home users. It's more expensive than most of the apps on this list, but it's the best overall math app we've found and worth every penny. DreamBox offers flat-rate pricing for schools and school districts. DreamBox is only available on iPads and computer web browsers (Mac or PC) with Flash enabled.

Kimodo Math
Kimodo Math is Free in the App Store
Kimodo Math is one of the best math apps for elementary school students. While DreamBox is our family's math app of choice, one drawback is that it's primarily designed for schools.  Kimodo Math is a bit different in that it's designed for students to practice math at home.  Kimodo Math has its own version of adaptive learning to make sure lessons are tailored to each individual kid.
One huge advantage that Kimodo Math has over DreamBox is that it's available on more devices. While DreamBox is limited to computers and iPads, Kimodo Math is available on iPhones, iPad, and Android devices.
The Kimodo Math app requires a $9.99 per month subscription. You can get three months free each year if you opt for the annual $89.99 subscription. There is a 14 day free trial for new students.
Khan Academy
(free for iPhone and iPad on Apple App Store)
The Khan Academy app is the best free math app for iPhone and iPad that can teach students everything from counting  to calculus. Khan Academy is a non-profit that makes all of its lessons, videos and apps free thanks to generous donors. One of those donors is Microsoft co-founder Bill Gates who donated  after his watching his children  use Khan Academy videos to learn math.
Khan Academy founder and CEO Salman Khan didn't intend to turn online tutoring into a full-time job. Educated at MIT, he started remotely tutoring a younger cousin who was struggling with algebra. He put together a simple website and later started uploading lessons to YouTube. The videos started getting a lot more views than Khan expected and he eventually left the hedge fund he was working at to focus on Khan Academy full-time.
So what makes Khan Academy one of the best math apps? The videos are truly the heart and soul of the Khan Academy app and are amongst the best in the business. Many Khan Academy users report that Salman Khan and his colleagues are much easier to understand than teachers and professors. Like some of the paid apps, Khan Academy includes a dashboard to track student  progress.
Khan Academy expanded beyond math and now has more than 6,000 lessons across a wide range of subjects.

DragonBox Algebra
Available in the  App Store for $4.99 (5+ y/o) or $7.99 for (12+ y/o)
Mastering Algebra is important for kids who want to attend competitive universities. That's because schools often track kids that struggle with Algebra into courses that put them in a disadvantage when applying to college. That's why many educators recommend parents pay special attention to Algebra tutoring, apps and games.
One of the best math apps for  learning algebra is  DragonBox Algebra.  As the video demo above demonstrates, learning Algebra is turned into a game that kids find less intimidating than traditional Algebra lessons.  Many educators, including those at Stanford University's YouCubed recommend DragonBox Algebra.
There are two versions of DragonBox Algebra. The $4.99 version is called DragonBox Algebra 5+ and is designed for young math students who want to get a head start. Yes, there are some kindergartners out there doing algebra instead of counting widgets thanks to this app. There is also a $7.99 version called DragonBox Algebra 12+ that's designed for junior high school and high school students. It has almost twice as many levels and delves into more complex subject matter.

Photomath Camera Calculator
Free for iPhone and iPad in the App Store
Photomath Camera Calculator is one of the best math apps for those looking to solve problems quickly. This free math app uses your iPhone's camera to read and solve math problems almost instantly.
While it can easily be used to cheat on homework, it does have some very practical features. If a student is struggling with an equation, the app can solve it and actually walk the student through the specific steps required to solve the problem.
Out in the real world, this app can be used to solve math problems that are too complex to easily enter in the stock iPhone calculator app. It works with both printed and handwritten problems.
Photomath Camera Calculator is free on the app store, but the developer will gladly take donations via in-app purchases.

Wolfram Alpha
($2.99 for iPhone and iPad on App Store)
This is one of the best math apps to bridge math with practical real-world knowledge.  You can type in anything from math problems to questions about the world and it will almost always provide a lot more information than you'd expect.  The above video provides some excellent examples of how powerful this 'knowledge engine' is. Unlike other calculator and math apps, you can enter complex questions in just about any form.
Since Wolfram Alpha covers so much more than just math, it can automatically integrates data from different disciplines in the answers. For example, a query such as "how many fish are in the oceans?," will bring back an estimate of how much all the fish in the ocean weigh and puts the answer in context.

Free Graphing Calculator
Free in the App Store

Dedicated graphing calculators cost about $100 and are required materials in many algebra and calculus classes. If you can't afford one or don't want to lug one around all the time, you can get a perfectly capable iPhone app instead.
Free Graphing Calculator serves as a perfectly capable scientific and graphing calculator, but one thing that sets it apart from other apps is that it has a built-in reference section to help students understand concepts rather than just spitting out the answers.
As its name implies, Free Graphing Calculator is free, but is ad-supported. If you want to get rid of ads there's a $.99 in-app purchase to do so.

Daily Practice for the New SAT
Free for iPhone and iPad on the App Store 
The SAT is a big piece of the college admissions puzzle. The Daily Practice for the New SAT  is an official app that grades practice tests and allows students to practice real SAT questions every day. The College Board partnered with the Khan Academy to develop free SAT-specific courses. . While studying for the SAT on a daily basis isn't a whole lot of fun, it is one of the best math apps you can have on your iPhone if you want to increase your chances of getting into the school of your choice.

Siri
Did you know the free voice assistant built into every iPhone and iPad is also a powerful calculator and learning tool?  By simply saying "Hey Siri" or holding down your iPhone's home button, you can use Siri to solve math problems. Siri solves basic math problems quickly on its own and uses Wolfram Alpha as a reference for more complex questions and to provide context when necessary.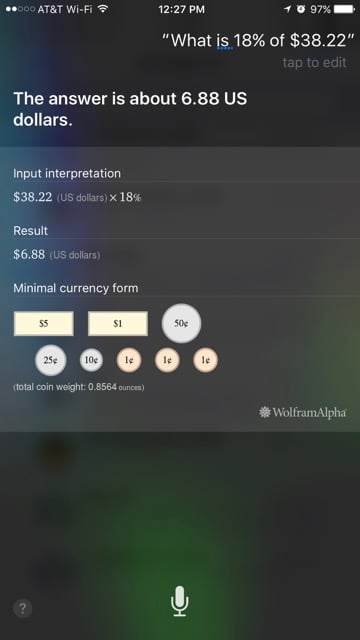 For example, you can use Siri to quickly calculate a tip on a restaurant meal by asking what 18% of your bill's total is. It will even provide a count of how many bills and coins you need to leave behind.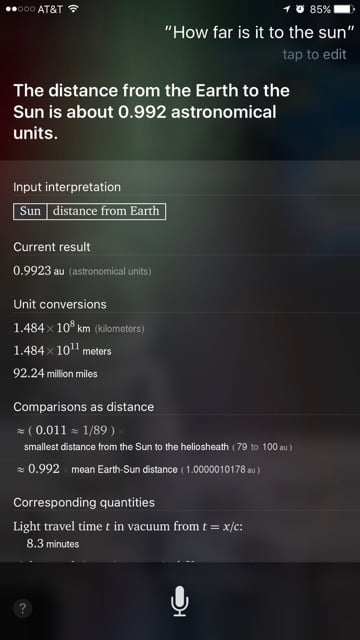 You can use Siri to quickly pull up facts and figures from Wolfram Alpha, which we detailed above, without paying for the app.
What do you think of our list of the best math apps for iPhone and iPad? If you have any that you feel we missed, please leave them in the comments below.
Read our list of best iPhone Apps  to discover more great apps.