The 100+ Best iPhone Apps for 2019
These are the best iPhone apps that you can download to your iPhone in 2019. Whether you have a new iPhone you just picked up or you're looking to do more with the iPhone in your pocket, this is the list of apps you need to check out.
These are our favorite iPhone apps to be productive on the iPhone, have fun, lose weight, relax and entertain ourselves. You can use these on the iPhone XS, iPhone XS Max, iPhone XR or iPhone 8, iPhone 8 Plus as well as older iPhones like the iPhone SE and iPhone 7. Our favorite iPhone apps are a mix of free and paid apps, and anything on this list is an app that we would buy a second time if we had to.
Whether you are new to the iPhone, upgrading from an ancient iPhone or just looking for the best new iPhone apps to install — this list has something for you.
Best iPhone Apps
These best iPhone apps work on any device that runs iOS 12, and many will also work on iOS 12. If you have the iPhone SE or the iPhone X, there are great iPhone apps on this list for you to use.
Most of these apps are optimized for the bigger screens of the iPhone 6, iPhone 6s, Phone 6 Plus, iPhone 6s, iPhone 7 and iPhone 7 Plus, iPhone 8 or iPhone 8 Plus — but they will work fine on smaller screens like the iPhone SE or iPhone 5s too. Many of the best iPhone apps are now updated for the iPhone XS Max display.
Some of these include 3D Touch support for the newer iPhones that allows users to use added functions with a harder press on the screen. These apps can connect you to other people, control your home, entertain you with games, music, and audiobooks and help you be more productive with the time you have.
The Best iPhone Apps
Here are the iPhone apps that I use the most. These are the iPhone apps that I keep on my home screen and the dock. Although this list doesn't break down into nice categories, here is a look at the most useful iPhone apps I own. I'll leave the default Apple apps off this list, but there are many on my home screen that I cannot live without.
Waze – Waze is hands down the best maps app for the iPhone. It works with CarPlay and it shows the best routes. It will help you avoid traffic jams and it can even warn you of speed traps and objects on the road.
Spotify – The best way to listen to music on the iPhone. Spotify is more evolved than Apple Music and it is a bargain at $9.99 a month. With Siri Shortcuts you can even get some Siri Spotify control.
Audible – I listen to an incredible number of Audiobooks and Audible is the best place to buy them. With a subscription I save on audiobooks each month. This is the app I use most often.
Dark Sky – Great, hyper local forecasts and push notifications that tell me when it is going to rain or snow.
Apollo – This is the best Reddit app for iPhone that you will find. It has all the features you wish the official app had and a developer that is always working to make it better.
Slack – If you work on a team or in a small office forget the hassles of email for internal communication and switch to Slack. You'll love it. I'm a big fan of the ability to control which things you get notifications for.
Asana – This is a to do list app and service that works great for teams, but you can also use it for your own tasks and projects.
MyFitnessPal – MyFitnessPal is one of the best weight loss iPhone apps and it was the key to helping me lose 25 pounds. When I stopped using the app I started gaining weight again, and I need to get back at it.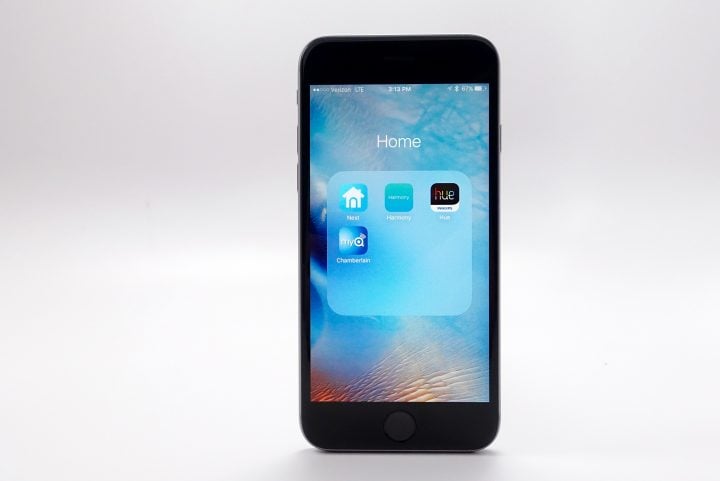 Nest – The Nest app connects to a Nest thermostat to let you control the temperature of your house from bed or from a hundred miles away. This saves energy and it's an awesome convenience app.
Ecobee – The Ecobee app controls the Ecobee 3 that replaced the Nest in my home. The Ecobee 3 and 4 support Alexa and HomeKit so i can control them with my voice or with the app.
Ring – I use the Ring app with my Ring Floodlight Camera and my Ring Video Doorbell 2 to keep my home secure and to talk to people who are at my front door, even when I am out of town.
Harmony – I use the Harmony app along with the Logitech Harmony Ultimate Home remote and hub to control my home entertainment and lights. I can tap on Play Xbox One and the Tv, Xbox, soundbar and lights all turn to the right settings. I can also control my TV volume and channels with the iPhone.
Hue – I control and customize five Hue lights with this app. I will be upgrading soon to use Siri to control the lights.
Lutron Caséta – The Lutron Caséta app lets me use Siri and the app to turn lamps on and off at home using the Caséta Wireless switches and to control my Kitchen Lights after I replaced the switches. No need to upgrade bulbs for a smart home experience. I can also use it to control my Serena Shades.
MyQ – This app lets me open and close my Chamberlain WiFi garage door with my iPhone. I get push notifications to let me know someone opened the door.
Kwikset Premis – This app lets me control my back door lock. I can use the app to lock or unlock as well as to add codes that let someone in at a specific time period.
Schlage Sense – This app connects to my front door lock and it's a lifesaver when I need to let someone in quickly to let dogs out or even to ask a delivery person to put a package inside.
Lastpass Authenticator – I use this app instead of Google Authenticator to track the many One Time Passwords I need to use as Two-Factor Authentication for several websites.
Hangouts – Google Hangouts is an essential tool for communicating with friends, co-workers and family.
LastPass – I only need to remember one password and I can use my long list of complicated passwords. Touch ID or Face ID allow me to reach them with the touch of a finger or a glance instead of typing my password out. Read my LastPass review.
Tweetbot 5 – The newest version of Tweetbot is an amazing way to connect to Twitter. It handles all my needs for sending messages. The only downside is that I need the official Twitter app to track activity due to Twitter limiting what third-party apps can do. I still prefer Tweetbot for overall use.
Gmail – The Gmail app is a great way for most users to check email on the iPhone and an essential app for many people on our team.
Siri Shortcuts – aka Workflow – Siri Shortcuts lets you automate activities and tasks and it supports 3D Touch quick actions to your favorites. I am just scratching the surface of what it can do and I am amazed.
Kindle – The Kindle app is my go to app for reading. I love it because I can use it to start a book, read more later on my Kindle and also always have the freedom to jump to another platform.
1Password – If you aren't a fan of LastPass, 1Password is an excellent option that helps you keep all of your passwords safe behind, you guessed it one password.
Calm – When you need a break from your hectic life, the Calm app will help you relax and refresh using your iPhone, headphones and a chair.
Best iPhone Photography Apps
I use these iPhone photography apps to make my photos look better, connect to my camera and share photos and videos. I use iCloud Photo Library to back up my photos, but if you don't you should check out Flickr or Google Photos.
Camera+ 2 – A handy app that can perform magical automatic fixes for photos that need better lighting with one touch.
Instagram – Fun place to explore photos and share photos. 3D Touch makes browsing in the Explore mode easier than ever.
FocalMark – This app helps me generate hashtags to include on Instagram posts to get more exposure.
PlayMemories Mobile – I use this app to connect to my Sony RX 100 III and Sony a6500 and transfer photos to the iPhone for editing and sharing. It also works as a live monitor.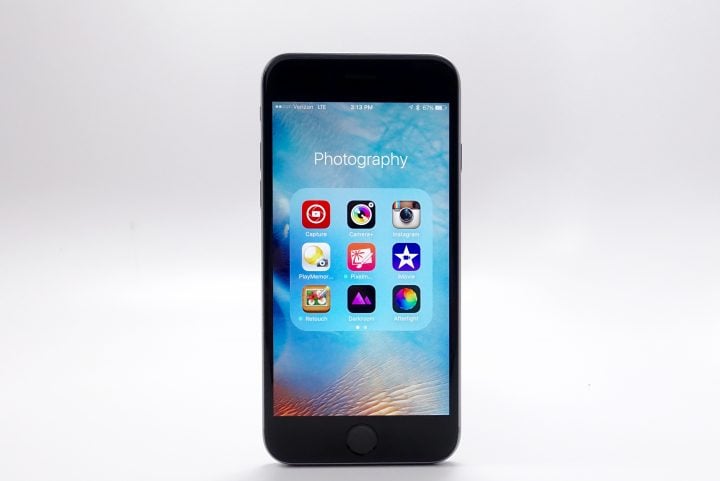 Pixelmator – My favorite desktop photo editor is now on iPhone allowing me to quickly fix up and edit photos.
iMovie – I often shoot review videos on the iPhone 6s and I can use iMovie to edit the 4K video I shoot and then choose to upload in 4K or in 1080P.
TouchReTouch – This app performs miracles when you need to restore an old photo that has cracks, creases and damage. Simply amazing.
Darkroom – This is another photo editing app that I enjoy using on the iPhone 6s. One thing I like is that there are sliders on one screen to adjust multiple options so I can easily adjust one and then the next.
Ceiva Snap – This app lets me send photos to a wireless photo frame at my grandma's house so she can keep up with all of us without being on Facebook.
Afterlight – Powerful photo editing tool with filters, lots of control and the option to tap to see the original and let go to see your current edits for easy before and after editing.
Layout – A simple tool from Instagram to combine photos into a collage on the iPhone to share on Instagram or another service.
Google Photos – Google Photos is a great way to backup your photos and it also will automatically fix some photos and call attention to standout photos you've taken.
Slør – Slør is an epic app that lets you change the bokeh effect on iPhone Portrait photos. This is built-in on iOS 12 for the newest iPhones, but if you get Slør, you can do the same on older iPhones as long as they can take Portrait photos.
Best iPhone Games
Here are the best iPhone games that I enjoy playing. There are a lot of great iPhone games out there and we expect to see more games add 3D Touch for the iPhone 6s in the coming weeks and months.
Monument Valley & Monument Valley 2 –  A fun and challenging puzzle style game that tasks gamers with moving the environment around until you can get your character to the right door.
Toonblast – This is the most addictive game I've found. It's a matching type game with obstacles and it's my favorite time waster. You can join teams to help you get past levels with free lives.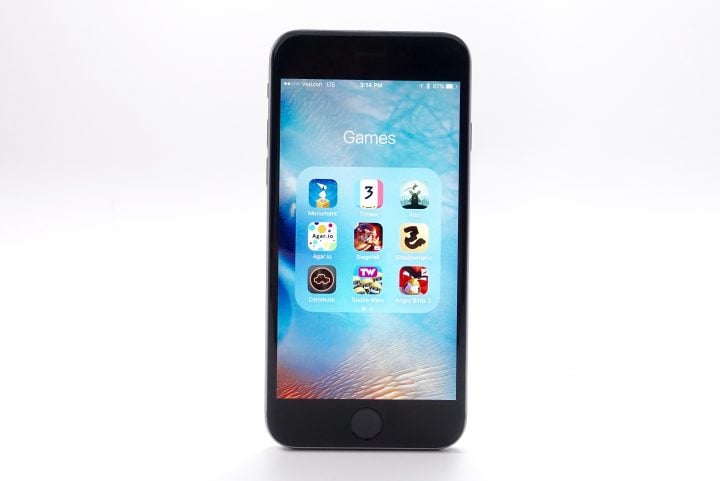 Alto's Adventure & Alto's Odyssey – Jump and ski your way to the bottom of a never-ending mountain as you collect llamas, run from village elders and collect power ups.
Domino! – Domino is the best Domino app for iPhone. It works with the iPhone X, and it is free, with a great ad-free option if you love to play dominos as much as I do.
Agar.io – Control growing circle that expands as it absorbs smaller circles until you are the biggest blob on the board. Simple, but addicting.
Donut County – This is a great puzzle style game where you control a hole in the ground operated by a Racoon. It's hilarious, addictive and there are no in app purchases to deal with.
PUBG Mobile – If you need a survival shooter, check out PUBG Mobile. It's not exactly the same experience as on the Xbox One or PS4, but you don't need a console to play it.
Fortnite – The hit of 2018 is continuing strong in 2019 with Fortnite Battle Royale for the iPhone and iPad. This is part shooter, part builder, all crazy fun.
Clash of Clans – We can't list off the best apps without touching on Clash of Clans which many iPhone users are addicted to playing. If you like it, you probably love it.
Shadowmatic – My latest addiction is a puzzle type game where you move objects around to create a shadow on the wall. It is a simple premise, but the difficulty increases as you progress.
Does Not Commute – Guide cars around the city to get them to the destination without crossing and crashing with the traffic you already put into place with earlier cars.
Smashy Road: Wanted – A fun time waster for driving around and escaping the police with simple graphics.
Fallout Shelter – Manage resources and grow your shelter in this Fallout game that is a perfect fit for the iPhone screen size. Fun and frustrating at the same time as you balance inhabitants and resources.
Best iPhone Entertainment Apps
Here are the go to apps I use to watch video on the iPhone. I don't keep as many on here as I do on the iPad Pro but there are must have apps in this list.
DirecTV – I can watch live TV on my iPhone using my DirecTV subscription. I don't get all of my channels, but there are enough great options.
WatchESPN – Finally I can use DirecTV to login to WatchESPN to see sports events and Sports Center on the go.
NFL Mobile – With my Verizon iPhone 6s I can watch the Sunday Night, Monday Night and Thursday Night Football games live on the iPhone.
Remote – The fastest way to control the Apple TV from the iPhone. Makes selection, searching and entering passwords very easy.
Netflix – How else can I keep up on Netflix originals and binge watch too many TV shows on my iPhone?
ESPN – I use this app to track teams, which lately simply lets me see how the Miami Dolphins are losing before my coworkers mention it.
NFL Sunday Ticket – I am constantly busy on Sunday, no matter how I plan it, so I rely on NFL Sunday Ticket to watch the Miami Dolphins on my iPhone 6s.
Xbox App – With this app I can connect to my Xbox to change the game I am playing, enter in text and see and respond to messages without leaving a game.
Yahoo Fantasy  – You can use this app to track almost any thing you need to stay on top of your fantasy sports team.
Fox Sports Go – Watch live sports with your cable or satellite subscription Perfect if you have DirecTV and can't watch on your TV.
Hulu – If you don't want to pay for cable, this is one of the easiest ways to keep up on the latest shows without buying a bunch of season passes in iTunes.
HBO Go – Watch HBO on your iPhone using your cable login, or use HBO Now to watch with a subscription direct to HBO. Access new shows and the full library of HBO Shows, plus current movies.
YouTube – The YouTube app is the fastest way to watch YouTube videos on your iPhone and a great way to subscribe to channels you like.
Amazon Instant Video – Amazon Prime members can use this to watch free streaming video on the iPhone including movies and TV shows without an additional subscription.
Best Business iPhone Apps
I use these apps to keep on top of business needs from my iPhone, from tracking packages, checking invoices paid and other utilities. These iPhone apps help me get things done.
UPS – With UPS My Choice and this app I can see when packages will come and even change delivery options if I need to.
Fedex – With this app and registration with FedEx I can see all FedEx packages coming to my house from Ground and Express in one place. Even when I don't have a tracking number.
Informed Delivery – This USPS app lets you see what mail and packages are coming to you by linking your address to your USPS ID.
Speedtest – I often find myself testing the network connection and mobile connection before working or uploading a big file. With this app I can see if my current location supports what I need to do.
Scanner Pro – Scanner Pro lets me quickly scan in a document without a scanner. The results are amazing and you would swear that it came from a full size scanner in an office.
PayPal – Quickly send money, transfer money and make payments without the need to have cash on hand.
Chrome – I don't use Chrome as my main iPhone browser, but it is handy to have installed for use with the various Google apps I rely on and for checking the open tabs from Chrome on my Mac.
WordPress – If you work in WordPress this app can be a lifesaver when mobile. It does eat through battery life fast and it can crash, but it allows me to get work done with just an iPhone.
Google – This is essentially the Google Now experience on the iPhone. It allows me to see important information and I use it for push notifications when orders I place ship and I get an email about it.
Quicklytics – The best Google Analytics app for the iPhone. Real time view, overall stats, and access to filters that let me run more detailed reports from the iPhone.
Expensify – An easy to use expensing app that captures receipts and cash transactions easily. I can then share an expense report in a few minutes from the web after the trip.
Quickbooks – Although QuickBooks can be a pain to use in some instances, the app is a fast way to look at the most important information relating to my account.
Parkmobile – No change, no problem. I use the Parkmobile app to pay for parking in many locations. I can even re-up parking without going back to my car if I am held over in a meeting.
Sheets – My most used web app is Google Sheets. I use this app to reach important spreadsheets on the go. I don't do a ton of work on them while mobile, but this makes it easier to reference.
Pages – There are still times where I need to open a Pages document on my iPhone and I also use this to check the word count of items written in apps that don't offer a word count tool.
Dropbox – Still the most accessible and easy to use cloud storage client I've found. This is an easy way to get to my files and to upload files for access from anywhere.
Paper by fifty three – This is a go to app for sketching and marking up images. It is easier to use on a bigger screen, but it is still handy to have on the iPhone 6s.
Best iPhone Shopping Apps
I use these iPhone shopping apps to save money on groceries and to simplify shopping from my iPhone for almost anything I need. I leave alerts on for GasBuddy since it will tell me if gas prices are going up in my area, but most of the other apps don't get permission to push notifications.
Amazon – The fastest way to order from Amazon. If you have Amazon Prime this is a must have app.
Meijer – I use this app to clip coupons digitally that I use in the store to save significantly. If you use another grocer, like Kroger, check out this guide to digital grocery coupons.
Square Register – When my wife works a craft show we use this app to accept credit cards from our phone. It works like a charm.
Apple Store – The fastest place to order a new iPhone is also a handy place to look for iPhone 6s accessories and other Apple items.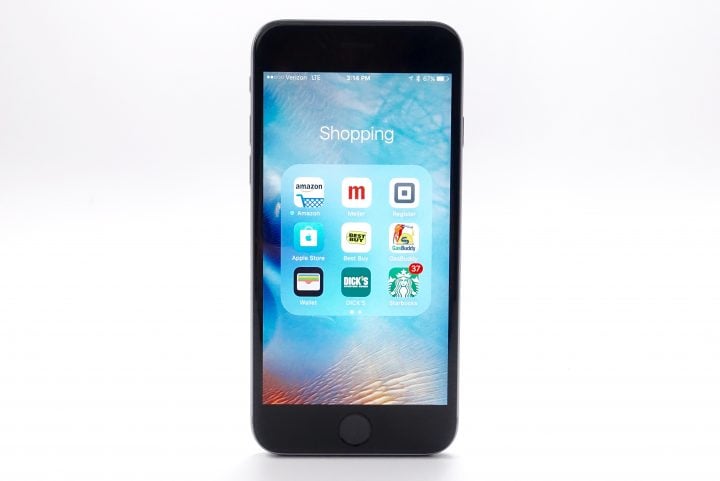 Best Buy – As a My Best Buy member I use this app to make purchases and to check my points balance as well as see if the local store has something I want in stock.
Gas Buddy – Find the cheapest gas near you and get an alert when gas prices are set to go up so that you can fill up before the price changes.
Starbucks – With the new mobile ordering option the Starbucks app isn't just a great way to pay from Wallet. You can use this to place an order and skip the line at a busy Starbucks.
Chipotle – An easy way to order from Chipotle so you can skip the line and get that Burrito goodness.
OpenTable – This is the fastest way to get a reservation at a restaurant. Forget calling and checking multiple times over the phone and checking with your group. See what is open and then book it without making a call.
Credit Karma – Use Credit Karma to get a free look at your credit score and you can get alerts when actions that impact your credit happen.
Hobby Lobby – If you shop at Hobby Lobby you need to have this app installed so you can save 40% on one item each week.
Google Opinion Rewards – Answer surveys and get money deposited in your PayPal account. It's one of the best apps to make money on the side.
Best Health Apps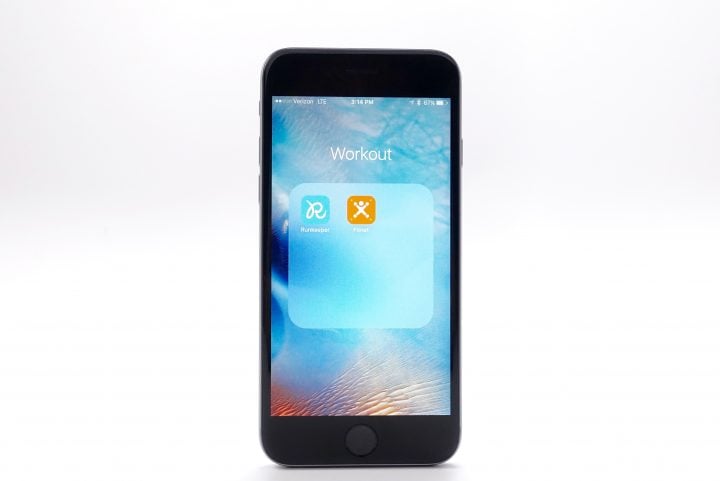 RunKeeper – I've shifted a lot of my workouts to the Apple Watch's built-in tracker, but when I want more detail, the Runkeeper app is a solid tool that can help you track your fitness goals.
Activity – This app installs automatically once you connect an Apple Watch. It is an easy way to see how often I hit movement and workout goals. It can motivate or shame me into doing a better job.
Sleep Cycle – This app uses your iPhone to monitor your sleep and then it will wake you up at the best time based on your sleep patterns.
Lose It! – The Lose It! app helps you track your weight loss, diet and exercise so you can live healthier with small daily changes.
Best iPhone Apps for Social Media
Facebook – I honestly go back and forth between uninstalling and installing the Facebook app because there are times I don't want the distraction of Facebook in my hand. I always leave notifications off.
Facebook Messenger – This app is the way that I keep in touch with many friends.
Snapchat – I don't snap a lot, but I enjoy using the fun new Snapchat Lenses to change the look with fun augmented reality filters.
Untappd – This is a social network for beer lovers that can help you find new beers to try and enjoy.
Best iPhone Travel Apps
StubHub – When you need to find tickets for a concert or sporting event that is sold out, StubHub offers a trusted environment to find the tickets you want.
TripIt – The best all in one travel organizer that tracks your hotel, flight, car rental and other activities simply by connecting your email to the app or forwarding a reservation.
Flightaware – Always know where a flight is. This is the best way to track the flights that your loved ones or business associates are on.
Hotel Tonight – Score last-minute reservations at amazing hotels at a bargain. You can book for tonight or up to seven days out.
Grub Hub – An essential tool for ordering delivery from restaurants without making a phone call. Available in 800 cities and includes 30,000 restaurants.
TripAdvisor – This is the fastest and easiest way to find things to do and check reviews of hotels and attractions on your iPhone.
Google Maps – Hands down a better way to get from one place to the next or to search for places than Apple Maps. It has yet to tell me to drive off a non-existent bridge. I cannot say the same about Apple Maps.
Yelp – Yelp is my go to tool for finding a new place to eat in a new city. We also use it to discover new stores when in a bigger city and on the hunt for something local.
Glympse – This tool can help you tell people when you will get to a location. Just share a Glympse with them and they can see your current location and estimated time of arrival.