These are the best Moto G7 cases you can buy to protect your new phone. Motorola's latest budget device is pretty cheap, but that doesn't mean you shouldn't try to keep that big 6.2-inch screen safe. And if you bought the G7 on Prime Day, use those savings to get a quality case. These cases fit the Moto G7 Plus too.
Whether you're looking for a rugged Moto G7 case that can handle life's daily hazards or just something slim and sleek, we have you covered. We have everything from thin cases, kickstand cases, military-grade protection and more. Here are a few of your options.
Best Cases for the Moto G7
Spigen Rugged Armor – $14
Olixar Faux Leather Guard TPU Case – $13
Sparin Soft Clear Shell – $9
TUDIA Slim-Fit Heavy-Duty Merge Case – $11
Dretal Shock Armor Case – $9
FilmHoo Dual-Shell Kickstand Case – $6
Poetic Rugged Guardian Case – $17
1. Spigen Rugged Armor for the Moto G7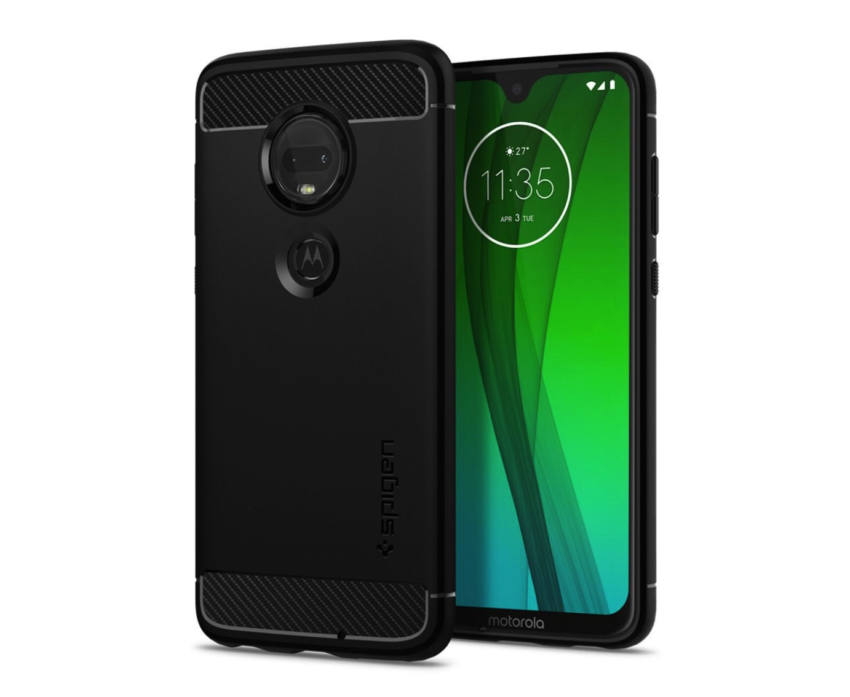 Buy it Now from Spigen for $29 or Amazon for $14
Spigen is by far one of the most popular names when it comes to smartphone protection. A big part of that is because they offer excellent cases for everything from the latest Galaxy S10 to budget phones like the Moto G7.
So, if you want a case that's stylish, durable, affordable and will keep your phone safe, consider the Spigen Rugged Armor. This is their best-selling design and durability level for every phone. This case has raised edges around the camera lens and screen to keep them both safe, air-gap cushion technology on the inside four corners to keep the screen safe if you accidentally drop your phone, and a stylish faux carbon fiber design on the back. The soft-touch textured matte finish makes it look good and easier to hold.
2. Olixar Faux Leather Guard TPU Case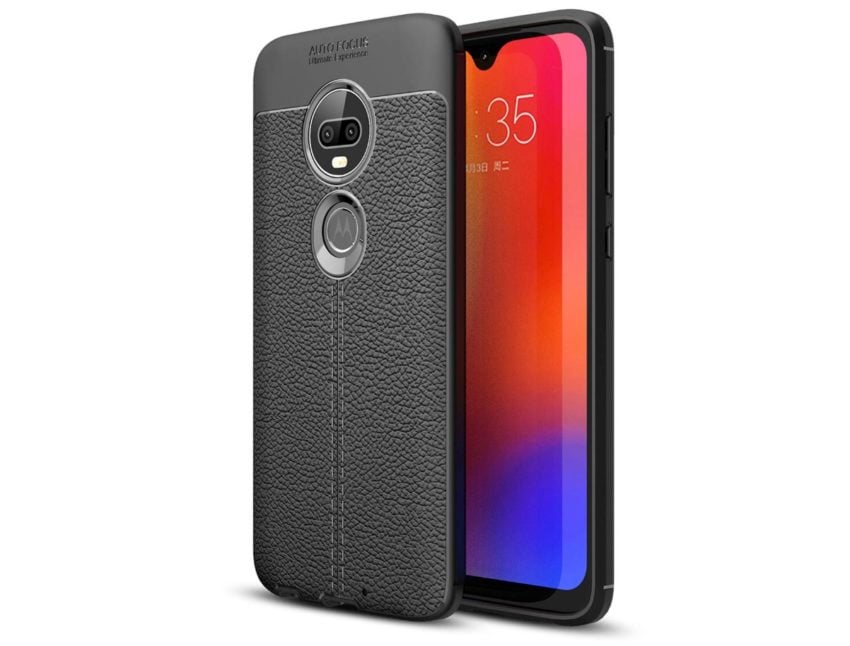 The Olixar Leather TPU case combines good looks with durable and affordable materials, perfect for those on a budget that just bought the Moto G7. Instead of getting an expensive leather case that doesn't offer a lot of protection, this rugged dual-layer TPU case has a faux leather finish on the back.
Basically, this case gives you the look, feel, and texture of leather without the high price tag. They even have fake stitchwork on the seams. That said, it's still your typical flexible, durable, impact-resistant TPU that most cases are made from these days. It's a good middle ground and compromise.
3. Sparin Soft Clear Shell
The new Moto G7 and G7 Plus come in some stylish new colors and even reflect surrounding light off their curved edges. As a result, some owners won't want to cover it up with a big, bulky, black case. If you're looking for the perfect clear case for the Moto G7, Sparin has you covered.
Better yet, for just $9 Sparin will give you two durable, rugged, crystal clear cases for the Moto G7. That way you have a backup or one for your significant other. These cases are made entirely out of a shock absorbing and impact resistant TPU material, and if you look close you'll notice oversized corners with two layers of TPU for added drop protection. You can't beat it for the price.
4. TUDIA Slim-Fit Heavy-Duty Merge Case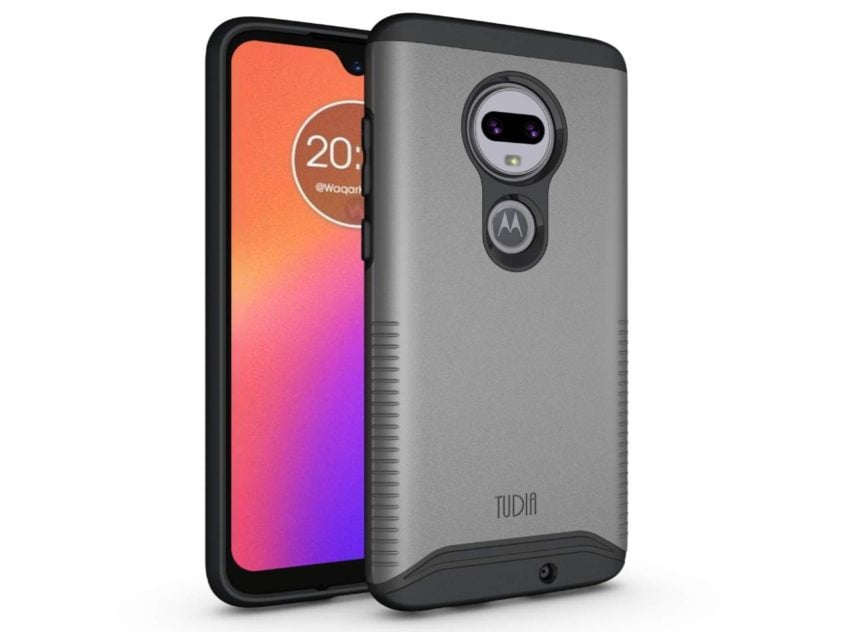 If you're looking for a case that's not too thin, not too thick, yet extremely rugged and durable this one is for you. The TUDIA Merge series are heavy-duty cases that use a unique dual-layer construction to offer tons of protection without the added bulk.
On the inside, they're using a durable and rugged impact-resistant TPU shell like most cases. Then, the outside has a hard polycarbonate plastic shell that covers the back for added durability. This also offers a nice lip to keep the camera and rear fingerprint scanner safe, and we like the angled edge that directs your finger to the proper placement for the scanner to unlock the phone. It's a nice design that'll do its job.
5. Dretal Shock Armor Case
The Dretal Shock Armor offers a little more protection than most of the others on our list. Basically, if you're looking for added protection and a slightly thicker case that can handle the elements, consider this one. Again, this case has a dual layer design with a soft TPU lining on the inside followed by a hard polycarbonate plastic outer frame.
However, that outer polycarbonate plastic has a soft-touch textured and ribbed finish so you'll never drop this otherwise slippery phone. We like that Dretal added double-thick bumper stops on the corners which stick out past the plastic housing, giving you extra drop-protection. Plus, there's a metal plate built into the frame which will let you easily use this case with a slew of magnetic mounts and accessories sold online.
6. FilmHoo Dual-Shell Kickstand Case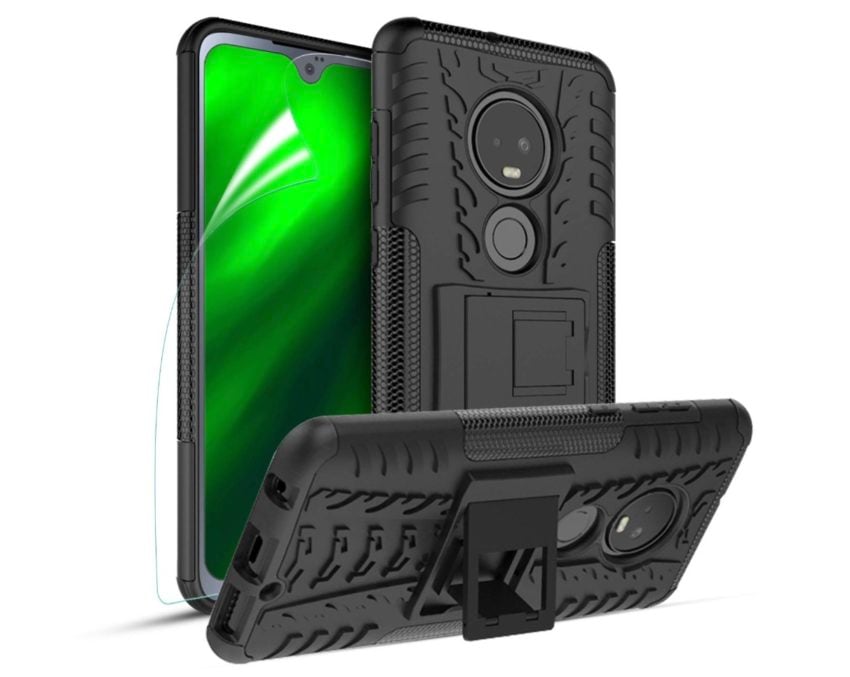 Do you work outdoors, at a constructions site, or are just extremely hard on your phones? If so, you'll want to consider this case from FilmHoo. They're using a pretty popular style and design we see all the time, but that's because it works. This is a dual-layer TPU and polycarbonate shell case, again, but then it has a few other tricks up its sleeve. Plus, it comes with a free Moto G7 screen protector.
Basically, the FimHoo is a rugged TPU and plastic case like the rest on our list. However, they've added a kickstand on the back for hands-free movies or videos, which folds flat when not in use. If all the lines, designs and "tire tracks" on the back of this industrial-looking case is odd to you, they have a purpose. All of those absorb forces from accidents, along with the TPU on the inside, which will keep your G7 safe.
7. Poetic Rugged Guardian Case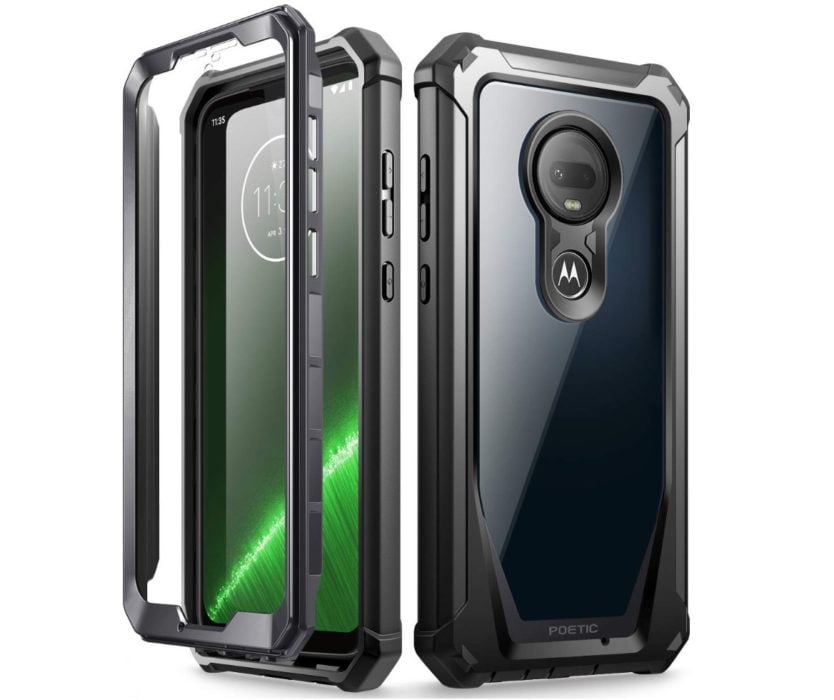 Last but not least is the Poetic Rugged Guardian case. This ultra-strong case offers 360-degrees of protection and will ensure your phone lasts for years to come. Poetic makes great cases, and if you truly need a durable case look no further than this one.
The entire case is made from reinforced clear polycarbonate plastic, then they cover the sides in a shock-absorbing TPU bumper frame. Combining the best of both materials without the added bulk of "two layers" because the TPU is just on the outside edges and corners. Then, the Poetic Guardian has a built-in screen protector that snaps in place from the front ensuring total protection from any angle. Poetic uses tactile and easy to press oversized buttons, flaps cover the ports, and the entire case snaps together very securely.
At the end of the day the type of case you buy comes down to your own personal wants, needs or preferences. Our list has a little of something for everyone, so choose what's best for you.

As an Amazon Associate I earn from qualifying purchases.