These are the best Moto X4 cases you can buy right now. You don't need to spend a fortune to keep your phone safe and looking new. With a premium metal design, a big screen, and raised dual cameras, a Moto X4 case is highly recommended.
Moto X4 cases come in a slew of different styles, colors, pricing and materials. And with glass on the back, it's more fragile than past Moto phones. Which is why we'll recommend cases come from brands know and have used for the Moto Z2, Galaxy S8, Google Pixel 2, and others.
Read: Motorola Android 8.0 Oreo Update Details
Just because it's a budget phone doesn't mean there aren't quality cases available. In fact, our list details some cases as low as $8, which is better than paying $150+ to repair a broken screen. You'll need to spend more to get the most durable cases or something from a reputable brand.
The Moto X4 is available online or with Google's Project Fi, and a lot of buyers will need cases and accessories. Buying a cheap $8 TPU case is better than nothing, and will protect your phone from life's daily hazards. Keep in mind that the Moto X4 is IP68 dust and water-resistant, so you won't need a waterproof case.
No matter what type of case you usually buy, we have you covered. Our list details ultra-thin cases, clear cases, wallet cases, or even military-grade protection. These cover the entire phone, give you access to all the ports and buttons, and have a raised edge in the back to keep those dual cameras safe.
You won't find a lot of cases in carrier stores, or from Best Buy. As a result, we found the best cases for the Moto X4 and added them all to one quick list. Excellent cases from big names including Spigen, Incipio, Tuari, Cimo and others all at affordable prices. With that said, buy one today and keep your phone safe.
Spigen Rugged Armor for Moto X4 ($11)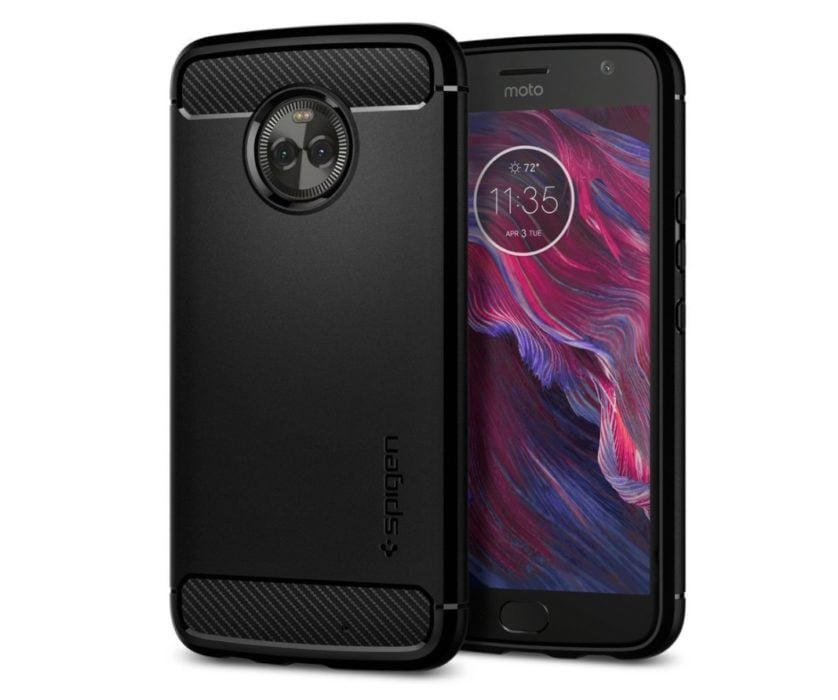 First up is a case from Spigen, one of the most trusted names in smartphone accessories and protection. Spigen makes durable cases that fit with precision for almost every phone.
The Rugged Armor is one of Spigen's most popular cases. The entire phone is covered with a soft TPU material that absorbs shock and impact from drops. Then, the company uses air cushion technology in the corners for extra protection. New cases from Spigen use a soft matte black finish, glossy accents, and edges, and a premium faux carbon fiber design at the top and bottom for added styling.
Each port and button is perfectly cut, and the front has raised edges to keep the screen safe, even if you lay it face-down on a table. We like the raised lips around the camera hump too, making sure your camera lens never gets a scratch. Spigen cases are popular for a reason, so get one today.

As an Amazon Associate I earn from qualifying purchases.