10 Best Nokia 6.1 (2018) Cases
These are the best Nokia 6.1 cases to protect your phone and keep it looking new. The Nokia 6.1 (2018) has a big 5.5-inch screen you'll want to keep scratch-free. Our buying guide goes over the different cases available and what each one has to offer.
Cases for the Nokia 6.1 come in a slew of different styles, colors, pricing and materials. Before we begin, keep in mind these are for the 2018 model, not the regular Nokia 6 from 2017.
Just because it's a budget phone doesn't mean there aren't quality cases available. In fact, our list details some cases as low as $7, which is better than paying $100+ to repair a broken screen. You'll need to spend more to get the most durable cases or something from a reputable brand.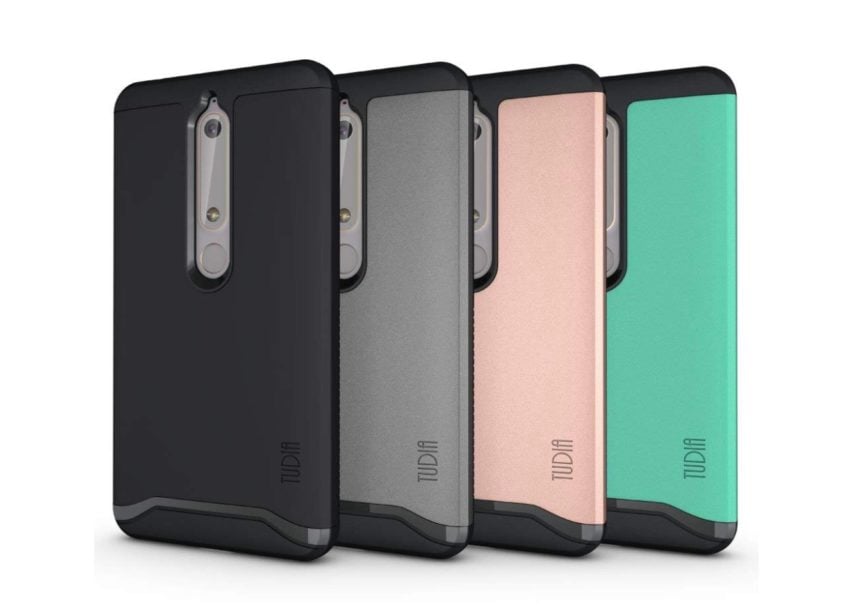 Whether you're looking for heavy-duty protection, super thin cases, or wallet cases, we have you covered. And while a lot of different brands make cases, some of the most popular ones like OtterBox and Spigen don't. That said, you still have plenty to choose from.
While we recommend investing in a quality $20-$30 case, even a cheap $7 TPU case on Amazon is better than nothing. And, if you don't want to cover the fancy design or matte black finish, just use a clear case.
A case will help prevent damage or scratches to the camera array and fingerprint sensor on the back of your phone, make it easier to hold and keep that big screen safe from life's daily hazards. We'll update this list when we find other great cases, or when more brands release cases. For now, these are the 10 best Nokia 6 2018 cases to keep your phone safe.
TUDIA Merge Heavy Duty Case
If you're looking for a rugged but slim case for the Nokia 6.1 we recommend TUDIA. They offer some excellent dual layer cases with plenty of protection without a lot of bulk.
The TUDIA Merge is made specifically for the 2018 Nokia 6.1. Utilizing two layers, this case incorporates the top safety advantages of both a hard and soft case. The soft inner TPU absorbs and disperses shock from drops or damage. Then, the outside has a layer of hard polycarbonate plastic (a shell) for even more durability.
All the buttons, ports and fingerprint scanner has precise cutouts, and the edges are raised to keep the screen safe. We like how TUDIA angles the cutout on the back for the fingerprint sensor, making it even easier to tap and find. Get it today in multiple different colors.

This article may contain affiliate links. Click here for more details.