The GottaBeMobile team has been roaming Las Vegas for the past week checking out the best that CES 2012 has to offer. And while we have seen a ton of great new gear, there have certainly been a handful of devices that stand above the rest.
What you'll find here are the gadgets and gizmos that we felt were the very best of the Consumer Electronics Show this year. From phones to tablets to the best accessory, we have it covered.
Below you'll find the best technology from CES 2012, many of which we plan on purchasing for our own use as soon as they're available.
Nokia made a huge splash here at CES 2012 with the Lumia 900 for AT&T. With its gorgeous display, beautiful form factor, 4G LTE and Windows Phone operating system, the Lumia 900 is poised for a huge launch on AT&T.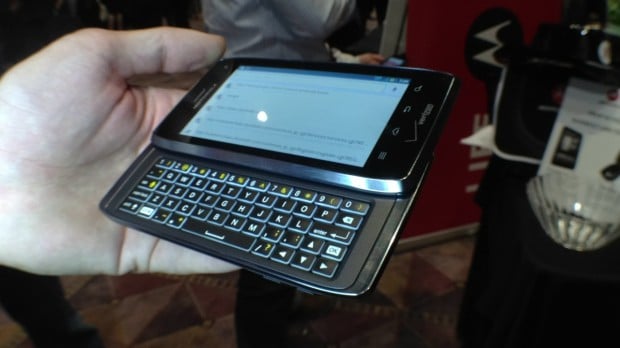 4G LTE will provide the fast data speeds, its upcoming global capabilities will turn it into a global juggernaut, and its laser cut physical QWERTY keyboard might just be the best keyboard ever to grace an Android phone. Yes, we are talking about the Motorola Droid 4, which we have awarded our Best Smartphone award for CES 2012. Read our Motorola Droid 4 coverage here.
When it comes to tablets, you normally need to sacrifice on price or performance, but Asus proves you can have a small Android tablet with a beautiful 7 inch display, the latest version of Android Ice Cream Sandwich and a powerful Tegra 3 quad-core processor that delivers a snappy experience and great mobile gaming power. All of this comes together to make a $250 Android tablet that can do so much more than read books and play Angry Birds, which is why we have awarded it our Best Tablet of CES 2012 award.  Read more about the Asus Eee Pad Memo here.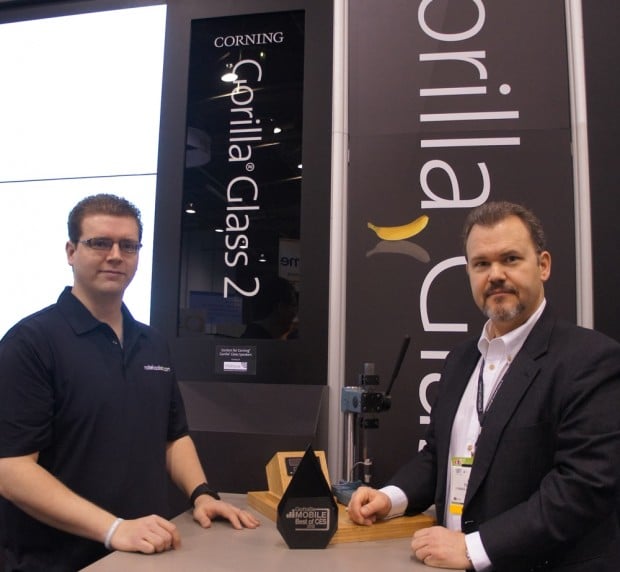 We have awarded Corning's Gorilla Glass 2 our Best Innovation award for CES 2012. Why?  Because it's not only stronger than the original and 20% thinner. This  allows for companies to put better hardware in their devices. By shaving millimeters off the Gorilla Glass 2's thickness, we'll see thinner devices, better cameras and bigger batteries. Gorilla Glass 2 is making better smartphones a reality. Read more about Corning Gorilla Glass 2 here and watch our video about this innovation.
The Galaxy Note is one of those convergence devices that actually does all of the functions it was designed to do well. At a time when the line between phone and tablet is very thin, it's nice to find a device that does double duty without sacrificing crucial elements of either experience. But the reason why it gets our Most Versatile Device of CES 2012 awardis that it doesn't stop at just being a great phone or tablet, it also brings us one step closer to easily achieving a fully digital life with the addition of the stylus. All the elements of design and functionality come together to make this a super sweet Android device. Perhaps the only one you'll need from now on.  Watch our AT&T Samsung Galaxy Note videos here.
We saw quite a few phone accessories here at this year's CES, but none stood out more then the iCade Mobile, which turns your iPhone or iPod touch into a sleek, ergonomic gaming device. With a full set of well thought out button locations, the iCade mobile makes iPhone gaming more fun than ever.It's not easy playing games on a 3.5-inch display but iCade Mobile makes both comfortable and easy which is why it's a worthy of our Best Phone Accessory award. Watch our video demo of the iCade Mobile here.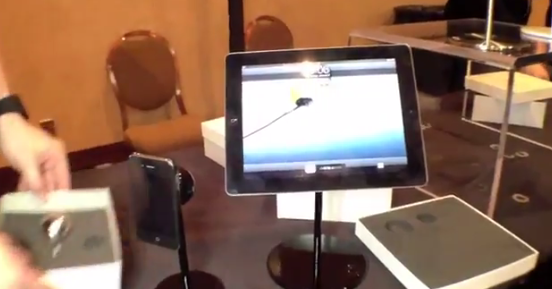 The iOmounts iOstand is an innovative magnetic tablet stand that works with any tablet and any case. Instead of giving up your favorite case for a bulky case with fittings and snaps, you place a small adhesive magnet on your case or right on your device and it will mount on the stand or the wall mount so that you can put your tablet next to your monitor, on the kitchen counter or anywhere you want. For great build quality, the ability to use any case on any device, we give the iOmounts iOstand the GottaBeMobile Best Tablet Accessory of CES 2012 award. See our iOmounts iOstand video here.
Best Connected Home Device – Belkin WeMo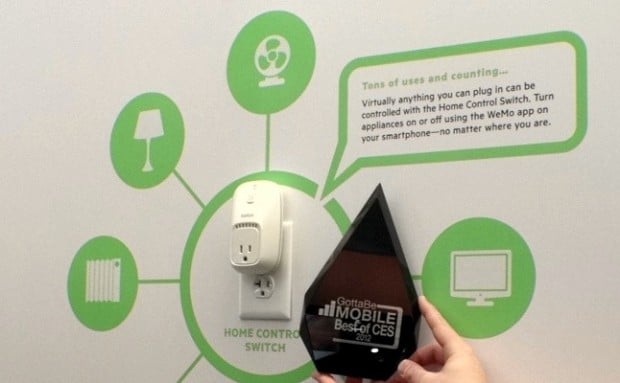 The Belkin WeMo system and WeMo Home Control Switch make home automation accessible to the average user, and even apartment dwellers thanks to the amazing plug and play approach. WeMo starts with a simple switch, but includes WiFi connected front doors that you can open with your phone from anywhere in the world, WiFi LED lights and even a WiFI garage door opener. No need for a automation expert, the WeMo system makes home automation awesomely easy, which is why we gave the Belkin WeMo our Best Connected Home Device of CES 2012 award. Watch our video of the Belkin WeMo here.
What Happens in Vegas Stays in Vegas Award – Lenovo
While we have shown you a lot of cool stuff from CES 2012, there are some things we just can't reveal yet. Some of the biggest companies in the world swear us to secrecy before showing us their best work.
Our favorite amongst those comes from the folks at Lenovo who, from what we have seen, have an extremely exciting road map ahead for 2012. Not only did Lenovo show off the IdeaPad Yoga, new ThinkPads, tablets and smartphones, but they also brought a secret bag of gadgets that blew our minds . We wish we could tell you about all of the exciting things we got to see behind closed doors now, but rest assured you'll know as soon as we can (legally) tell you. Some of the gadgets announced at CES 2012 may even have a surprise or two once they're actually released. Lenovo earned our What Happens in Vegas Stays in Vegas CES 2012 award.