6 Best OnePlus 6 Screen Protectors
If you're the proud owner of the OnePlus 6 you'll want a screen protector to keep it safe. In fact, with a bigger 6.3-inch display a durable screen protector is highly recommended. Here's a list of the best options available.
Tempered glass offers the best protection but a clear film is usually cheaper and easier to install. Either way, you'll want some sort of protection to prevent damage from life's daily hazards.
We've gathered some of the best options available. Screen protectors with an easy installation tray, enhanced scratch-protection and more. Whether you prefer tempered glass or a flexible film, these are the best screen protectors for the OnePlus 6.
Official OnePlus 6 3D Tempered Glass
AVIDET Tempered Glass 2-Pack
Skinomi TechSkin
Vigeer Full Coverage Case Friendly Tempered Glass
TopACE Tempered Glass 2-Pack
IQShield LiquidSkin Clear Film
While we recommend investing in a quality protector from OnePlus themselves, it's also really expensive. As a result, we clicked through Amazon reviews and forums to find the best alternatives that are more affordable.
In fact, we've found excellent options for under $8, or other popular brands offering 2-packs for a few more bucks. Either way, you'll get at least one or two protectors that will keep your phone safe, prevent damage, or save it from a big drop and a cracked screen. We also recommend buying a OP6 case.
Screen protectors aren't just to prevent scratches. A lot of people buy them because if you have an accident or drop your phone, most of the time the screen protector breaks or shatters. However, the screen is often safe underneath. Whatever your reason, here's more information and links to buy the ones we recommend.
Official OnePlus 6 Tempered Glass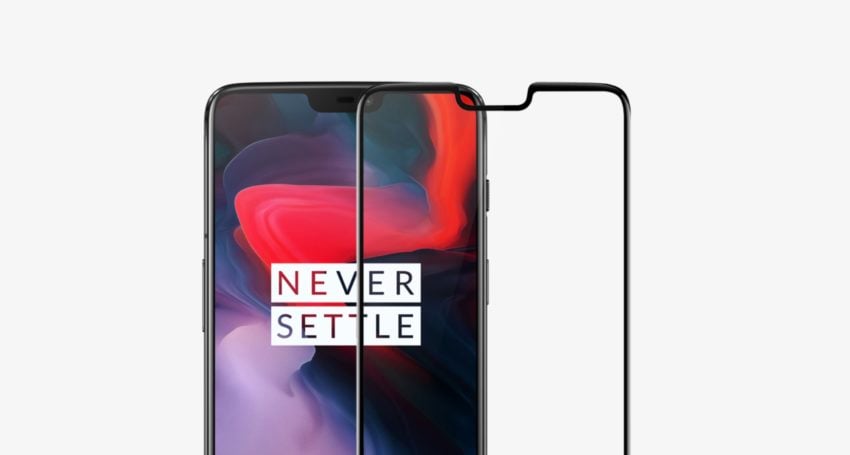 The official 3D curved tempered glass screen protector from OnePlus themselves is likely your best bet. This glass is cut with precision to perfectly fit your new phone. It offers edge-to-edge protection, color-matched bezels, and it's as tough as nails.
OnePlus uses the industry standard 9H glass that's chemically strengthened for durability. Then, they add an oleophobic coating that prevents fingerprints and smudges. The glass perfectly wraps around the entire screen but avoids the notch and front camera. You'll notice the glass has a rounded edge too, which prevents cracks, chipping, and stops the protector from peeling up over time.

As an Amazon Associate I earn from qualifying purchases.