These are the best OnePlus 6 cases available that will protect your phone and keep it looking new. Whether you just got one or decided to skip the OnePlus 6T, a case is highly recommended. Our buying guide will go over the many different case styles available and how they'll keep that big 6.3-inch screen safe.
With a big screen, premium design, an iPhone-style notch and glass on the back this phone looks great. It's also quite fragile, which is why you'll want a case.
Read: 10 Common OnePlus 6 Problems & How to Fix Them
Our list offers everything from cheap cases, wallet cases, heavy-duty protection, super thin cases and more. You'll find some cases as low as $7, which is better than paying $150+ to repair a broken screen. Or, spend a little more for added durability, and upwards of $25 for something directly from OnePlus.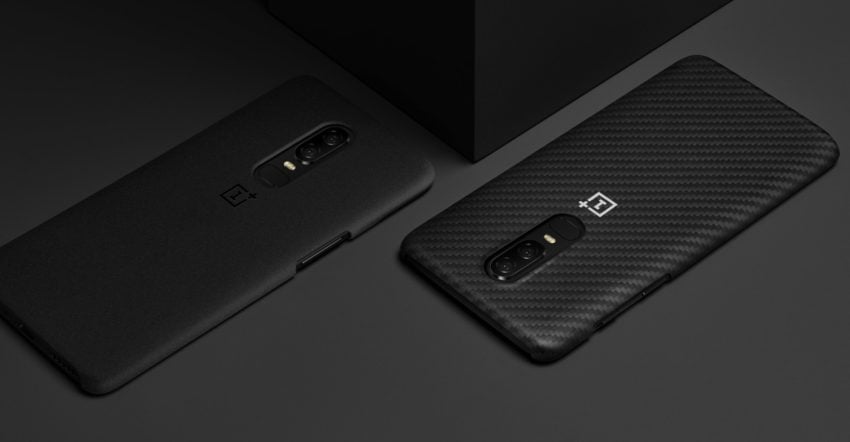 Even though OnePlus is quickly becoming one of the most popular budget smartphones on the market, A lot of popular brands still don't make cases for them. Big brands like Incipio and Speck won't be making coverage at all, which is an odd choice. Don't worry though, we found several other great cases.
Read: Click Here for the Best OnePlus 6T Cases
While we recommend investing in a quality $20-$30 case from OnePlus themselves, even a cheap $8 TPU one from Amazon is better than nothing. And, if you don't want to cover the premium design or matte black finish, just use a clear case.
A case will help prevent damage or scratches to the dual cameras on the back of your phone, make it easier to hold and keep that big 6.3-inch screen safe from life's daily hazards. We've updated this list with great cases from Spigen, Otterbox and more, and will add any new cases worth recommending. For now, choose from these 16 best OnePlus 6 cases and keep your phone safe.
OnePlus 6 Nylon Bumper Case
Our first recommendation is a case right from OnePlus themselves. This ensures a perfect fit, precise cutouts for the buttons and notch and a great user experience.
As expected, OnePlus is offering multiple different cases for its new phone. The official "bumper case" actually comes in three finishes. Our favorite is the all-new OnePlus 6 Nylon Bumper Case. This blends a soft woven texture fabric with a hard polycarbonate shell to keep your phone safe. The sides and corners use a soft TPU material too, which absorbs impacts from drops or damage.
This case looks good, makes the phone easier to hold, and resists drops, fingerprints, scratches and more. You can get the bumper case in Ebony wood, or the popular Karbon Fiber finish.

As an Amazon Associate I earn from qualifying purchases.