10 Best Portable Chargers and Battery Packs
These are the best portable battery chargers and packs for your phones, tablets, Nintendo Switch and more. Portable power to keep all your device fully charged or with enough juice to last until the day ends.
Portable battery charges come in several different speeds, sizes, and shapes, so knowing what to look for is important. Certain models will charge your phone twice as fast as a cheap gas station pack, and some can even recharge a Macbook.
Whether you're looking for a high capacity portable battery, tons of USB ports, USB-C power delivery, or a slim design, we have you covered. Our list has chargers as low as $19 with tons of power. Or huge 27,000 mAh portable chargers that can recharge your iPhone Xs or Galaxy S9 for an entire week.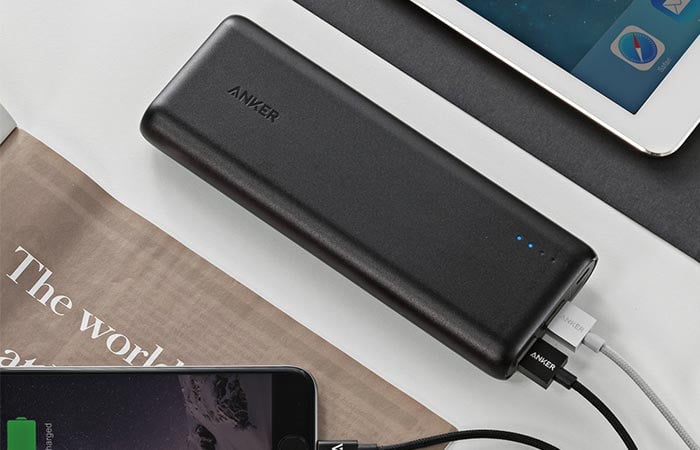 A portable battery charger is exactly what the name suggests. A big battery pack with multiple USB ports so you can charge your phone on the go without sitting next to a wall outlet. These can charge your phone, tablet, Nintendo Switch, laptop, MacBook, camera, vape pen and more. Any device that takes a USB cable can use these. And some even have a built-in AC wall outlet plug.
When you're looking to buy a portable charger there are a few things to look for. You want a portable battery with "Quick Charge 3.0" or some sort of fast charging technology. Or, depending on the device you have you might want one with Power Delivery. These are two technologies that allow our devices to charge at an extremely fast rate, or strong enough to top off a MacBook Pro or portable game console.
Anker, RAVPower, Jackery, TYLT, Tronsmart, and Mohpie are among some of our favorite brands, but there are countless excellent options available today worth buying. With that said, our list below suggests huge chargers from 10,000 mAh to nearly 30,000 mAh all with fast charging. Then, our slideshow below has more information about each product and links to buy one today.
Best Portable Battery Chargers
Anker PowerCore-2 Charger (20,000)
CHOETech 15,600 mAh Quick Charger (Universal)
RAVPower 26,800 mAh PD and USB Type-C
Jackery Powerbar 20,800 mAh Power Station
Anker PowerCore 10,000 mAh Small
RAVPower 20,100 mAh Quick Charge & Type-C Charger
EasyACC MegaCharge D20
Aukey 26,500 USB Type-C
Tronsmart 20,000 mAh Type-C
Mohpie Power station AC
While we've detailed a lot of different portable battery chargers in the past, everything in our slideshow below supports fast charging or quick charging. Which works perfectly with most devices released in the last few years. With that in mind, here's what we consider the absolute best portable battery chargers you can buy right now.
Anker PowerCore Speed 20,000 mAh with Power Delivery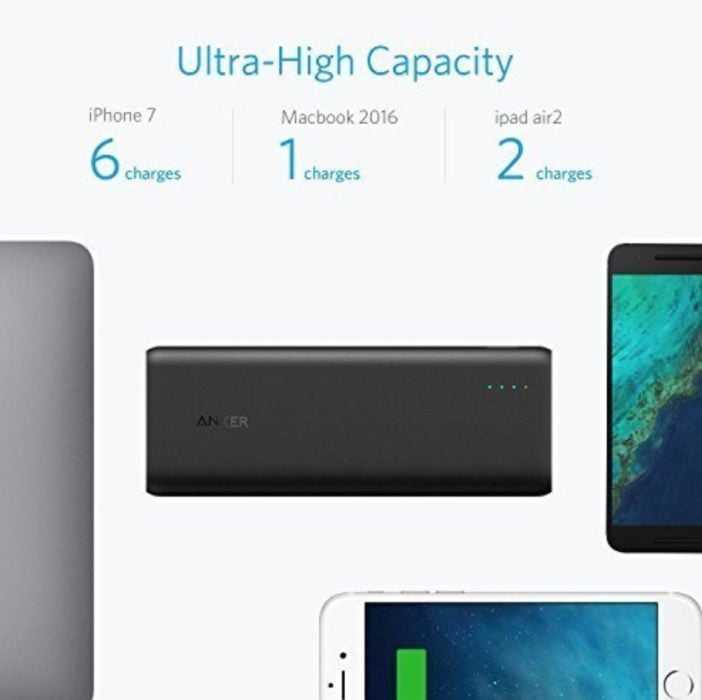 Our first recommendation is potentially the best portable battery charger for 2018. Anker is the most popular company in chargers and smartphone accessories because they make some of the best products.
The all-new Anker PowerCore Speed offers a high capacity of 20,000 mAh. Meaning you can recharge your Galaxy S9 or iPhone Xs over 6 times with this thing. Anker supports all the latest charging standards, has overcharging protection, PowerIQ technology, and more.
Here's what makes the PowerCore Speed 20,000 special. It supports USB Type-C power delivery capable of recharging a Nintendo Switch or MacBook Pro with 30w of output power. Additionally, that same USB Type-C port is what you recharge the battery pack with. So the battery itself recharges fast too, on top or charging all of your gadgets faster than anything else on the market.
Basically, this big portable battery is extremely fast, has a regular USB port for any cable you own, a dedicated Quick Charge and PD USB Type-C port, and it comes with its own cable and wall charger. It's as good as it gets.
Buy it Now on Amazon for $79.99
If you're looking for something fast that's more affordable, consider the Xiaomi 10k Slim for $29.

As an Amazon Associate I earn from qualifying purchases.