5 Best Reddit Apps for Android
These are the best Reddit apps for Android, and why you should use one instead of the official Reddit app. When you want to browse the "front page of the internet" you have plenty of ways to do it. That said, a dedicated Reddit app will deliver the best experience. Whether your first cake day is coming up, or you're a long-time user, here are some apps worth trying.
Reddit is one of the most popular sites on the planet, which is why there are dozens of 3rd party apps available. Apps that are far more feature-rich than the official Reddit app.
Read: Best Reddit Apps for iPhone
If you're still using an old and outdated option like Reddit is Fun, it's time to see what else is available. Not that its bad, but there are several others with tons of unique features. When you see what all these apps have to offer, you'll wonder why you didn't try one earlier.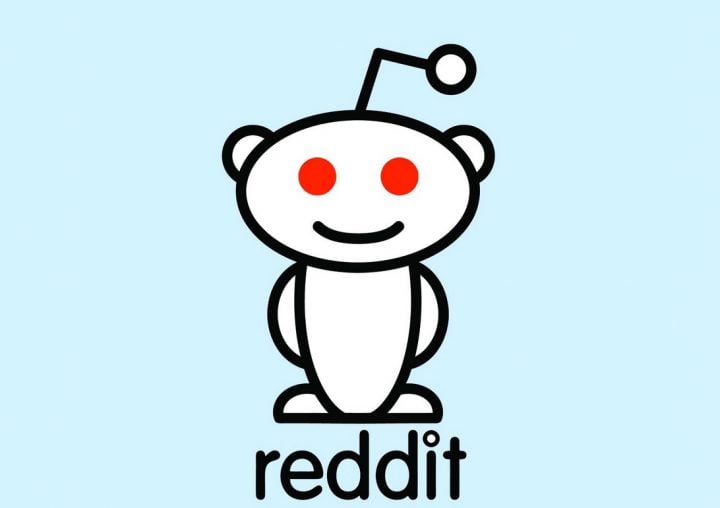 Boost for Reddit
I'll admit it, I still use Reddit is Fun. It's 2018 and extremely outdated, but old habits die hard. That said, our first recommendation is Boost mainly because it's highly customizable. You'll enjoy a stock Android look and feel, one that matches your phone. The material design interface is nicely done, with big cards, pop-up or slide-out menus, and content is front and center.
The big cards and media previews look great, but you can control them if it's not your style. So enjoy the card layout, or disable it. The "condensed browsing" mode is pretty slick. Then, the developers give us options for light or dark themes, filters, navigation gestures, tablet support and more. It's as feature-complete as you're going to find. Sometimes comments take a little longer to load than the official app, but everything else delivers an excellent experience.
Download – Boost for Reddit 
Now for Reddit
Common guys, it's 2018 and you need to ditch Bacon Reader for something else. We're recommending "Now". Out of all the options, Now for Reddit has the best user interface. It's beautifully designed, delivers themes, color-coded comments, and just feels right. It's hard to explain, but you'll love everything Now has to offer.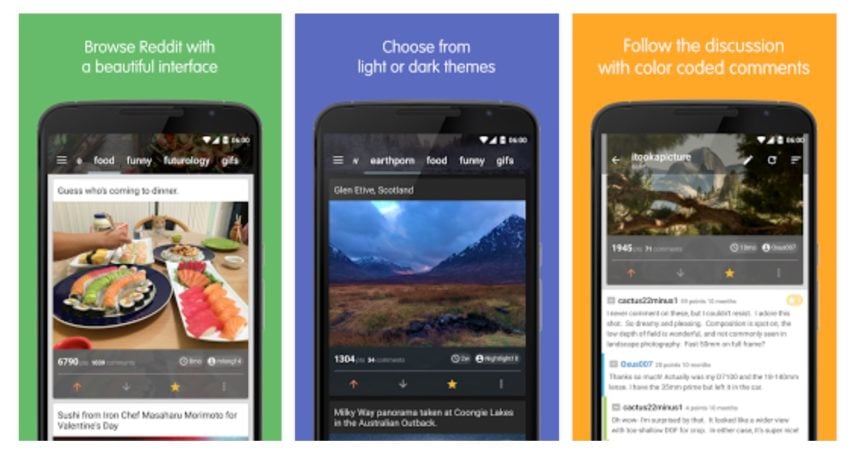 Our favorite feature is the ability to swipe between subs. Or the fact that the entire interface is slightly transparent. You'll see the header image for each sub in the background. One potential problem is the lack of options and settings, aside from the dark and light themes. They're slowly adding more though, so give it a try.
Download – Now for Reddit
Slide for Reddit
Another highly recommended app is Slide. With this setup, you get a mix of old-school viewing modes and rich new features combined. Swiping between subs is the main aspect though, which many users enjoy. Not to mention it's highly customizable to fit any users needs.
It's fast, secure, free with no ads, and open source. Simply slide or swipe to scroll through subreddits, upvote things with ease, and customize everything. We're talking about the grid size, card layout, colors, accent colors, font size, or even add new themes. You can change the entire look and feel, which is what makes this app so powerful.
Try Shadowbox mode too, perfect for only viewing images, GIFs, and albums.  Being able to get past everything and right to the good stuff, is where it's at. Although I do enjoy heading into a few threads for the comments, of course.
Download – Slide for Reddit
Relay for Reddit
Another extremely popular option is Relay, previously known as Reddit News. This one probably has the most users, and with good reason. You'll enjoy slide-out menus, gestures and controls, and overall easy navigation. We're big fans of the color-coded comments and beautiful app animations too.
Like most on our list, it has in-line previews, opens most photos and GIFs internally, and even has themes. Everything about Relay is pretty amazing, except for the comment section.
Relay has a great interface for tablets, dual page mode, reply right from your inbox, multi-account support, and tons of customization. Don't forget about the left-handed mode, in case you need it.
Download – Relay for Reddit
Sync for Reddit (Previously Reddit Sync)
Then last but certainly not least is Sync. If Google made an app for browsing the front page of the internet, it would look and operate like this one. Navigation is smooth, fluid, easy, and has beautiful animations and effects.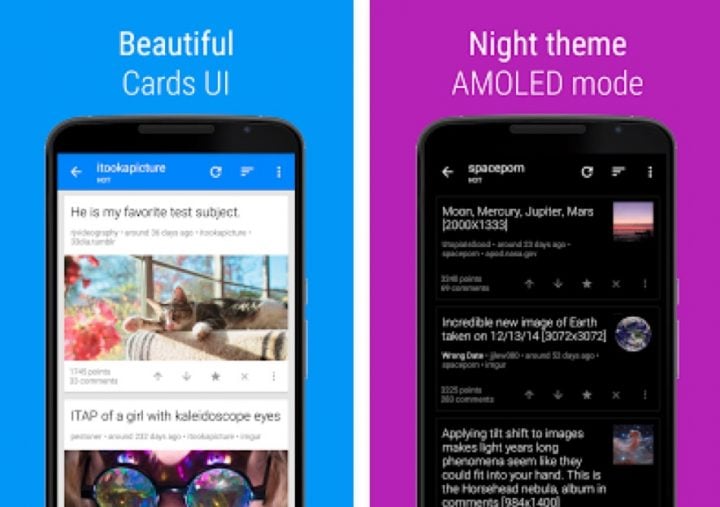 It supports almost any link and natively opens them inside of the app, more than anything else on our list, but can also be easily opened externally if the user would like. Which sometimes helps to load a big GIF or video quickly.
Sync offers tons of themes, customization, and even the option to download the first 10 pages of any sub for offline viewing. Perfect for traveling when you won't have internet.
The card-UI is pretty, fast, easy to understand, and highly customizable. There are so many features we recommend just going to the Google Play Store and trying it out. It's one of the most popular apps for a reason.
Download – Sync for Reddit
Each app has strengths and weaknesses, as well as similarities in terms of features, so it all comes down to personal preference. Being able to customize your experience goes a long ways here, and most of these apps have plenty of customization. I've been a longtime Reddit is Fun user, but lately, Sync is what I find myself using the most. That said, the latest official Reddit app beta just received version 3.0 and it's vastly improved. They added themes, night mode, account switching drawers, a new bottom nav bar, and a built-in pony theme. I mean, what else do you need?
Try one of these apps and enjoy Reddit more than ever before. If you have a suggestion for another great app let us know in the comment section below.