Best Rugged Cases for the Galaxy S10
These are the best rugged cases for the Galaxy S10 you can buy right now. And while a typical cheap TPU case will do a decent job, when you invest $900 on a premium smartphone it's worth putting it in the best case possible. Not everyone wants a big bulky case, but if you need something extremely rugged these ones are worth considering.
Samsung Galaxy S10 cases come in a slew of different styles, and rugged cases are one of the most popular options. They'll keep that curved glass on both sides completely safe from life's daily hazards.
Our list has everything from thin yet still rugged cases, military-grade protection, or thick Otterbox cases that can handle a beating. Choosing a case is a personal preference and here are a few of your options.
Best Rugged Cases for the Galaxy S10
Spigen Neo Hybrid Case for the Galaxy S10 – $14
Samsung Rugged Protective Case – $35
Incipio DualPro – $30
SUPCASE Unicorn Full-Body Cover – $20
Otterbox Commuter Series – $40

ArmadilloTek Vanguard Military-Tech – $19
1. Spigen Neo Hybrid Case for the Galaxy S10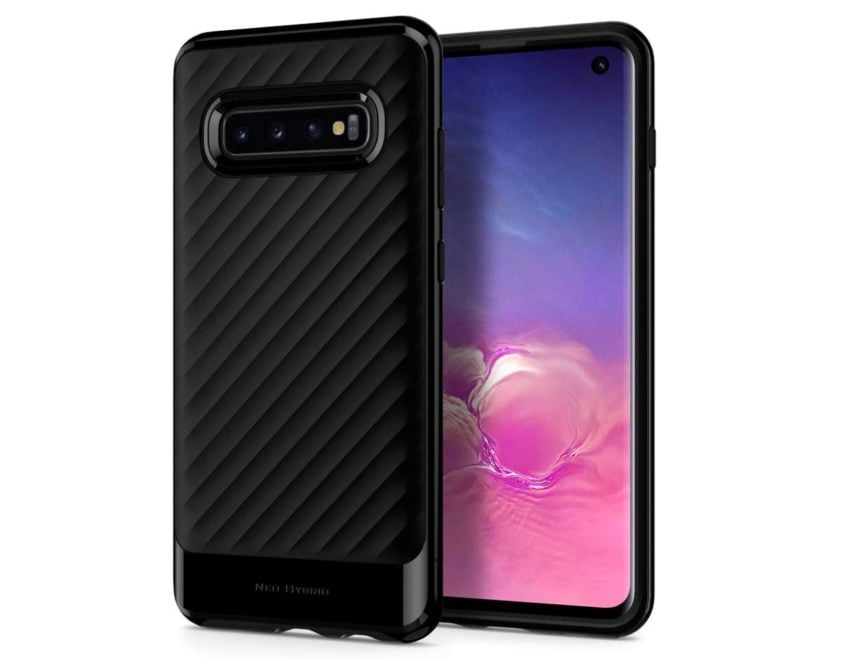 Spigen is one of the most popular names when it comes to smartphone protection. And while they have over a dozen great Galaxy S10 cases, including Rugged Kickstand options, the Neo Hybrid is probably their best all-around case. It's not too thick, not too thin, not just cheap TPU, and it's built to last.
The Neo Hybrid received a new design in 2019, and it looks pretty good. This case uses a strong dual-layer of durable shock absorbing TPU material (basically flexible plastic) with air gaps in the corners to prevent damage from drops. Then, they cover that entire precisely molded TPU cover with a hard polycarbonate shell and bumper for added durability. This is what makes it a "rugged case". They even upgraded the frame at all the cutouts and ports to make it extra strong, while keeping the case thin, lightweight, and affordable. Get one in several different colors.
2. Samsung Rugged Protective Case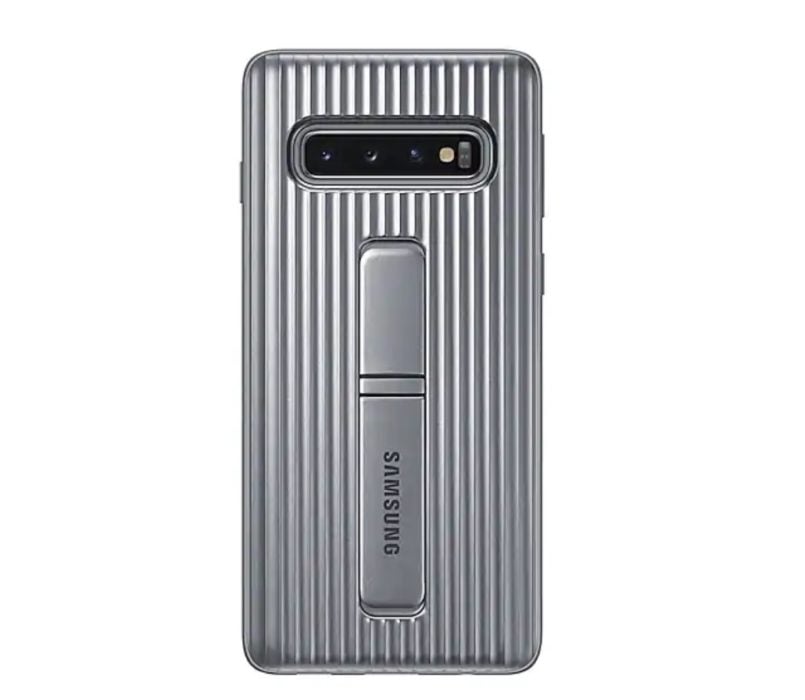 Another great option is to simply get a durable and rugged case from Samsung themselves, as they know how to keep their own phones safe. One of our favorites over the last two years is the Samsung Rugged Protective Cover. This is built like a tank, looks like a durable suitcase, yet has a lay-flat kickstand that can fold out for hands-free movies or YouTube watching.
Samsung ensures this case meets military-grade drop tests up to 10ft high. And yes, that's with your phone inside. The inside has shock absorbing material while the outside is hard plastic. You'll notice raised edges around the camera and the screen, tactile buttons, and the kickstand even has two viewing angles to choose from. It's a strong case that comes in Silver or Blue. Sadly, they don't have black this year.
3. Incipio DualPro
Buy it Now from Incipio for $30
The Incipio DualPro was one of the very first cases to combine both soft TPU materials with a hard rugged exterior for all-around durability. The approach was simple. They wanted a case as durable as those old-school Otterbox cases, without all the bulk. Now, almost everyone uses some form of a "dual layer" design to keep cases sturdy but not too bulky.
Basically, if you want one of the original best rugged cases for the Galaxy S10, you'll get the Incipio DualPro. It comes in four different colors, has soft TPU on the inside, and the entire outer shell is a soft-touch hard polycarbonate frame. Instead of jump a bumper of hard plastic like some of the others.
4. SUPCASE Unicorn Full-Body Cover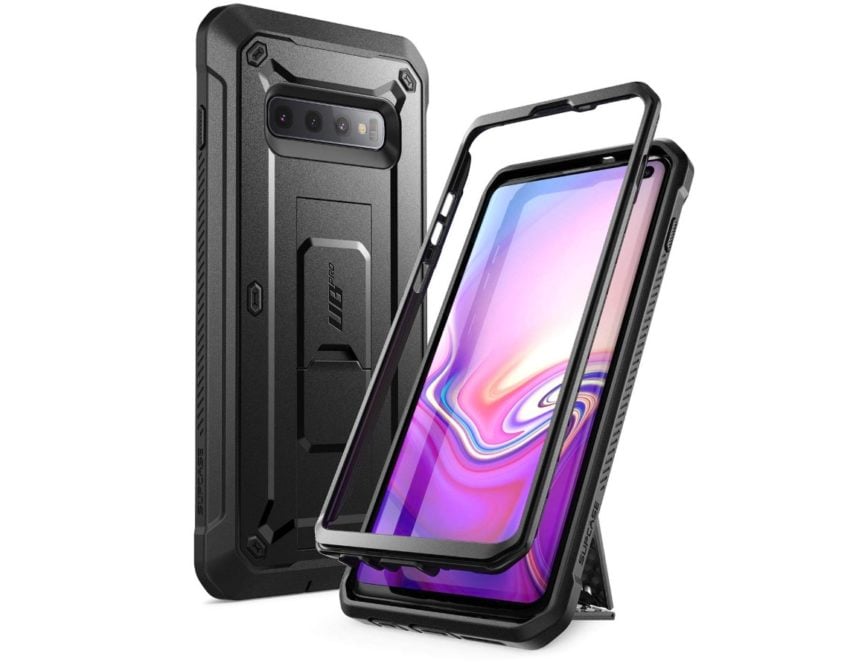 Do you work outdoors, on the job site, or are always on the go? If so, you'll probably want something super tough to keep that shiny, fragile Galaxy S10 safe. That's where this 360-degree full-body cover from SUPCASE comes in. Yes, this covers the front and the back of the phone, ensuring any accident is fully covered.
This rugged case got dropped 26 times from over 4-feet and the Galaxy S10 was fine inside. They're using a dual layer rear and a snap-on dual layer front that combines for total protection. It comes with a kickstand that works in landscape or portrait mode, a belt holster if you're one of those guys, and all of this still works with wireless charging. The only downside to the Unicorn this year is that there's no built-in screen protector like usual. That's because they want you to still be able to use the in-display finger scanner. Get this if you're really hard on phones.
5. Otterbox Commuter Series
Buy it Now from Otterbox for $40
When you think about a "rugged case" Otterbox is probably the first brand that comes to mind. They're one of the original case manufacturers, and they've refined the style every year and still offer some of the best rugged cases on the market. Personally, the Otterbox Commuter series is the best middle-ground case they have. It's not as thick as some of their cases, but it'll more than get the job done. Plus, it's more rugged and durable than anything else under $20 on Amazon.
The Commuter series has two tough layers that absorb impacts or deflect them away from the screen. Even the angles on the back are designed to deflect impacts outwards, not inwards. They added reinforced corners and textured no-slip grippy edges to the case too, ensuring a great experience all in a case you can still fit in your pocket. Well, most pockets, but maybe not your skinny jeans.
6. 
ArmadilloTek Vanguard Military-Tech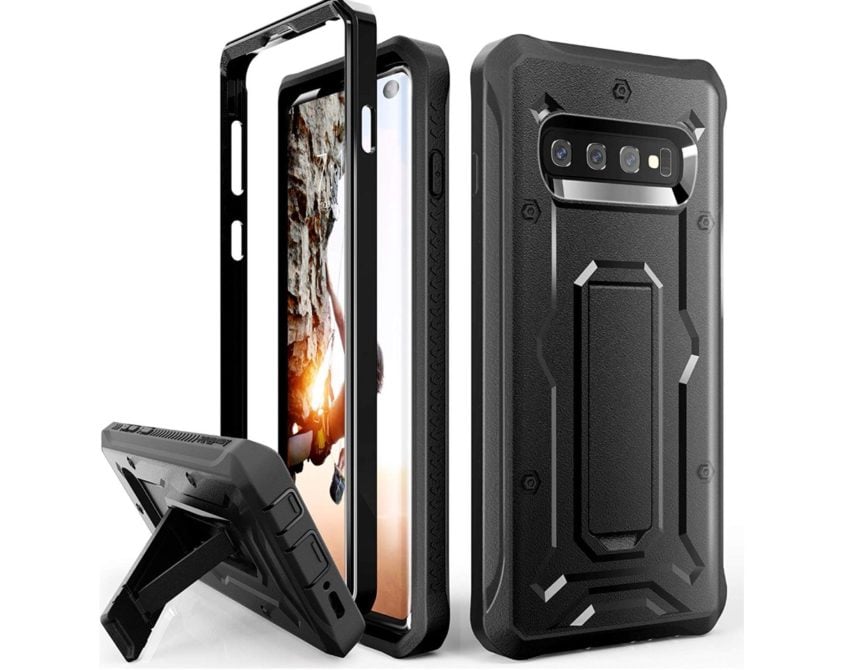 This next case is very similar to the SUPCASE Unicorn, in that it covers the entire Galaxy S10 from front to back. This is a rugged case if I've ever seen one. Furthermore, ArmadilloTek added a honeycomb texture on the inside of the TPU frame to disperse any damage throughout the case, instead of into the screen. The entire back is a hard polycarbonate shell, too.
Not only is this a dual-layer full cover case, but they've added a third layer to all four corners to make them extra durable. Then, there are small flaps covering the ports on the bottom, oversized tactile buttons, and a textured finish on the back so you'll never drop this otherwise slippery phone. Oh, and it comes with a kickstand or a holster too, if you need one.
Again, this case (like all of our rugged cases) will work with wireless charging. In closing, we want to confirm that we'll add more rugged Galaxy S10 cases to this list as we test and review more options. We also recommend cases from Tech21, Gear4, UAG, and X-Doria for those looking for extreme protection.

As an Amazon Associate I earn from qualifying purchases.