15 Best Galaxy S10 Cases Available in 2020
These are the best Samsung Galaxy S10 cases worth buying right now to keep your fancy phone safe and to protect it from scratches. With curved glass on both the front and the back, a case is almost necessary to protect your phone from life's daily hazards.
We've found Galaxy S10 cases in several different styles, ensuring we have something you'll like. Whether you prefer thin cases, clear cases, a wallet case, or need heavy-duty rugged protection, we have you covered at multiple price points. Some even have built-in screen protectors and kickstands. These are the cases we can recommend without hesitation.
While we typically suggest quality and durable cases from a big-name brand first, even a cheap $9 TPU case from Amazon is better than nothing. Not to mention TPU cases are thin, light and usually work with wireless charging, that way you're not losing features. That said, the more expensive cases could do a better job of protecting your phone.
The Best Galaxy S10 Cases
Spigen Neo Hybrid Case
Speck Presidio Pro
SupCASE Unicorn Beetle Case
Pelican Protector Hard Case
Tech21 Pure Clear Shell
Urban Armor Gear Monarch Case
Olixar Breathable Mesh Case
SnakeHive Genuine Leather Wallet Case
Spigen Tough Armor Kickstand Case
CARVED Real Wood Cases
OtterBox Symmetry Series Case
Silk Galaxy S10 Wallet Slayer Case
Gear4 Battersea Bumper Case
Tendlin Wood Grain TPU Case
Mophie Juice Pack Battery Case
1. Spigen Neo Hybrid Case for the Galaxy S10
Buy it Now on Amazon for $13.99
Our first Galaxy S10 case recommendation is always something from Spigen. Plus, the company recently redesigned it's extremely popular Neo Hybrid case. They added a wavey texture on the back that's grippy and easy to hold, while also protecting your phone.
This case is made from a durable shock-absorbing TPU case material then wrapped in a plastic bumper. Spigen reinforced the frame at each cutout for the buttons or charging port, too, making it the best and most durable Neo Hybrid yet. And no, the wave design doesn't affect wireless charging. All the features still work with this case. Buy one today!
2. Speck Presidio Pro Case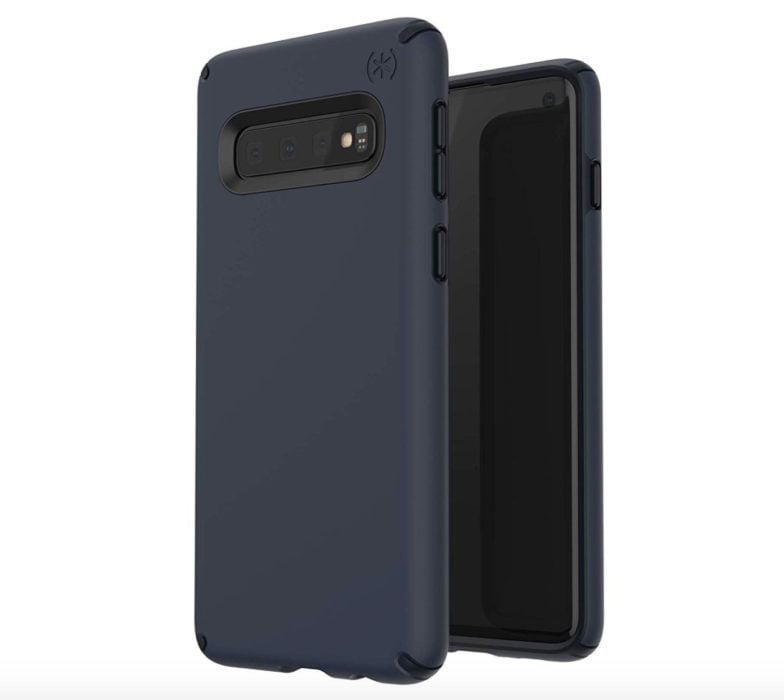 Another brand we recommend for almost every phone is Speck. Mainly because they offer a 10ft military-grade drop rating without being too thick or bulky.
The Speck Presidio Grip is our usual recommendation, but the new Pro series is even better. They're using a hard polycarbonate bumper frame with a soft inner shell with a material they're calling IMPACTIUM. Basically, a soft TPU-like material with strong shock-absorbing properties. When you drop your Galaxy S10 that material will suck up the force from the drop, disperse it throughout the case and out the corners, and keep your phone safe.
Plus, it comes in different styles and colors, so give it a try.
3. Supcase Unicorn Beetle Case
Buy it Now on Amazon for $12.99
If you're like me, you like to show off the beauty and style of the Galaxy S10. Especially if you got the new Prism Blue color. If so, you'll want to grab a clear shell case from SupCASE. They're using an ultra-slim yet durable all TPU material that'll keep your phone safe. TPU is a flexible plastic mixed with rubber that gives you the best of both worlds when it comes to smartphone protection.
Supcase's Unicorn series is extremely thin, lightweight, clear (or smoke grey in color) and gives you access to every port or button. We really like these cases because they're very thin and easy to hold, add just enough texture that the phone is no longer slippery, but doesn't add any bulk either. Plus, they're pretty great and keeping phones and screens safe from life's daily hazards.
4. Pelican Protector Hard Case
Buy it Now from Pelican for $40
Pelican, the brand known for extremely rugged and durable suitcases, outdoor gear, carry cases and military products now makes awesome protection for the Galaxy S10. The Pelican Protector series is the perfect case for an outdoors enthusiast or someone who's always on the go.
This case offers a dual-layer TPU design that will absolutely keep your phone safe. Any impact, drop, or accident will just bounce right off of the TPU. However, there is a third layer of hard polycarbonate plastic wraps around the entire outer edge of the case. This has that traditional boxy and angled edges we've seen in the past from Pelican, too. The angled edges help divert energy away from the screen if you drop your phone, which is neat.
5. Tech21 Pure Clear Shell
Buy it Now from Tech21 for $40
The Tech21 Pure Clear Shell case is another great option for those looking for crystal clear protection. They use a thin and durable TPU material that wraps around the entire phone to keep it safe. However, each Tech21 case has an "air cushion" technology where there are small gaps on the corners, which keeps the phone and screen safe during drops or accidents.
Plus, the entire outer edge doesn't just sit flush with the phone. Instead, they've added ridges and ripples that basically adds a TPU spring around the entire frame of the phone for extra reinforcement.
6. Urban Armor Gear 'Monarch' Case
This next case is really expensive, but it's one of the thinnest and most durable cases on the market for the Galaxy S10. UAG, also known as Urban Armor Gear, makes some truly unique cases. And while some people might not like the rugged and industrial design, it's the function and job it provides, not the looks, that's important.
Each UAG case has a soft featherlight and flexible impact-resistant core, plus textured traction grips on the sides for comfort. They use oversized buttons that are easy to press, too, which is nice. Then, depending on which UAG model the outer materials and back of the case is different. The Monarch series is our favorite UAG case. This model has FIVE different layers of material that'll keep your Galaxy S10 safe.
Those layers include a premium fine-grain leather on the back, which is then protected by a powder-coated black metal frame. Plus, they use dual-layer reinforced corners that ensure the phone can handle drops from over 10ft high. They also have a cheaper Pathfinder series for $30.
7. Olixar Breathable Mesh Case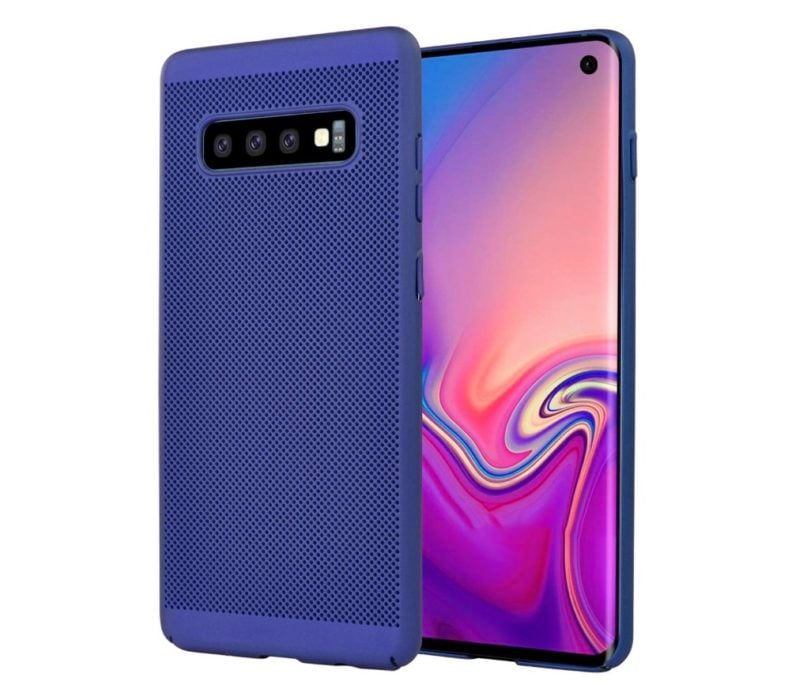 Buy it Now on Amazon for $12.99
If you're holding your phone often while watching 1080p movies on YouTube or all-night gaming sessions of Fornite, it probably gets hot and sweaty. As a result, popular brands like Samsung and Olixar make breathable cases that'll help keep your phone and hands cool.
The Olixar Breathable case with MeshTex technology is worth considering. It's an ultra-slim case that works with wireless charging, gives you access to all the ports, has easy to press buttons, and of course, breathes more than most cases. The phone has a non-slip textured design with a soft TPU breathable mesh material that's extremely easy to hold. We're not sure how it'll handle dirt and pocket lint build-up over time, but it's an option for those that push their phone to the limit.
8. Snakehive Genuine Leather Flip Case
Snakehive is a brand that uses premium luxury genuine leather to protect your phone. These cases are made from the finest full-grain Italian leather, hand-stitched edges, and premium materials. Plus, there's a flap on the outer edge that holds 3-4 credit cards, plus some cash. Giving you one less thing to worry about and carry on a night out. So use it occasionally with your Galaxy S10, or daily.
Additionally, for durability, the phone sits inside a durable TPU frame on the inside the leather. This way it's protected from any potential accidents while still looking stylish and carrying your wallet contents at the same time. This is a premium genuine leather wallet case for those that want to pair simplicity with a sophisticated Galaxy S10 case. Plus, it doubles as a kickstand when you need one, too.
9. Spigen Tough Armor Kickstand Case
Buy it Now on Amazon for $15.99
Another case we recommend for every phone is the Spigen Tough Armor. That's because it's not too thick or bulky, not too thin, offers tons of protection and has a kickstand case so you can enjoy your phone to the fullest. Flip out that kickstand, turn on Netflix and live your best life.
Like most Spigen cases, this Tough Armor has a soft impact-resistant TPU core that covers the entire phone. Then, they've added a faux metal polycarbonate plastic shell around the outer edges, corners, sides, and back of the case. This makes it extremely durable. The buttons are oversized and easy to press as well. Then, they've raised the edges around the screen and cameras to keep all the important stuff safe.
10. CARVED Real Wood Cases
Buy it Now from Carved for $39
Sometimes I want a stylish and unique case for a night out, instead of my typical rugged hard shell. That's where these beautiful hand-carved real wood cases come in. CARVED makes beautiful cases for the Galaxy S10 or S10+ that are made from real wood, cut right in the company's backyard of Indiana. American made.
You can choose from several different styles of carved wood, seashells inlaid into the TPU frame of the case, or even two-tone "Satellite series" that have a wood and resin inlay for a beautiful and unique one-of-a-kind look. My favorite Carved case is the Mount Bierstadt Inlay. They use a hard TPU frame like any other case, then put multiple layers of wood on the back to create a pretty mountain landscape scene. It's quite gorgeous, and I get questions about my case ALL the time.
11. Otterbox Symmetry Series Case
Next up is the always popular Otterbox case for the Galaxy S10. Otterbox makes a slew of different case styles and designs for phones, but honestly, most of them are way too bulky and thick for me. If you're a busy person who works outdoors, by all means, get an Otterbox Defender.
For everyone else that wants that same award-winning protection in a package that's slim and easy to hold — buy the OtterBox Symmetry. This new case uses a synthetic rubber and TPU material on the inside to absorb any forces from drops or accidents, then protects the rest of the phone with a hard polycarbonate plastic frame. It's your typical durable Otterbox case in a sleeker package, and you can get one in five different colors.
12. Silk Galaxy S10 Wallet Slayer Case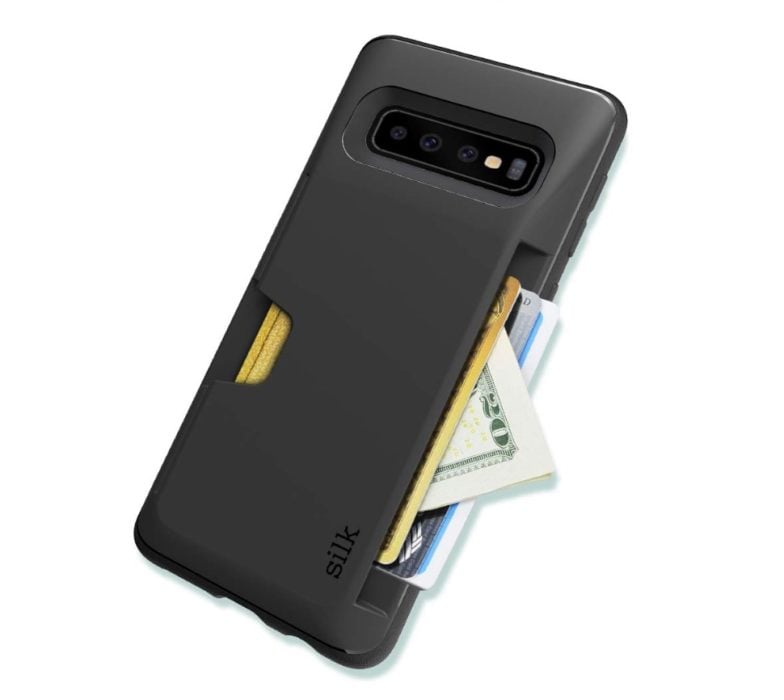 The Silk "Wallet Slayer" is the perfect wallet case for someone that wants one less thing to worry about and carry. They use a dual-layer durable and flexible TPU frame to keep the phone safe. Not to mention reinforced corners with air-gap technology to save the screen from drops or accidents.
However, flip it over and you'll see the special stuff on the back. Silk designed a wallet slot right into the TPU frame that's capable of holding 2-3 credit/debit or ID cards, plus a little bit of cash. If you want a wallet case but hate those floppy flip cases, get this.
13. Gear4 Battersea Bumper Case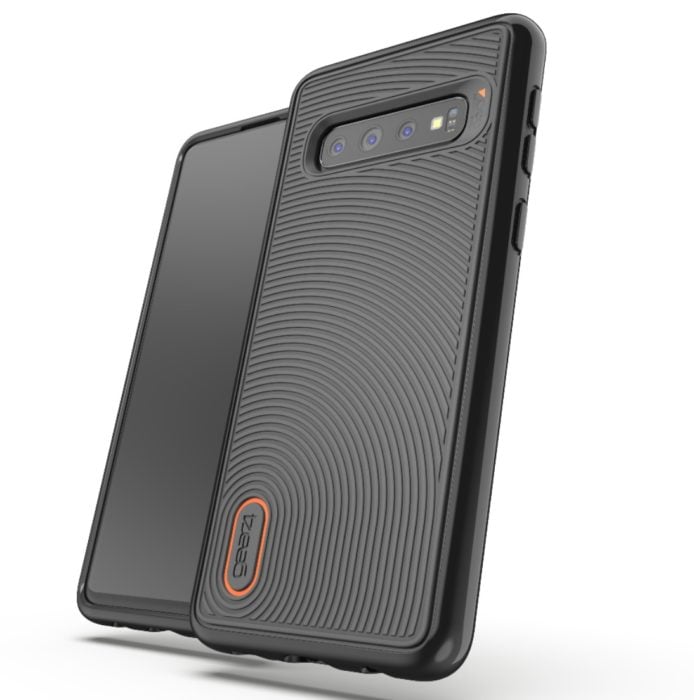 Each Gear4 case has a patented "D3" technology on the inside that absorbs impacts from drops and damage. It's the same technology inside bullet-proof vests, seriously. They line the case edges in that stuff to ensure your phone won't die from a drop or accident. As a result, each one has a 10-ft drop guarantee. We've seen other brands use this same technology, but Gear4 covers the ENTIRE back of the case with it too. It's crazy strong.
This case has a slim design, textured ridges on the back for an improved grip, easy to press buttons, and it works with wireless charging through the bullet-proof vest material. Get it in Black or Clear, or try any case from Gear4 if you need serious protection.
14. Tendlin Wood Grain TPU Case
Tendlin does fun things with cases and comes up with nice designs. They're offering your typical cheap, thin, yet durable and flexible TPU case for the Galaxy S10 and S10+, only they've added a real wood grain veneer to the back of the TPU.
This means you get a thin durable case with stylish good looks without the high price tag of others.
Basically, this is your usual thin and easy to use TPU case but with some added styling. It's not the most rugged or durable case around, but it's thin, comfortable to hold and use, and offers a decent amount of protection at an affordable price.
15. Mophie Juice Pack Battery Case
Buy it Now from Zagg/Mophie for $99
Last but not least, for now, is the Mophie battery case for the Galaxy S10. This is your typical durable rugged TPU and polycarbonate plastic case, but then they added a big battery inside so your phone can last over twice as long.
Available for the Galaxy S10e, Galaxy S10, and Galaxy S10+, the Juice Pack offers 2,000mAh of additional juice for the Galaxy S10e and S10, as well as 2,525mAh for the Galaxy S10+. Combine the 3,400 mAh internal battery with another 2,000, and this case will let your Galaxy S10 have a total of 5,400 mAh, which should be enough to last for 2-3 days on a single charge.
Mophie cases offer pass-thru technology so the USB Type-C port still works for charging and sync or data transfer, and you still get wireless charging with the case, too. You will, however, lose reverse wireless (Powershare) charging. On the flip side, it turns the bottom speaker into a front-facing speaker.
Any of the cases we've detailed today will do a good job at keeping your phone safe. So, find what looks the best or works for your needs and buy one today.

As an Amazon Associate I earn from qualifying purchases.