Best Samsung Galaxy S5 Cases
There are many Samsung Galaxy S5 cases on the market with more coming in April near the planned Galaxy S5 release date. For users that hate to go a day without a good case on a new phone, here is a look at the best Galaxy S5 cases we could find.
Samsung is delivering a larger and thicker Galaxy S5 that is water-resistant which is going to be good enough for many users to go without a waterproof case for around-the-house protection. But, this is not a rugged smartphone and users will still need a Galaxy S5 case on hand if they want to take the smartphone swimming or need to use it in an environment where drops and damage are a common problem. Without a case the Galaxy S5 an only handle 30 minutes in 1 meter of water, with a waterproof case expect to go 30 minutes at 3 meters.
Samsung announced four Galaxy S5 colors, but odds are not every U.S. carrier will sell all of the colors at launch. This means users who want a specific color or who want a fashionable Galaxy S5 design may still need to buy a nice case to achieve their desired look. There are many options that allow users to add a vastly different look than the dimpled black and white back that shoppers will find on AT&T, Verizon, Spring, T-Mobile and other carriers.
Update: Galaxy S5 Pre-Orders Start
There are a collection of Galaxy S5 cases available and coming soon from Samsung, Speck, OtterBox, Griffin and many others. These are the best Galaxy S5 cases we could find. They come from brands the Gotta Be Mobile team uses on the Galaxy S4 and other smartphones that we carry.
We'll update this list of the best Galaxy S5 cases as more options come to the market and as we review these cases.
Spigen Galaxy S5 Case Neo Hybrid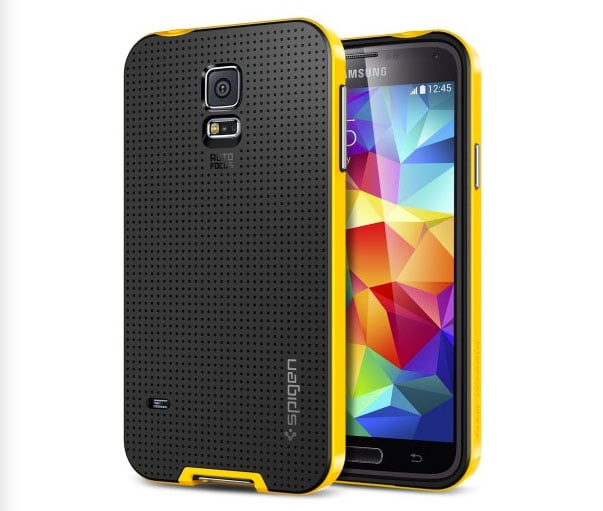 There are many Spigen Galaxy S5 case options, but the Neo is one of the most interesting cases thanks to a six color options. Users get a soft back that is grip-able thanks to dimples like the Galaxy S5's original design.
The back of this case is available in black only, but users can pick from six colors for the hard polycarbonate edges that accent the black finish of the back of this case. The red and yellow color options both look very sharp as accents.
This case offers protection for the edges of the device and while it will not add to the water-resistant properties of the Galaxy S5, it should stand up to water as well.
$29.99 at Spigen