Best Walmart Black Friday Deals
Canon Rebel T5 Bundle for $449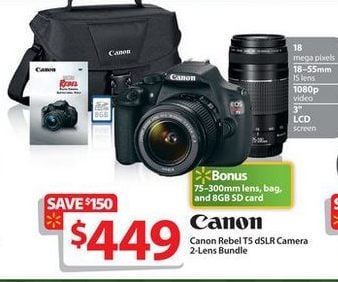 The Canon Rebel T5 isn't the best DSLR around, and you won't see any serious photographers using it, but it makes for a great learning camera with a fairly low barrier-to-entry as far as cost is concerned.
This specific deal includes a Canon Rebel T5 camera, camera bag, memory card, and an extra lens (75-300mm zoom lens). All of which will cost you just $449, and the bundle will have everything you need to get started with learning photography.

This article may contain affiliate links. Click here for more details.