Black Friday 2011 Tablet Deals: ASUS, Apple, Samsung, Lenovo and More
Black Friday is at the end of the week, looming there, tempting you with deals on tablets. However, as a smart consumer you should always be cautious of Black Friday deals.
There are Black Friday Tablet deals to be had, but many more duds. It's worth noting that there aren't many Black Friday iPad deals for 2011 yet, and we don't expect many.
Some deals are actually not deals at all, or are discounts you can find online right now. Some of the tablets on offer are so crappy that they're not a deal at any price. Other deals are okay, but not worth going through Black Friday madness to obtain.
I've scoured the available Black Friday information and sorted the tablet deals into three categories:
Good Deal: The discount is significant enough to warrant getting out of bed or leaving the Thanksgiving table to go shopping. However, even with these you should do a search to see if someone is selling the tablet for that price, or close to it, online already.
Not 3am Worthy: If it were a normal day and a normal sale, I'd say go for it. But there's no need to drag yourself out of bed for these.
Run Away!: Don't even bother. Most of the tablets in this category are just crap. Otherwise the "deal" isn't one.
Good Black Friday Tablet Deals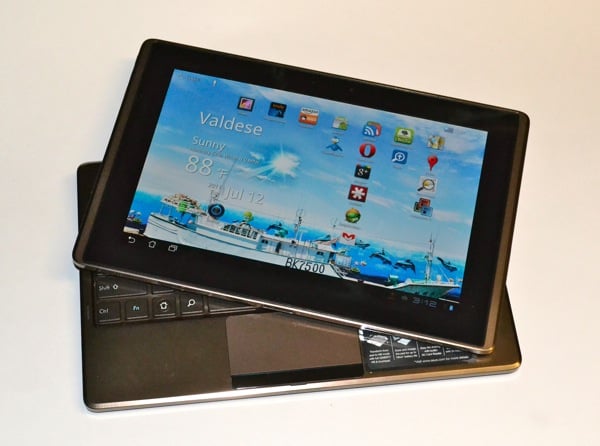 Acer Iconia Tab [10.1-inch, Honeycomb, 16GB] $299 @ Staples
This is a nice tablet, especially at this price.
Acer Iconia Tab A100 [7-inch, Honeycomb, 8GB] $189 @ Best Buy
Less than the Nook Tablet and the Kindle Fire, and it's a full Android tablet with all the trimmings? Yes, please.
Asus Eee Pad Transformer (1st gen) [10.1-inch, Honeycomb, 16GB] $299 @ HHGregg; $249 @ Best Buy
Definitely scoop this one up if you can get it at this price. Along with the keyboard dock it's one of the better Honeycomb tablets out there right now. Yes, the new prime is coming out soon, but if you're deal hunting, you can't do much better than this.
Asus Eee Pad Transformer Dock $99 @ Best Buy
HP Touchpad [32GB] $149 @ Office Depot
This one comes with a condition: you have to buy an HP computer, you can't just buy the tablet. If you intended to pick up an HP computer, anyway, then go for it. The TouchPad is a decent tablet, especially for this price.
Lenovo IdeaPad K1 [10.1-inch, Honeycomb, 32GB] $299 @ Staples
This is one of my favorite consumer tablets partly because it comes with so many pre-loaded apps. Definite good deal.
Not 3am Worthy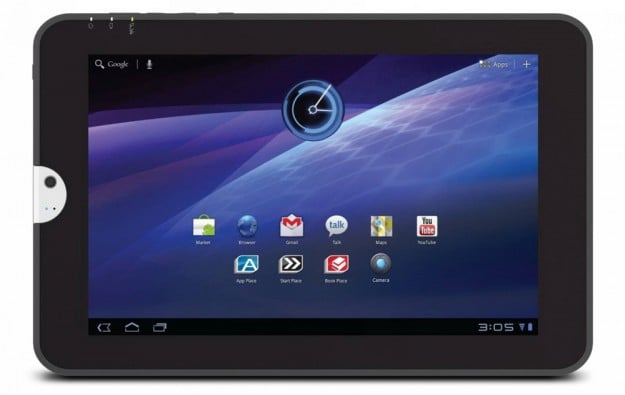 Apple iPad [16GB, 32GB] $25 off @ MCX
Are you seriously going to roll out of bed to save $25 on an iPad on Black Friday?
Archos 101 [10.1-inch, Froyo, 8GB] $199 @ Shopko and Hastings; $219 @ Kmart
The 101 is an okay tablet, but not something I would particularly recommend. If you're really looking to hit that $199 price point and want something larger than the Kindle Fire, then check it out. But don't rush.
Archos Arnova 10 G2 [10.1-inch, Gingerbread, 8GB] $149 @ HHGregg
Same deal as above.
BlackBerry Playbook [16GB, 32GB, 64GB] $199 – $399 @ Staples
The PlayBook is pretty meh, but at this price it's worth strolling into the nearest Staples to see if they have it later in the day.
Toshiba Thirve [10.1-inch, Honeycomb, 16GB] $279 @ Best Buy; $349 @ Staples
While the Thrive is a decent tablet, it's not so great that you should run out to Best Buy and fight over it. And considering that the Staples price is only $50 you definitely shouldn't wake up early to nab it.
Run Away!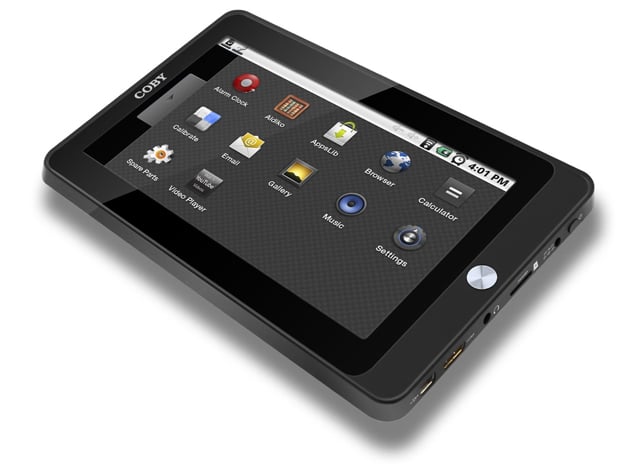 Coby Kyros [7-inch, Gingerbread, 4GB] $99 @ HHGregg, Fred's and Shopko; $139 @ FredMeyer
Coby is known for one thing: making cheap versions of popular electronics. A tablet is not something you want to cheap out on. The expensive ones are hard enough to deal with.
Leader i7 [7-inch, Froyo, 4GB] $99 @ Kmart
Have you ever heard of this tablet or this brand? Neither have I. A good rule of thumb: if you haven't heard of the brand, then it's not a good tablet buy, no matter how little it costs.
Nextbook Tablet [8.4-inch, Android 2.1, ?GB] $119 @ Kmart $149 @ Hastings
This particular Netbook isn't a very good tablet, though later models are better. Spend your money elsewhere.
Pandigital 9 Tablet [9-inch, Android 2.1, 2GB] $79 @ Kmart
Pandigital keeps trying, but this 9-inch tablet definitely deserves the craplet moniker.
Polaroid 7 Tablet [7-inch, Froyo, ?GB] $99 @ Kohl's; $79 @ Menards
No one seems to know anything about this tablet. We saw an ealry version at CES, but nothing since then. The fact that it appears to have debuted in Black Friday ads is a bad sign.
Samsung Galaxy Tab [10.1-Inch, Honeycomb, 16GB] $499 @ Toys R Us, HHGregg, Sears
Why is this marked as a "Run Away!"? The Tab 10.1 is a sweet tablet, right? The reason is because this is not a deal. This tablet costs $499 normally. If someone is selling you the 16GB one for more than $499 they're charging too much. The only reason to maybe pick up the one from HHGregg is that it comes with a keyboard and case, which is a decent deal.
Sony S Tablet [9.4-inch, Honeycomb, 16GB] $449 @ MCX
You can [amazon_link id="B005FXYJZY" target="_blank" container="" container_class="" ]get this for less on Amazon[/amazon_link] right now.
Sylvania 10 Tablet [10.1-inch, Android 2.1, 2GB] $129 @ Shopko
Sylvania is another brand name that indicates nothing good, at least in the computer/tablet world. They may make fine electronics otherwise, but you really don't need their tablet.
Sylvania 7 Tablet [7-inch, Froyo, 2GB] $74 @ Toys R Us; $79 @ Shopko and Sears; $99 @ Hastings $94 @ CVS — Seriously — Don't buy the Sylvania tablet.
Sylvania 8.4 Tablet [8.4-inch, Froyo, 2GB] $179 @ AAFES Run Away!
Velocity Cruz [7-inch, Froyo, 2GB] @69 @ Kmart; $89 @ Sears; $49 @ RadioShack
I might almost say this was worth it for the RadioShack price except it's just not a good tablet, thus it's not worth any price. Save your $49 and put it toward something nicer.
Check out our other Black Friday 2011 coverage for other deals, and peruse our Gift Guides for great presents for every budget.

As an Amazon Associate I earn from qualifying purchases.