Clash of Clans May Update Poised to be Biggest Ever
A massive Clash of Clans update is coming in May. In fact, this could be the biggest update in the history of the game. Aimed at fixing the slow pace of upgrades and giving players new opportunities. From potentially a new dark mode, 2vs2 gameplay and the boat, or Battleship.
This isn't the biggest in terms of new troops and content, but we will see some of the biggest changes yet. At least according to the game developers.
Read: Clash of Clans 2017 Update: 8 Things We Want Next
For months we've known a Battleship is coming, and this update will deliver exactly that. Below we have more details, some videos, developer comments, countless rumors and everything you need to know about the May Clash of Clans update. That includes the latest balance changes that will also arrive in May.
May Clash of Clans Balance Update
First things first, there will be a big round of balance changes and game improvements this month. At the same time as the "boat update" Supercell will address key issues with game balance and make old spells more powerful. Here's a list of what to expect.
NEW: Clone Spell level 5 (Town Hall 11)
Clone Spell levels 1-5 clone capacity increased
Clone Spell level 3 now available at Town Hall 10
NEW: Freeze Spell level 6 (Town Hall 11)
NEW: Heal Spell level 7 (Town Hall 10)
7th Gold Mine and Elixir Collector now available at Town Hall 9 (was 10)
Bomb damage and Balloon attack speed increases
The idea here is to help those around Town Hall level 9. Almost all spells will be stronger or available at lower levels, and players can get a 7th gold and elixir mine. Then expect a decrease in time and cost for upgrades.
Upgrade Time/Cost Discounts:
Freeze Spell levels 1-5
Clone Spell levels 1-5
Heal Spell levels 4-5
Supercell claims there will be more to come with this update, but we'll have to wait and see it on the other side. Many assume that means on the other side of the ocean after we get the boat.
May Clash of Clans Update Rumors & Leaks
Now that we know about the balance changes, here's the latest rumors about the rest of this update.
We've seen a ship appear in the bottom corner of each players base, by the water. Players must spend gold or elixir to rebuild it before it becomes operational. Just like the Clan Castle early on in the game. What could this be for? To visit other bases, search for more gold and elixir, new achievements, offer another gameplay style or even bring 2v2 attacks. It's anyone's guess. We know there will be some type of "versus battles" so maybe huge clan vs clan attacks.
Following some leaks, the ship was officially announced in a set of videos. Teasing the new ship and taking our Clash of Clans universe beyond the sea, or even a new night mode.
"Discover What Lies Beyond Your Shores"
So there it is, the Boat or Ship is officially confirmed. We still don't know what for, or how it will work. Additionally, the image below recently surfaced too. It once again teases the battleship, troops attacking a village from the sea, and the dark mode mentioned above.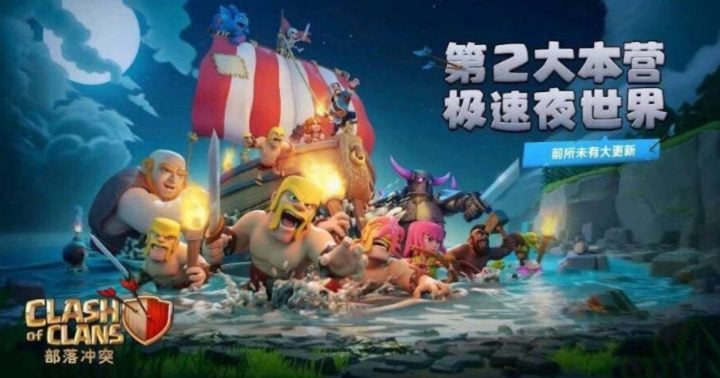 Maybe there will be a new "Clan Village" where everyone can participate in one big village. Or as we said above, a clan vs clan attack. Who knows. Or maybe we can just take our troops and load them on the ship, and go exploring the sea for enemies and gold.
Supercell has started releasing videos called the Captain's Log, which will document the troops trip at sea. The first video said, "new land means new possibilities" but that's the only real teaser from the clip. Here are the videos for those interested.
https://www.youtube.com/watch?v=uT3OpM03wPY
https://www.youtube.com/watch?v=BuqIHvNxbtY
https://www.youtube.com/watch?v=WV69roS0jRo
There is also talk of a brand new troop or hero called the Reviver, which can heal troops or buildings in real-time. Some of this could be coming in May, some at a later date, and others not at all. Until it's official, these are only leaks and rumors.
What We Know So Far
That all said, the official Clash of Clans forum is full of helpful information. According to the developers this update is nearly finished, and just needs some last-minute touch-ups. On May 5th the developer team confirmed this update will have no sneak peeks. With each update, there is a week of teasers before the update arrives, but that won't happen this month.
According to Supercell this update is different from all previous updates, and won't have a Town Hall 12, a new hero, or any other weird things we've seen in leaks. Everything will be about the boat and what lies beyond the shoreline.

The developers are simply teasing that this update will be very unique, and huge. It looks like the only hints will come in the form of the Captain's log videos on YouTube. The boat appeared on bases back on May 3rd, but that's still the only hint.
We recommend watching each Captain's Log video and hopefully one will show something, otherwise stay tuned for more details.
What's Next
Updates often arrive near the weekend, or on the weekend. This gives developers the next week to fix any critical bugs or issues. And judging by what we've seen, there could be a lot of changes. One forum moderator from Clash of Clans confirmed the update won't released until after May 11th. One rumor suggests May 21st-22nd for the update but that's unconfirmed.
At the end of the day, anything is possible. The update could get delayed if any problems are found. Following the May update, we can expect more changes in June and July. Would this be enough to get you interested in the game again? We'll update this post as soon as we learn more.