10 Common Clash of Clans Problems and Fixes
This guide will go over some common Clash of Clans problems users may face and how to fix them. It's one of the most popular games on Android and iOS, with good reason. It's extremely fun and very addicting. However, occasionally users run into problems. Like changing their name, transferring a village or switching to a new device.
We get asked a lot of questions about Clash. From transferring the game from an iPhone to an Android tablet, switching phones, connection problems, lost villages and more. There are countless problems that can easily be fixed, or otherwise solved with the help of Clash of Clans support.
Read: How to Transfer Clash of Clans to a New Phone
Typically users don't run into actual in-game problems. Instead, most of the questions being asked in forums are about minor things. However, there are still occasional bugs or problems you could face. The first stop for users is the official Clash of Clans support forum. Then continue on for more details and help with some potential Clash of Clans problems.
With millions and millions of players on both Android and iOS, this game has its share of problems. The biggest concern for most comes from a lost village. With that said we'll start with always backing up your Clash of Clans account or village. This can be done with Game Center, or Google+ on both platforms. Among other ways.
Additionally, in January of 2017 the developers announced they are ending support for any device running iOS 5 or older. This doesn't apply to most players, but if it does, learn more details here. Update your device or transfer your village before it's too late.
How to Backup Clash of Clans
First things first, gamers should always tie Clash of Clans to either Game Center on iPhone and iPad, or use Google+ and Google Games on Android. This is a crucial step that ties the game to your Apple ID or Gmail. Perfect in case of loss, theft, damage to a device, or other situations.
Start by opening Clash of Clans and hitting the settings button, which are three gear-shaped icons in a box near the bottom right. This is the main settings menu. In the middle and bottom is the important stuff. From transferring the game to another device, connecting to Facebook, or tying your game to Google or Apple's Game Center. Click the bottom middle option and connect to Google Play, or the bottom for Game Center. This ensures you'll always be able to recover your game.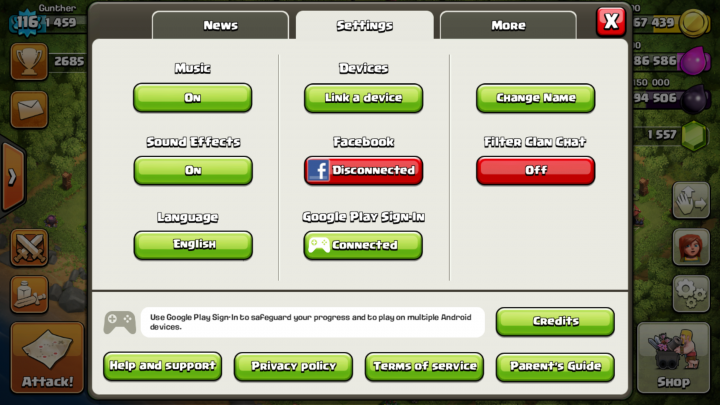 I've connected to Google+ with my gmail account. No matter what Android device I have, I can download Clash of Clans, connect to Google, and it will automatically transfer my entire village in seconds. I have the same village on more than one phone, and two different Android tablets.
Read: Clash of Clans Update Problems Frustrate Gamers
The same goes for Game Center. Simply connect to game center at the bottom of this settings screen, which will instantly connect Clash to that iOS device. With Android users can simply transfer the entire village with Google+, but iOS requires Game Center and using a link code.
This is the first step all users should take, to ensure they'll never lose a village. If this isn't done, Supercell might be able to recover a village if you know the email account, name, clan name and other information, but it could take days or weeks to be recovered.
How to Transfer Clash of Clans to a New Phone
Whether it's on Android or iOS, the process of transferring the game is rather easy. With iOS and Game Center you'll need a device linking code. However, you'll need both devices side by side to enter the code, or write it down. It's crucial that you follow the first step mentioned above, and sign into Game Center or Google+ on your current device first before trying to transfer the game. Better safe than sorry.
Read: How to Fix Clash of Clans Device Not Compatible Error 
With Android, transferring your Clash of Clans village to a new device (phone or tablet) couldn't be easier thanks to Google Play Games, and Google+. Download Clash of Clans on your new smartphone or tablet, go through the tutorial, then follow the steps from the video below. Simply connect and sign into Google+ inside the game and it transfers the data over.
The process is slightly different with iOS, and users will need to use Game Center and the "link a device" code button shown at the end of the video, or in the screenshot below. Tap this to get started.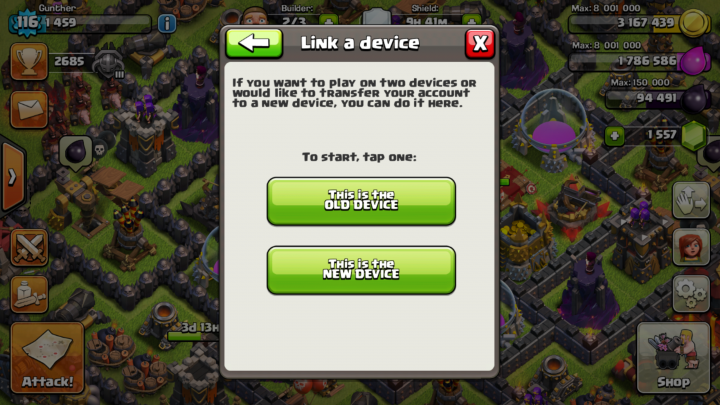 With iPhone or iPad you'll need the old device and the new one, which can be a problem if a device is lost or stolen. If so, contact Supercell for further assistance.
On iOS hit settings > Link a device > and tap "this is the OLD DEVICE". Clash will generate a code for you. Leave this on the screen, write it down, or take a screenshot. Do not lose it. Download Clash of Clans on your new iPhone or iPad, follow the same steps as above, but click "this is the NEW DEVICE" and enter the code. Sign into Game Center, and Clash will transfer to your new iOS device.
It's worth mentioning that if you download Clash on a new device and buy gems, or progress past Town Hall level 4, you can't transfer your old game data. Meaning you'll have to uninstall and reinstall the game, then try the transfer. So don't play at all, and just follow the steps above to transfer an old village.
If you try to transfer a village but your Gmail is tied to the wrong one, make a new Google account and re-connect it. Head to settings > accounts > add account > Google and make a new Google account. Then open Clash, and sync your current game to a new Google account. Then try again on your new device, and it should load the right village.
Find a Lost Village
If you have lost your Clash of Clans account or village by losing a phone, getting it stolen, broke, uninstalling the game or doing a factory data reset and did not have it backed up, only the support team can help you.
Start the game, hit settings, and press "Help & Support" to get started. Users can also proceed by contacting Clash of Clans support here.
Head to Help & Support, and tap the "Start a conversation" button on the top right. This will connect you with Supercell support, and they can try and track down and find your lost account. Having a unique name makes this easier. The following information will be needed to find a lost village:
Name of the lost village
Name of the clan the lost village is a part of (to help track it down)
Town Hall level of your lost village
Last date & time played
Player level in village (if available)
Provide all the details you possibly can, do not delete the pre-populated information on the lost village page, and Supercell may be able to find and restore your village. If you lost the village on iOS for any reason and didn't have it backed up to Game center, the same steps as above will be required.
Depending on the uniqueness of the name, clan name, and available information Supercell support should be able to find and restore your village. If the Clan name is "Clash of Clans" or something generic, where thousands of others used the same, it may be more difficult. Always have a unique player and clan name.
Fix for "Link Error 102"
Sometimes users may run into an odd "link error 102" while trying to play or transfer Clash of Clans using the device link code. In order for the link to work often-times both devices need to be connected to the same internet connection.
Meaning connect both the old and new device to the same WiFi connection at home, or a public WiFi hotspot like at Starbucks. If one device is a smartphone, and you don't have WiFi, tether the internet connection in and connect your tablet or the other device to the original, so they're on the same network, and retry the link code.
If this still fails, try another wireless network. Connect both devices to a friends wireless network, a public library, Starbucks, or AT&T WiFi spots around many cities. If this still fails, use the in-game support tab mentioned above and answer all of Supercell's questions, and a support member may be able to resolve the issue.
How to Change Your Name
Changing your name in Clash of Clans was nearly impossible until an update to the game back in April of 2015. In April Clash of Clans received an update with tons of new features, as well as the option to change your in-game name once. This can only be done for Town Hall level 5 and above.
Read: How to Change Your Name in Clash of Clans
While on the regular home area looking at your base, tap the 3-gears shaped button near the bottom right of the screen. Then tap "Settings" and select the "Change Name" button.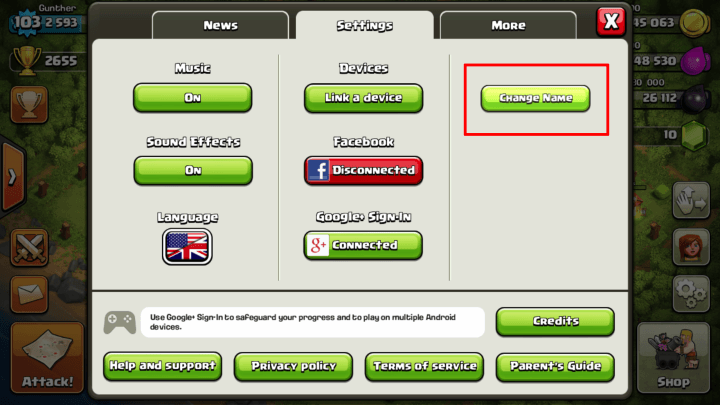 A box will pop-up instructing the user to change their name, but you will be warned this can only be done once. And one time only. Now that Clash of Clans has this as an option, you can only do it once. So choose wisely.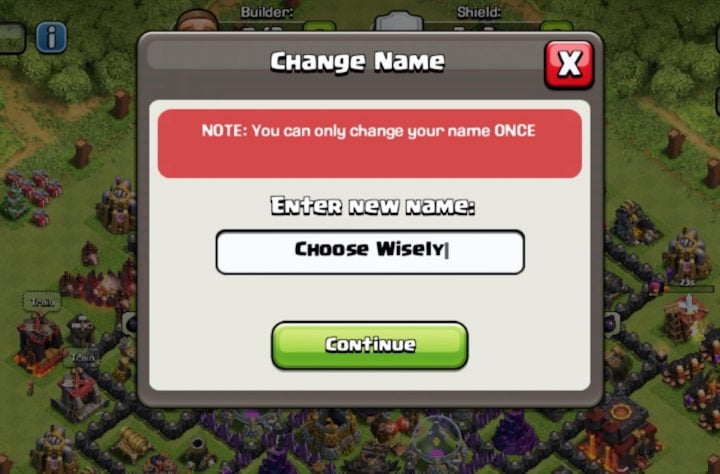 Simply enter the new name you'd like to enjoy during gameplay, and select continue. You'll be prompted to write it again confirming it's what you want, then a third confirmation page will make you write CONFIRM in all caps.
This is to ensure this is the name you want to use, and users will once again be reminded this is their one and only name change. If for whatever reason you'd like to change it again, you probably can't, but emailing support with a valid reason the staff may grant users a second chance. This won't be as easy, but it is possible.
Gem Purchase Didn't Come Through
While most in-game purchases for things like gems goes extremely smooth, occasionally Android and iOS users will have problems. Sometimes the Android, Apple, or Supercell servers may respond slowly, return an error, or fail. If this is the case users are recommended to wait a few minutes, check their email to see if it went through.
If the purchase was accepted, wait a few minutes and the purchase should show up. Try closing the game and restarting it. And the gems should arrive.
Gem hacks typically don't work, and those with a jailbroken iPhone can sometimes cause other issues. If a purchase isn't received within 24 hours, contact the Google Play Store or iTunes for a refund. Supercell cannot verify a purchase if it doesn't clear, so users need to request a refund through the app store. Click here for more details. On Android the process is easier, and if you received an email that you bought gems, the same in-game support tab should usually resolve the issue.
Gems Disappeared
Gems don't just disappear in Clash of Clans. The only way for them to be gone, is if they're used. Meaning buying a shield, a builders hut, boosting, spending gems on gold, elixir or dark elixir, or speeding up building or troop upgrades.
If gems are used accidentally by friends, family members, or children, too bad. Supercell cannot or will not refund gems that are accidentally used. However, if a purchase or connection problem caused lost gems, try the step mentioned above, or contact support.
Can't Find A Clan in Search
Searching for a Clan in Clash of Clans can be challenging, simply because there are millions of players. Open the game, and hit the blue "i" button by your name near the top left. Then select "search clans".
If you can't find the clan in search it's because the name wasn't original, and too many others used the same name. Make sure you know the clan name, badge design and colors. Even the Clan War level can help you find the right one.
How to Play on Android and iPhone
Yes, you can play the same Clash of Clans village on both platforms. Playing Clash of Clans on your iPhone, but also want to play it at home on your Samsung Galaxy Tab or Nexus 7? Here's how:
To play the same village on two different devices that aren't both Android or iPhone, uses the same steps as above. Use the link code instructions above and transfer your iPhone Clash of Clans village to a new device, which can be an Android device. Your village will still be accessible on both devices. Again, always sync to Game Center or Google+ to save progress.
Other Clash of Clans Problems
Overall there aren't too many issues in Clash of Clans. It's one of the most popular, stable, and best games on Android or iOS. While most of the issues users face have been detailed above, if you have any other issues head to the Clash of Clans support forum.
If the game isn't loading try rebooting your phone. If updates are failing try closing the game, closing apps like the App Store or Google Play, re-opening, and trying again. Typically these are all connection issues, not related to Clash itself.
Slow load times, searching in matchmaking and other things are often based on connection, base layout, and other variables. If you have any other problems hit the link above and ask someone on the official forums, try the in-game support system, or drop us a comment below.