May Clash of Clans Update Frustrates Gamers
Supercell promised the May Clash of Clans update would be the biggest in Clash history. Now that the update is here, gamers are voicing their frustration. Players are calling it "broken", "disappointing", "a money grab" and some are considering quitting the game completely instead of being forced to build a second village.
The Clash of Clans update arrived on the morning of May 22nd, and the new boat takes players to another island. Here you'll be required to start over on the Builder Base, which impacts the original game at the same time.
Read: Clash of Clans 2017 Update: 8 Things We Want Next
From the battle and loot limits, lack of fixes for well-known problems, or any new content for existing bases, gamers are sharing their frustrations.
While the update does have a lot of potential and adds some exciting new features, not to mention balance changes, it feels more like a money grab and a second mini-game than an actual update to Clash of Clans.
Players are up in arms and expressing how disappointing the update is on Reddit, on Twitter, and official Clash of Clans forums.
On Twitter, ROJO calls the Clash of Clans update "cool" but shares his frustration by stating he isn't spending any more damn money on the game. Highlighting one of the biggest problems, which is a daily limit of three attacks to earn gold and elixir in the new Builders base. After those three battles, players must spend nearly $2 of real money if they want to continue playing for the day. Pay, or wait 22 hours and battle again tomorrow.
Cool update @ClashofClans but sorry I'm not spending anymore damn money! Nice try GG! pic.twitter.com/HyhWzZkP2Z

— R0J0 (@r0j0show) May 22, 2017
This is one of the biggest complaints from the May Clash of Clans update and something we're seeing mentioned everywhere.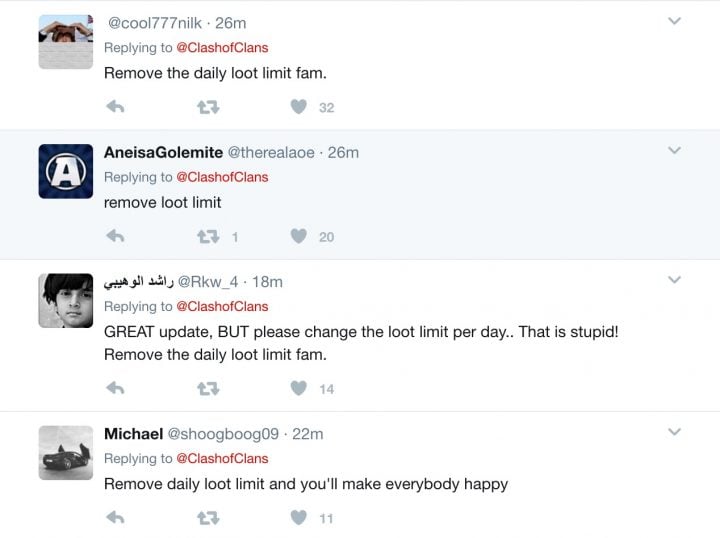 The update allows Clash of Clans players to start a new village on Builders Base Island. There are new troops, a gem mine, and another hero. It has a similar look, feel and style as Clash of Clans, but whoever you attack gets to attack you back. The player that deals the most damage wins some gold and elixir. Both are necessary to upgrade buildings, add new troops and progress in the game.
This doesn't do anything for the original base that some players have spent over five years playing, and potentially hundreds or thousands of dollars to upgrade. However, after a certain point, the upgrades on the Builders base will unlock inside your regular Clash of Clans village. You have to start all over and play the new game to continue enjoying the original.

We're seeing similar reports on Reddit, with gamer Chief Neaton2 coming away very disappointed. He says it feels like a new game inside of Clash of Clans. One with nothing but limitations while adding no benefits to the core game.
Players everywhere are calling the update "dumb", and "another money-making move of Supercell" when compared to other recent updates.
Another money making move of supercell

— Praveen kumar (@pravin_k_) May 22, 2017
After being promised a "massive" and unique update unlike anything we've seen before, this is what arrived. Players started voicing their complaints at the official forums too. Going as far as to say this feels disjointed from the original game and adds zero value to the Clash of Clans we've all played for years.
Not to mention general Clash of Clans update problems. Many users can't install the update, others are having problems with attacks and battles, and for some, the game doesn't work at all. Supercell will likely release a bug-fixing update within the next few days.
Read: 10 Common Clash of Clans Problems & Fixes
Another complaint is that the game doesn't work on old Apple devices. Supercell removed support for any device running software older than iOS 7.0 with this update. So if you have an old iPhone, consider updating the software or getting a newer device.
Some players are nothing but excited though, as the May Clash of Clans update adds a lot of new content. You can have a second village and relive the early days when upgrades were fast and affordable. There are new troops with unique abilities, a third hero, and a new vs game mode. This allows you to attack others in real-time similar to Clash Royale. It's hard to keep everyone happy after they play a game for years on end. That's why some comments show excitement, while many others are extremely frustrated.
It's been almost half a year since I stopped playing Clash of Clans. Let's see what happens

— jesus (d.va main) (@uwudemons) May 22, 2017
This Clash of Clans update didn't do a lot to solve problems or concerns with the original game and instead added a brand new element. The original still has problems with load times or "clouds", cheaters, engineered bases, and players still don't have enough money for most upgrades. That said, this update could lay the groundwork for more changes in the near future to improve the entire game.
Now, players must start over in another village that's severely limited, keep up two bases at the same time, and still grind out battles daily to earn money for upgrades. That or spend real money to continue playing. Expect more changes, features, and details in the coming days or weeks. What are your thoughts on the new Clash of Clans? Let us know in the comment section below.

As an Amazon Associate I earn from qualifying purchases.