Clash of Clans Town Hall 13 Update: 5 Things to Know
The next big Clash of Clans update is finally here full of new stuff including the Town Hall 13 upgrade and several exciting new troops. Supercell started teasing fans earlier this month, but now you can upgrade today and start trying new attack strategies. Here's everything you need to know, what to expect, what's missing and more.
This arrives just a little over a year and a half after Town Hall 12 got released, which is faster than many expected. And while a lot of players are likely excited for TH13, it's the upgrades in Builder Base that are sorely needed, and didn't arrive. Read on for more details.
Town Hall 13 is available starting December 9th
Builder Base 10 didn't make the cut
A 4th Hero called the Royal Champion is here
Update Changelog full of info
Clash of Clans Town Hall 13 Release Date
Yes, the leaks and rumors were true, and a big, powerful and exciting new Town Hall 13 is available as of December 9th, just as we expected. There's a lot that's new, like the 4th hero, making this one of the biggest updates in over a year.
Based on previous releases and updates, we believed the Town Hall 13 update would arrive on December 9th, and that's exactly when it came. We're seeing some pretty big "bundle packs" in the shop too, which should really help you make the best of this upgrade moment. Don't spend too much money though, save that for the holidays.
Builder Base 10 Got Left Behind
Perhaps the least exciting news for average players is that the Clash of Clans December 2019 update didn't bring anything to Builder Base. It's the neglected step-child that rarely gets updated, doesn't have anything exciting going on, and needed something new last year. Unfortunately, this was all about the Town Hall and we didn't get a Builder Hall 10 update. That won't be until sometime in 2020, likely with the big April update.
The video Supercell released could have some potential spoilers. If you look closely at the beginning when they"exhibit 09″ there's a "Top Secret Blueprint" that shows a Dark Elixir drill. This could mean nothing, but it could also suggest some much-needed changes are coming, we just don't know when.
We could finally get spells in the Builder Base, a Wizard troop, or a second hero for Builder Base. Who knows?
Royal Champion (The 4th Hero)
Another rumor that we've heard for the last several years is that Supercell could be gearing up to release a fourth hero. And little did you know, they actually did it! Yes, this week the developers confirmed an awesome new fourth hero will arrive with Town Hall 13 and the December Clash of Clans update. At first we thought it would be a second hero for Builder Base, but nope. Here's what you need to know.
As you can see above, the 4th hero is a feisty and fearless warrior with a spear and shield. It looks like she does typical damage by throwing her spear at the nearest target, and she can even jump over walls. However, the best aspect of the Royal Champion is her special ability. When charged, instead of a cloak like the Archer Queen, she throws her Shield and instantly takes down the 4 nearest buildings, no matter how far away they are. That can be the Town Hall and an inferno tower in the middle of the base, or the last four buildings in all four corners of a base. Which is a strategy we see often. The end of the video above shows it well, and it's awesome.
The King and Queen came out with Town Hall 9. Then, two upgrades later we got the Grand Warden with Town Hall 11. Following that release schedule, two upgrades later players are getting a 4th hero with Town Hall 13. She's right on time.
New Siege Barracks, Scattershot & The Yeti
Obviously we're getting a lot of new stuff. One of the most interesting is the all-new Siege Barracks. It's like a secondary Clan Castle, pre-loaded with troops, and will be very important for TH13 attack strategies. Based on your attack you can open it at specific moments to release specific troops, or something like that.
The Siege Barracks is what we saw in the teaser images floating in the sky. I'm just glad it's not a loot crate that costs money like most games these days. Then, it looks like another new thing coming to the game is a defensive unit called the Scattershot. It's basically a catapult, which can somehow target both air and ground, do splash damage, and is essentially a better mortar.
And there's also some weird new Ice Troop known as "The Yeti" that is kinda similar to the Ice Golem, but different, yet similar. All of these new additions have familiar mechanics or features, almost like Supercell ran out of ideas. Either way, it looks exciting and here's the teaser video.
https://twitter.com/ClashofClans/status/1202571824174977030
Expect Tons of Changes, New Troops, In-App Purchases, Etc
For months the team at Supercell have been saying that a major update is on the way. Supercell typically releases a few small updates here and there throughout the year, balances things out, and maybe upgrades a building or defense. However, we do get 1-3 HUGE content updates a year, typically during the summer months and again near the end of the year.
As we said earlier, the December Clash of Clans update in 2018 brought a ton of good stuff, like the Electro Dragon. This is a similar massive update to end the year and drive the game into 2020. You can buy winter packs from the shop, TH13 packs, and much more.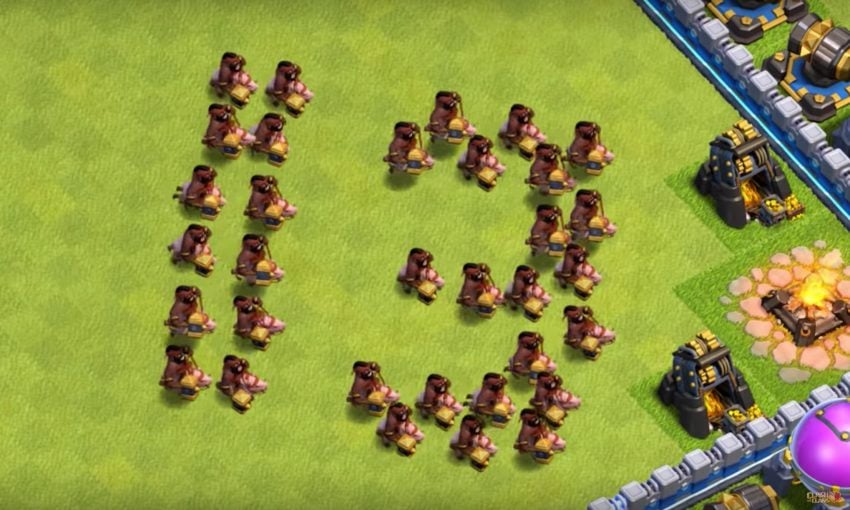 Along with the Town Hall 13 upgrade players will have a ton of upgrades to almost every major building, troop, defense, gold and elixir drills and more. However, they'll also have a few new troops to word towards. Basically, anything and everything else that comes with big Town Hall updates.
Read: Common Clash of Clans Problems & Fixes
What has me worried, however, is the continued efforts to get players to spend more and more money EVERY month. I call it the Fortnite effect. The monthly $5 season pass is just the beginning, and I think we'll see more of that type of thing in 2020.
In closing, here's one more video showing off the latest YETI troop. However, we recommend you simply fire up the game, download the update, and start enjoying Town Hall 13 right now. I've already encountered a few fully maxed Town Hall 13 bases this morning, which has me feeling bad for those players' wallets.
Then, expect some sort of update later this week or early next week to fix any early Town Hall 13 problems. We'll get at least 1-2 maintenance breaks this week as well, as Supercell fine-tunes the experience or squashes any little issues from the update. Enjoy.