Clash Royale February Update: What to Expect
Another big Clash Royale update is coming in February. For months on the the poplar title has seen changes, but this one is extremely needed. From toning down the Executioner, balancing out troops and much more. Here's what players need to know.
Each month or so Clash Royale gets better, or worse. Some updates are excellent, while others cause chaos. In November and December the entire game dynamic changed, and now Supercell is slowly trying to get it back to fair and balanced.
Read: Clash Royale: 10 Tips for Beginners 
Over the past few months the developers have added a lot of new troops to Clash Royale. From the Elite Barbarians, Dart Goblin, to the new over-powered Executioner. He has way too much value, overused, and is truly a "do-it-all" card. Come February 13th that will no longer be the case. Read on for the full list of changes.
One of the most important aspects of Clash Royale is the cards we use, their levels, and how everything works together. Top players use perfectly balanced decks that wreck havoc on other players. A big part of that is keeping up to date on changes inside the game, like balances and adjustments.
This weekend Supercell confirmed another round of Clash Royale balance changes will arrive on February 13th. The goal is to tone down some over-used cards, while making others more viable and popular. Like the Witch or Baby Dragon. They're both excellent in the early stages of the game, but are never used later on. Supercell aims to fix that.
Clash Royale February Update Changes
As we all know, the new Executioner is simply overpowered. Add him to a deck with a Giant and Electro Wizard, and you're pretty much unstoppable. The developers have some bugs they need to address, like his range and stun ability, but that will take time.
For now though, Supercell will tone down his damage, how far he can attack and other things while they continue to work on a solution. Here's the full changelog that will be live on February 13th. No software update will be required.
Executioner: Damage -6%, Range to 4.5 (from 5), axe hit radius -10%
Executioner's power level is clearly too high for a troop that does it all. However, this is partly due to a few bugs that we're fixing in the next update, so we're taking that into account with these changes. Reducing his damage, range and the amount of stuff his axe can hit at once should rein him in.
Poison: Duration to 8sec (from 10sec), Damage per second +24%
After this change Poison will be more reliable at getting its damage down. It'll deal more damage with each tick, but roughly the same damage over the duration. Skeletons will pop in one tick (instead of two), making it much better against Skeleton Army and Graveyard – and a viable alternative to Fireball again.
Witch: Damage +6%
Her use rate is really low in the later Arenas and high-win Challenges, but it's quite good elsewhere. We're looking to give her a small boost without overpowering her in the early game. This change will allow her to one-shot equally leveled Skeletons.
P.E.K.K.A: Deploy Time to 1sec (from 3sec)
We're aiming to make P.E.K.K.A feel more usable and a bit more nimble to play, without breaking her identity as a big, burly robot.
Dark Prince: Hitpoints +5%
He's been considered a lower tier card for some time, as his stats aren't quite there when compared to other 4 Elixir options. More hitpoints should allow him to charge around the Arena with a bit more success!
Baby Dragon: Range to 3.5 (from 3)
Baby Dragon is a fun and iconic card that doesn't see a lot of play. A bit more range should make it more appealing.
Skeletons: Skeleton Count to 4 (from 3)
Since Ice Spirit joined the Arena, the 1 Elixir slot has become more competitive, so we're bringing back the 4th Skeleton! This change (aka, +33% more calcium) will give Skeletons a lot more value as a distraction tool. Ledoot returns!
Skeleton Army: Skeleton Count to 15 (from 16)
A critical change to maintain the delicate balance of "Skeletal equilibrium" within the Arena.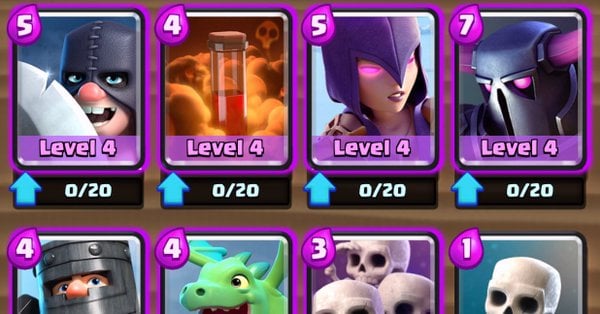 As you all can see, things are about to be vastly different. The Poison spell is making a return, which means those Giant Poison decks will be everywhere. Add a Witch to the back and your enemy could be in for trouble.
The biggest part of this update is obviously fixing the Executioner. He's simply too strong and offers way to much value. So much that almost every player uses the card. That's how we know there is a problem.
Additionally, the skeletons will go back to four instead of three, like it was a few months ago. This is a welcomed change that should help us take down Hogs. The Dark Price will be far more capable than before, and the Baby Dragon will have an increase in range. Then, last but not least the big PEKKA is going to be much faster. I have a feeling the PEKKA double price will be back soon, with the help of the Baby Dragon.
Read: Clash Royale Updates: 7 Changes We Want Next
As a reminder, players don't need to do anything for this Clash Royale update to take effect. The developers won't need to push an update to the app store or anything. Instead, it simple happens behind the scenes on the internal servers by the game creator.
Meaning come the morning of February 13th the new Clash Royale update changes will be live. Cards won't be the same, troops will be stronger, and multiplayer battles will take a few days to adjust. Be prepared for what's coming, and make a new deck with the changes detailed above.

As an Amazon Associate I earn from qualifying purchases.