5 Common Android Messages Problems & Fixes
In this guide we'll go over some common Android Messages problems and offer tips to fix them. Android Messages is Google's default text message app for millions of smartphones. Whether you have the Google Pixel 2, a Pixel 3 XL, or something else. Sending texts is something we do daily, and when it doesn't work it's extremely frustrating.
Google Messages is great, but it's not without its problems. We see complaints about the Pixel 2 XL text app crashing, Android Messages running slow, or users that can't send texts.
If you're experiencing problems we'll help you clean the app for a fresh start, troubleshoot some issues, or replace your text message app completely.
Google recently added a lot of neat new options and features to Android Messages. The biggest one being the ability to send and receive texts from your computer. And while these new features are nice, we're seeing a huge increase in complaints that Android Messages simply doesn't work, crashes, runs slow, or deletes messages. Try these to fix your problems.
How to Fix Android Messages Running Slow
The biggest complaint we see about Google's Android Messages app is that it runs slow, laggy, and just struggles to keep up with users. There are a few potential reasons for this, and a few ways to fix it.
Our first suggestion is always to reboot your phone. Even if it's an app acting funny. Simply long-press the power button on whatever phone you own, then tap reboot or restart. This should fix Android Messages running slow.
Next, how many text messages are on your phone? Some general maintenance and clean-up can go a long way. If you've sent and received messages for a year or two and never deleted old messages, you probably have a TON.  The average person under the age of 34 sends or receives over 100 texts a day. Combine those for a year and you have over 36,000 messages on your phone, if not more.
So yes, deleting old messages and group threads can and absolutely will make Android Messages run better. I delete anything over 30 days old. If this doesn't fix your problem, try clearing the cache.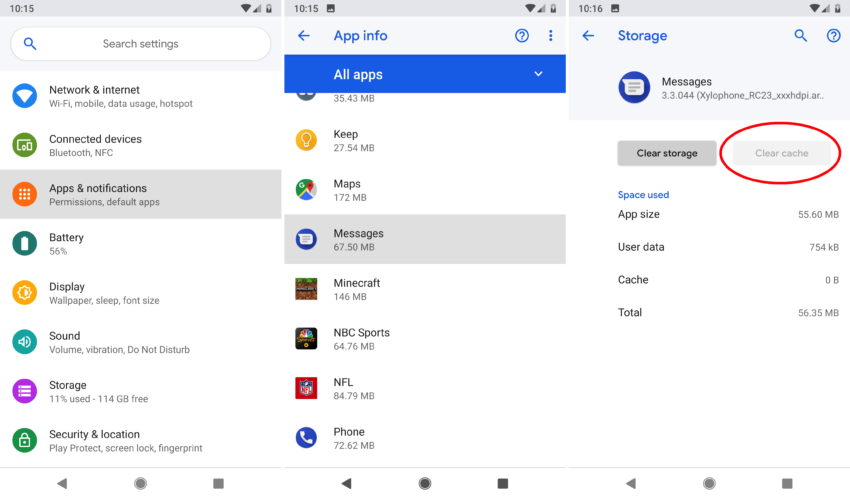 Head to Settings > Apps & Notifications > All Apps > and tap on Messages. Now, simply tap Storage and hit the Clear Cache button. This won't erase any of your messages, so don't worry. It just clears residual leftover files and gives the app a fresh start.
In fact, no matter what problems you're dealing with, try clearing the cache. This is the first and most important step before trying more drastic measures.
How to Fix Android Messages Crashing
For me, Android Messages just keeps crashing all the time. Even after I deleted old messages and cleared the cache. Plus, we see complaints about this often from others. If you're in the middle of a response and it crashes, the entire message gets deleted. This is extremely frustrating.
If Android Messages keeps crashing over and over for you, try forcing the app to close. This basically bypasses the bug that's making it crash, and manually shuts it down. Then when you open the app again yourself it'll start fresh. Here's how to "force close" or "force stop" Android Messages.
Go to Settings – Pull down the notification bar and tap the gear-shaped settings button
Select Apps & notifications, then All Apps
Find and tap on Android Messages from the list
Choose Force Stop (middle right side)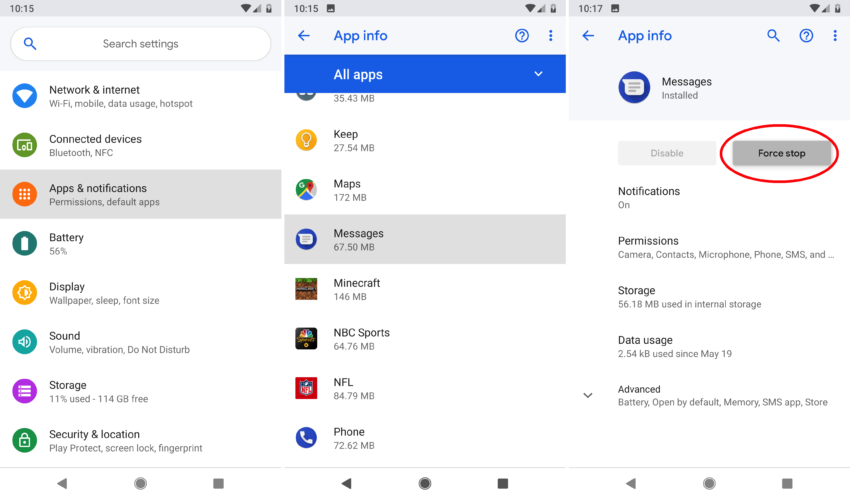 When you select Force Stop it will completely shut down and disable the Android Messages app on your phone. You'll have to physically tap the icon again to open it, or you'll miss incoming messages and notifications. This closes and kills the app until you re-open it.
Read: How to Text From Your Computer on Android
Force close gives apps a fresh start and typically fixes any minor problems users are dealing with. It's not always the answer but it can't hurt to try.
How to Disable Smart Replies
This isn't really a problem, but it's something we see people ask about all the time. In 2018 Google added "smart reply" pop-ups to your conversations. Similar to Gmail owners can easily and quickly respond to someone in a message by tapping words above the keyboard. It's a nice feature, but it's in the way a lot and usually doesn't say what you want to say yourself.
Open Android Messages and tap the 3-dots menu button near the top right. Head to Settings > Smart Reply > and turn the switch OFF. Now you'll have a regular texting experience without all of those reply popups.
How to Fix Missing Picture Messages
Are you having problems sending or receiving (MMS) picture messages in Android Messages? If so, you probably turned it off by accident. Open the app and tap the 3-dots at the top. Now, tap on Advanced and make sure "auto-download MMS" is turned on and blue. It's that easy.
Additionally, you could have an APN issue with your carrier, especially if you're using an unlocked device on a regional carrier, or brought a Verizon phone to T-Mobile. Call your carrier for help with APN settings, or follow this guide which works on most devices.
Other Android Messages Problems
We found tons of small Android Messages problems or complaints scattered throughout Twitter, Reddit, or the Google Play Store. However, almost any problem you're dealing with will likely get fixed by trying the three steps outlined above.
First, delete old text and picture messages you no longer need or want. This is an important step, even though it's time-consuming. You can transfer them all to your computer or use SMS Backup to save them if you're worried about losing something important. After that try rebooting your phone, clearing the cache, or forcing the app to close.
However, if you're still having problems we have one more solution. This one is a last resort, as there's a small chance you'll lose text messages, group conversations, or picture messages while taking this route. You shouldn't, but it's a possibility. We're going to clear the app data for Android Messages.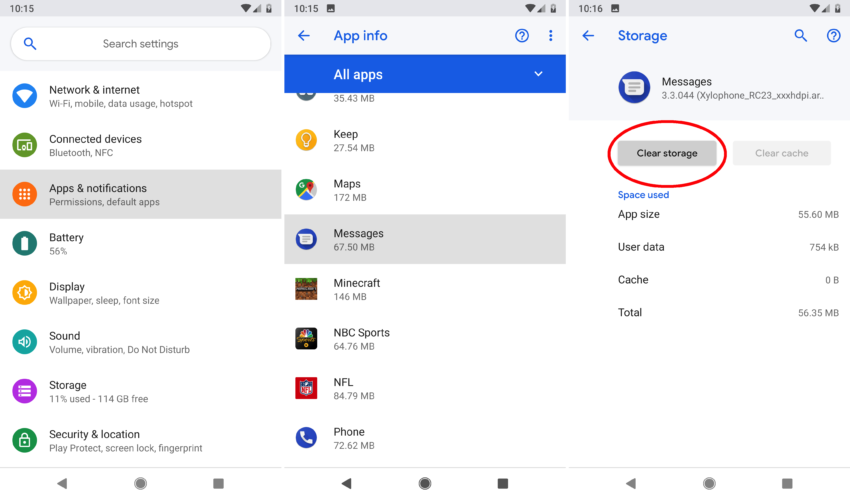 Go to Settings – Pull down the notification bar and tap the gear-shaped settings button
Select Apps & notifications, then All Apps
Find and tap on Android Messages from the list
Tap on Storage, then select Clear Storage
Select Yes on the Delete App Data popup
This will delete any and all settings, files, app data, and customization. Basically erasing everything and giving Android Messages a fresh start. Your phone should save all of your text messages.
When you open your text app again following this step it may take a while to load. That's because Android Messages is importing all of your text messages. So while you shouldn't lose anything, don't be surprised if you do, or pictures are missing/out of order. That's why we recommend backing them up first.
Download a New Android Text Messenger App
In closing, we have one more suggestion for those running into problems. Try a different text message app. Google's Android Messages isn't your only option. Your Pixel 3 XL isn't stuck using Android Messages. Download one of the dozens of text app alternatives from the Google Play Store. We recommend Textra, and almost everyone else on Reddit or Google's help forum does too.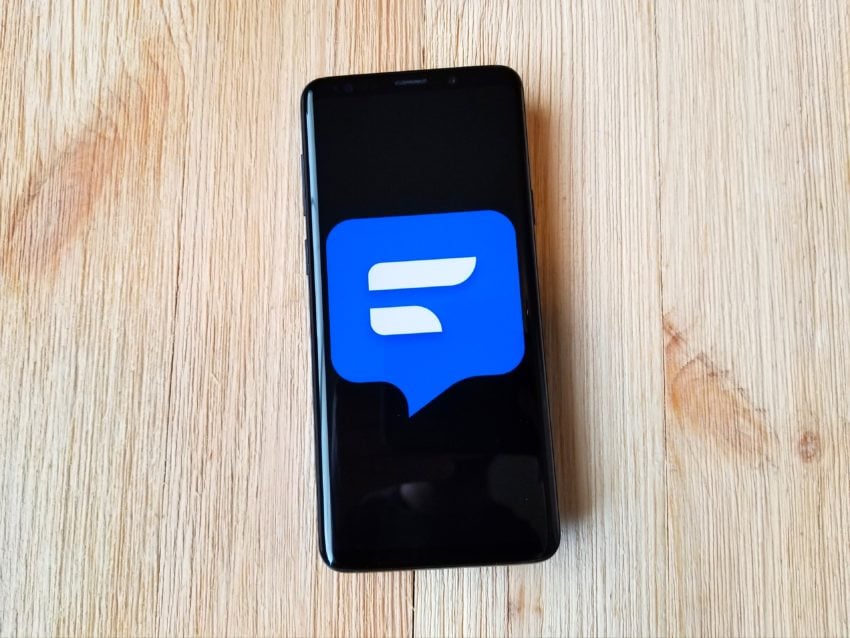 Download a new text messaging app for your phone and open it. Most will have instructions to "set as default" so you won't receive duplicate notifications. This sets your phone to only allow this specific app to send and receive messages, and the setup usually transfers all your messages, too.
Textra is extremely customizable, fast, stable, and works great. You won't run into all the problems we experience with Google's Android Messages app. Give it or even ChompSMS a try today.
If you're dealing with any other problems let us know in the comment section below. We'll do our best to help.

As an Amazon Associate I earn from qualifying purchases.