How to Text From Your Computer on Android Messages
In this guide we'll show you how to quickly and easily send and receive texts from your computer on Android. This works on any PC, laptop, Mac or iPad, and you can text friends with an iPhone too.
After years of waiting and watching iPhone friends do it, Google finally added a way for users to natively text from a computer with Android. This way you can continue a conversation anywhere, or easily reply to a message with your work laptop.
While there are a couple of ways to text from a PC or Android tablet, this new method uses Google's own Android Messages app. So, here's how to download and setup Android Messages for the web.
How to Text from a Computer with Android Messages
Download and open Google's latest Android Messages app 
Select the "Try it" notification on the bottom, or go to https://messages.android.com on your computer (or the device you want to text with)
Tap the 3-dots menu button at the top right and choose Messages for Web
Tap Scan QR Code on your phone, then scan the QR code you see on the computer or laptop
After you scan the code your phone will vibrate and you're all set. Android Messages just paired to your phone to a computer, laptop, or even an iPad. Now, you're ready to text from a computer with Android on the web. You can send messages, emojis, stickers and more. Remember, this only works with Google's Android Messages, and not 3rd party apps or pre-installed ones like Samsung's text app. Here's how to change your text app to Google's.
You'll see all of your conversations on the left side of your browser or computer window, just like you see them on your Android smartphone. As a quick tip, Google recommends using WiFi for better performance, battery life, and faster messages. And yes, you have to keep your phone turned on for this to work.
Before you start sending messages and emojis from your PC, head into Settings on the Android Messages website. This is where you can enable or disable notifications on your computer, see message preview popups, try a dark theme, and a few other options. Basically, fine-tune the experience before you begin.
Browsers to Text from a Computer on Android?
So far, Google's new Android Messages web client works on all the big browsers. This way it doesn't matter what computer, Surface Pro, laptop, or iPad you're on, as long as you have a supported browser.
Google Chrome
Firefox
Safari
Microsoft Edge
Basically, you go to Android Messages site with any of these browsers, scan the QR code, and start sending messages from a device that isn't your smartphone.
How to Clear the "Connected to a Computer" Notification on Android
After using my Mac to text on Android for the last little while, I noticed a persistent notification in Android Messages saying that I'm connected to a computer. It's rather irritating, and here's how to turn it off.
In Android Messages tap the 3-dots menu button in the corner
Select Messages for Web
Tap those 3-dots in the corner again
Hit Notifications and uncheck the "Show Persistent Notification" switch
Now, you'll be able to enjoy sending and receiving messages from Android on a computer with ease, without seeing that notification nonstop.
How to Remove a Computers Access to Android Messages?
Whether you're texting from your work computer and want to remove access and delete all of your messages, or just decided this feature isn't for you, here's how to revoke access. This basically removes all of your messages from a computer or browser.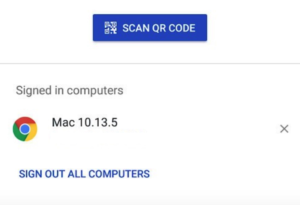 Open Android Messages and tap the 3-dots menu button in the corner
Select Messages for Web
Near the bottom, you'll see "Signed in Computers"
Click the X to remove access to a computer
Or, tap Sign Out All Computers to clear everything
Now that you know all about Android Messages for the web, you're all set. Start sending and receiving text messages from any computer or select other mobile devices with Android. This is a feature we've needed for a long time, and it's finally here in a clean and easy to understand fashion.
Before you go, here's a list of the best text apps for Android, or a few apps to text from an Android tablet.
5 Best Texting Apps for Android Tablets
Pulse SMS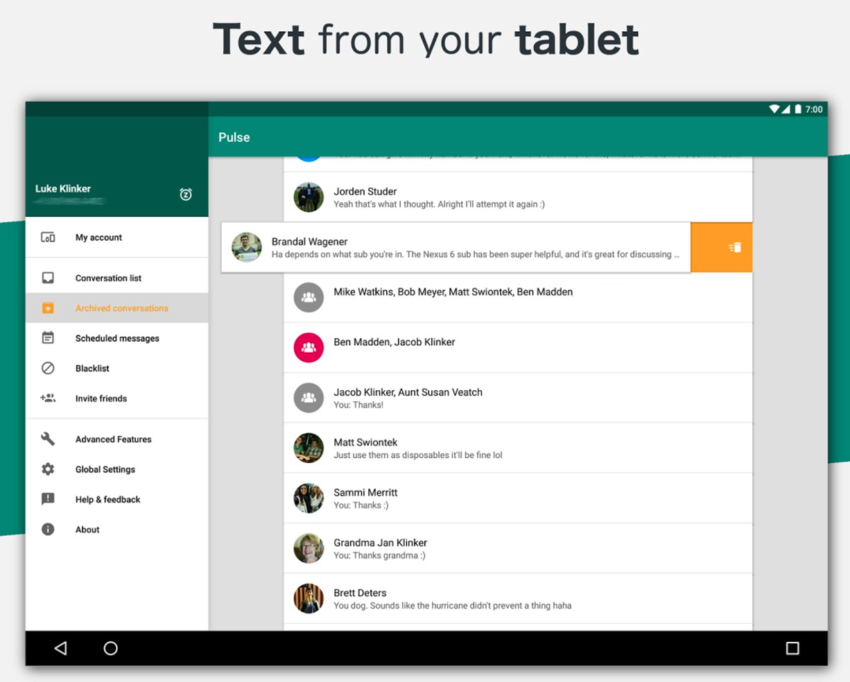 First up is a relatively new app called Pulse SMS. This app is fast, secure, customizable and packed full of features. The best part of Pulse (aside from the design) is the fact that it works on your phone, tablet, and PC. Giving you the same experience across all of your devices.
In fact, Pulse works on just about any device with a web browser. From your watch to the TV. Simply create a Pulse account on your phone, then login to Pulse apps or web clients on any device you'd like.
Pulse has all the basic features one would want for sending and receive text messages, along with most advanced options too. Like syncing from device to device, a light and dark theme, and endless custom themes to fit your personal style. You can get a sent or received notification, snooze notifications, delay sending messages, archive conversations, blacklist numbers and even send a GIF. So yeah, we'd say this is pretty feature-complete.
The tablet interface makes use of the extra space, while the watch interface is perfectly small. Additionally, everything is end-to-end encrypted for security reasons. Give it a try today.