CTIA Fall 2011: Can By Zero's Ultrasound Digitizer Spur the Stylus Revolution? (Video)
Since the iPhone debuted several years ago, consumers have been abandoning the stylus as the preferred input device in favor of finger-friendly capacitive touchscreens, but can the stylus make a come back? Recently, we've been seeing more tablets and more interest in inking, handwriting recognition, more accurate input, and digitizer pens on consumer-grade products like the 4G-capable HTC Jetstream and the more compact HTC Flyer and HTC EVO View 4G on Sprint thanks to HTC Scribe and the HTC Magic Pen. Spurred in large part by the large popularity of these tools, a company called XO, pronounced 'by Zero,' has created an ultrasound receiver as well as an ultrasound pen that will enable current tablet owners–both iOS and Android–to enable digitizer functionality on their existing tablet investments.
The way the ultrasound technology works is that there will be a clip that attaches to the dock connector on tablets–currently only Apple's iPad and the Honeycomb-powered Samsung Galaxy Tab models are supported, by XO says that they are looking into supporting other Honeycomb tablet models in the future. The pen will communicate with the receiver via Bluetooth, and any action on the screen is then recorded via an accompanying app.
The benefit of these ultrasound pen technologies is that they allow for finer and more accurate input than conventional capacitive touchscreen stylus products.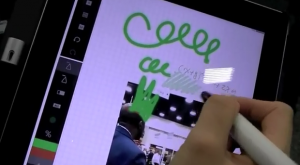 When I visited the XO booth at CTIA Fall 2011, the guys there had artists doing caricatures of guests, and I decided to get my own caricature done while talking with some of the artists. The artist who was doing my portrait, David, said that he only had a few hours of training prior to the show to use and practice the technology. When compared to pen and paper, David says that XO's technology is easy to use, manipulate and adopt, with the greatest feature of going digital being the ease of erasing and editing. That said, David says that for now, the pen cannot register pressure, and pressure is only changed via software control. For example, to get a thicker brush stroke, you cannot press heavier into the tablet with the ultrasound pen, and instead, you'll have to manipulate the brush thickness via the app's software.
XO wasn't the only pen-enabled company at CTIA. In fact, there were several other companies at the trade show demonstrating their wares. In fact, a company called Penandree is utilizing similar technologies as XO–Bluetooth and ultrasound–to scale their products. Like XO, Penandfree demonstrated their products on iPad tablets as well as a Galaxy Tab 10.1 model, and the accessories were very similar. Penandfree, however, can scale their technologies to work on a laptop display as well as whiteboards for larger solutions to bring a relatively cheap way to record digital writing.
When compared to existing inking technologies on Windows and Tablet PC models of yore, these lightweight technologies of today allow for an impressive and inexpensive way to capture natural handwriting. However, neither Penandfree's nor XO's solutions allow handwriting recognition, and adding the software to transcribe handwriting into typed text may be costly, both in terms of dollar cost as well as requiring extra storage for the software's engine to reside on the tablet.