Dell & Alienware Launch 6 New Gaming Laptops for 2018
In addition to announcing a new eSports partnership for NBA 2k, Dell and Alienware announced six new gaming laptops today that offer a range from the high end to budget gaming laptops with the latest Intel processors.
The new Alienware 15 and Alienware 17 gaming laptops feature the newest Intel Core I5, i7 and i9 processors as well as upgraded cooling and the Alienware Command Center. For gamers on a budget, the Dell G Series gaming laptops include the 8th Gen intel Core i Processors and GeForce GTX 10 GPUs. Dell will also start selling the HTC Vive Pro on April 5th.
"We are ambassadors to the PC gaming world," says Frank Azor, vice president and general manager, Alienware and Dell Gaming. "From pushing the boundaries of innovation in our Alienware line and creating systems for today's top competitive gamers and leagues, to our new affordable G Series line-up, we're enabling gamers of all levels to game at their best."
New Alienware 15 and 17 gaming laptops are available today starting at $2,399.99 and $3,699.99 and additional options will be available at $1,449.99 and $1,599.99 starting on April 10th. They are available at Alienware and at Best Buy. The Dell G3 and G5 gaming laptops go on sale April 16th and range from $749.99 to $1099.99.
2018 Alienware 15 & 17 Gaming Laptops
Both new Alienware 15 and 17 gaming laptops come with the new 8th gen Intel Core i5, Core i7 and Core i9 processor options with up to 6 cors, and support for overclocking up to 5.0Ghz for the first time on Alienware laptops. The new laptops come with enhanced cooling called Alienware Cryo-Tech v2.0. This uses 50% thinner fan blades and a vapor chamber to cool the higher core CPU better. Alienware says this give s a 10% performance boost to AAA games and VR.
With ware Command Center, new and experienced gamers can more easily overclock and optimize their Alienware gaming laptop. The software also offers control for the 13 lighting zones with full RGB color support to allow nearly infinite customization. Alienware also adds a new Epic Black color option.
Dell G Series Gaming Laptops
The Dell G Series gaming laptops are designed for a user on a tighter budget that still wants to play the latest games. Available in 15-inch and 17-inch versions these notebooks offer a good deal of gaming power at an affordable price.
Dell G3 15 and 17
Coming in 15 and 17-inch sizes, Dell G3 15 and 17 laptops are powered by NVIDIA GeForce GTX 1050 up to 1060 Max-Q discrete GPUs, up to 8th Gen Intel® Core™ i7 CPUs, dual fans and dual drives with SSD options
The laptops 2×2 WiFi antenna design provides great wireless performance, while the SmartByte software prioritizes gaming and video content keeping themsmooth, even during large file downloads
All encased in a refined performance inspired design and a silky matte exterior finish, the laptops boast a sleek 22.7mm (15) / 25mm (17) profile encouraging gaming-on-the-go
G3 15 is Dell's thinnest gaming laptop to date
Dell G3 15 will offer three color options (Black, Recon Blue, Alpine White) and Dell G3 17 will offer two color options (Black, Recon Blue)8
Dell G5 and G7 15
For those seeking a step-up in performance from the G3 systems, the Dell G5 and G7 15 come in a sleek 25mm thin 15-inch chassis, with powerful NVIDIA GeForce GTX 1060 GPUs with Max-Q design technology
The systems feature 6GB GDDR5 dedicated memory5, up to 6-core performance with 8th Gen Intel® Core™ processors (with up to Core i7 on the G5 and i9 on the G7), dual fans, and dual drives with SSD options
G7 15 will offer optional 8th Gen Intel® Core™ i9 CPU and UHD display (3840×2160) configurations, available in late April
Killer 1×1 networking optimization (supporting up to 2×2) or SmartByte software responsively prioritize content downloads for liquid smooth gaming and streaming
Designed to push heat and noise away from the user, Dell equipped a front air intake and rear exhaust vent to the laptops' frames to keep players cool, and able to game longer
In addition to all of these new gaming laptops, Dell will start selling the HTC VIVE VR headsets on Dell.com starting April 5th.
6 Best Windows 10 Laptops in 2018
Razer Blade Stealth - $1,499.99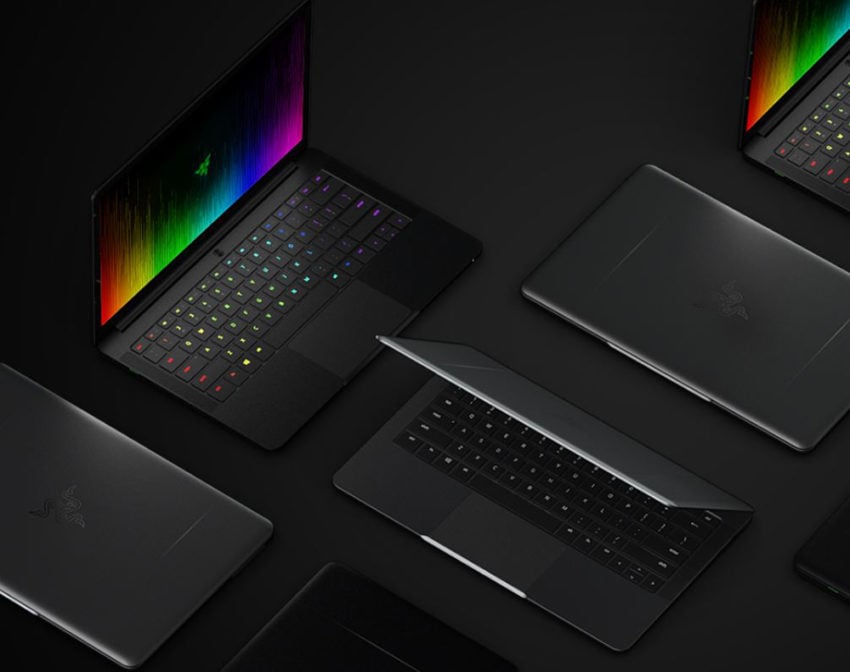 The Razer Blade Stealth is a high-end laptop that transforms into a gaming powerhouse with the right accessory.

The laptop takes its name from its black or gunmetal aluminum chassis. At 0.52 inches thin and 2.98-pounds, you won't have a hard time stuffing it in a bag. Despite that thin profile, it lasts 10 hours between charges and has a Chroma keyboard that highlights the keys you need to play your favorite games. Intel graphics are inside, but connect it to a graphics card using the Razer Core add-on and you can expect full resolution gaming even on the model with a 13.3-inch 4K display with touch.

You can order a Razer Blade Stealth with as little or as much power as you need. It supports up to a quad-core 8th Generation Intel Core i7 processor, 1TB solid state drive and 16GB of RAM. It has a 3.5mm headset jack, 2 USB 3.0 ports, an HDMI port and a Thunderbolt 3 port. That Thunderbolt 3 port communicates with the Razer Core add-on.


Read: Razer Project Valerie is a Badass Triple Monitor Gaming Laptop


The Razer Blade Stealth starts at $1499.99. A Razer Core v2, which uses the graphics cards you already own, costs $499.99.