Dell Latitude 7389 2-in-1 Review: Good for Business
The best laptop for your business is the one that you can customize to your needs. Dell's Latitude 7389 2-in-1 is a Windows 10 laptop that can be whatever your employees need it to be today. On top of that, you can easily add whatever features they might need for the future.
The Dell Latitude 7389 costs $1,149 or more from Dell.com. If you buy one, know that you're getting a rugged, versatile laptop that is perfect for any size business. Also know that, if the base configuration doesn't have a feature you're looking for, Dell's configuration utility will let you add it.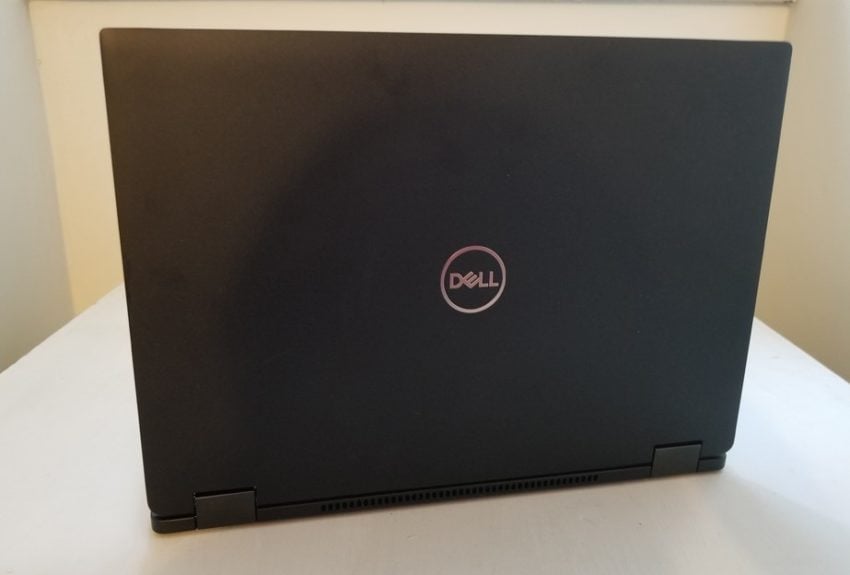 Dell Latitude 7389 2-in-1 Design & Internals
What the Dell Latitude 7389 2-in-1 lacks in attractiveness it more than makes up for in ruggedness. This business laptop only weighs 3.11 pounds, but it feels like it can take a beating and still look just as good as the day you unboxed it. The Latitude 7389's chassis has passed MilSpec military testing for humidity, sand, dust and drops.
This laptop's keyboard deck, base and lid are all made of a black plastic. Ordinarily, plastic doesn't feel great underneath your palms as you type and has some flex to it. The Latitude 7389 2-in-1's keyboard deck doesn't flex at all and the plastic has a soft-touch texture that feels really good under your wrists and fingers.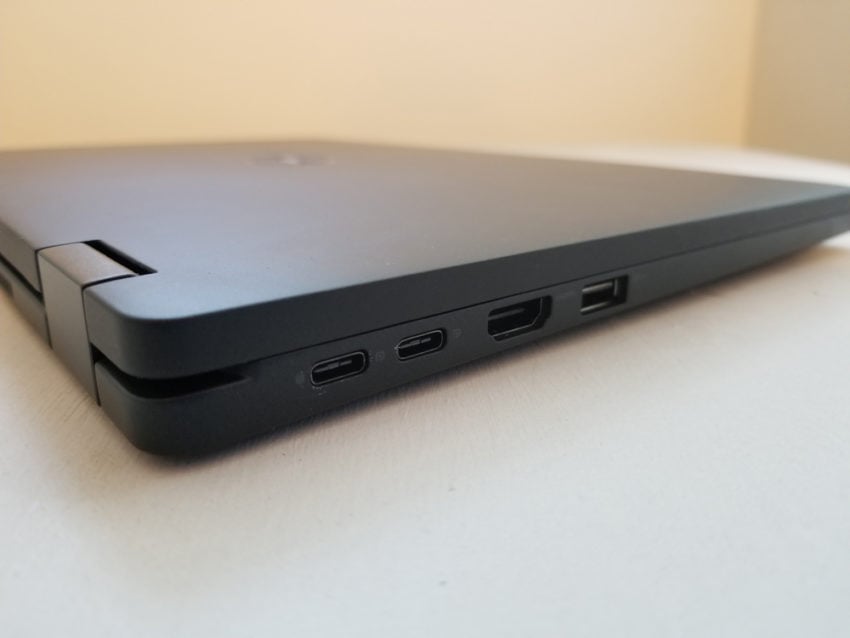 The ideal laptop doesn't leave you searching for a dongle and neither does the Latitude 7389 2-in-1. This device has an audio jack, MicroSD card slot, two USB 3.0 ports, two USB Type-C ports, an HDMI port and a smart card reader. The laptop's side-mounted power button and volume rocker sit to left of the ports on its right edge.
Every Dell Latitude 7389 2-in-1 has a 13.3-inch touch display, a backlit keyboard, a solid-state drive and a seventh-generation Intel Core processor. The more you spend on a pre-made configuration the faster, more agile the laptop you get is.
For example, the $1,149 model comes with an Intel Core i3 processor and a 128GB SSD. Instead of Windows 10 Pro, you get Windows 10 Home with this model, which limits some management options available to large businesses.
The most expensive Dell Latitude 7389 2-in-1 that you can buy costs $1,739. It has Windows 10 Pro and a powerful Intel Core i7 processor and 16GB of RAM. It also has a bigger battery to offset its beefy, processor.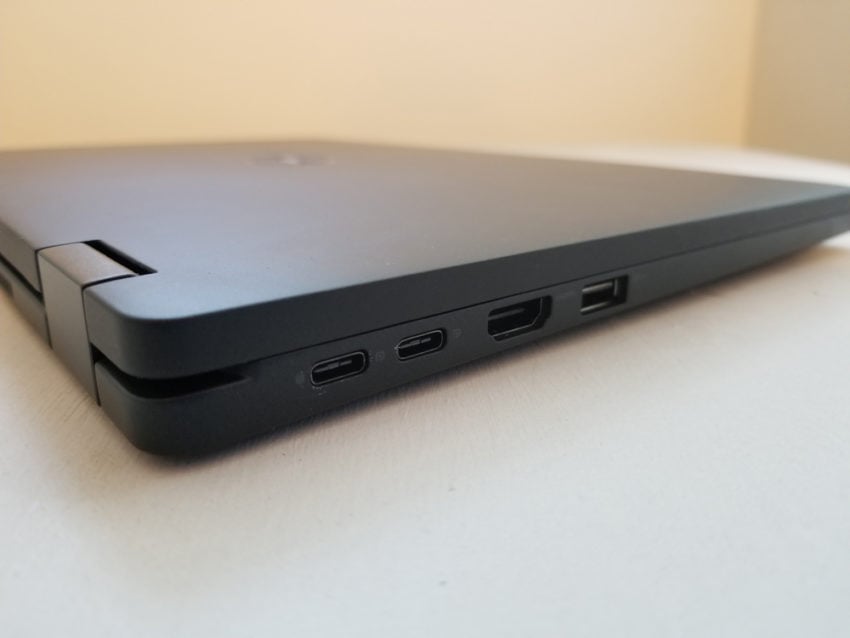 Once you've chosen a configuration, you fine tune it to get what you need. A $21 upgrade adds an infrared camera so that you can log into the device with Windows Hello. It costs $34.59 to add a fingerprint reader to the laptop's palm rest and $138 to give the Latitude 7389 2-in-1 an internal wireless modem that it can use to connect to Verizon, AT&T or Sprint's network away from Wi-Fi. You can even switch the standard HD display for a 13.3-inch display that has smaller bezels.
One upgrade option is missing. There's no option to swap a 4K display with full Adobe RGB into this PC, which seems odd. More and more artists and creative departments are turning to 4K displays with more accurate colors for their work.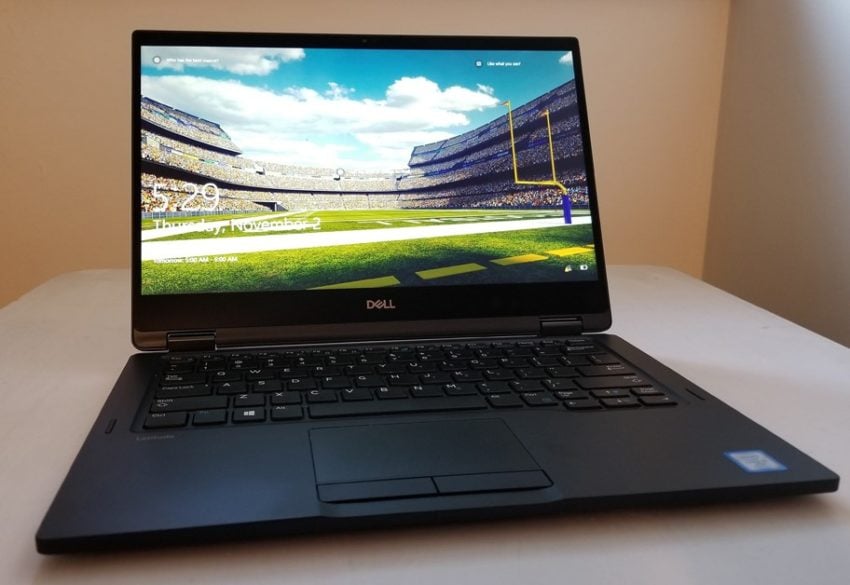 Speaking of drawing, the Dell Latitude 7389 2-in-1 works with Dell's latest Active Pen accessory to detect 2,048 levels of pressures as you write. The accessory costs $59.99 extra, but that's still less than it would cost to buy a separate writing tablet to use with the laptop.
Dell Latitude 7389 2-in-1 Experience
Gotta Be Mobile's Dell Latitude 7389 2-in-1 came with an Intel Core i7 processor, 16GB of RAM and Windows 10 Pro. That's the most powerful configuration you can buy. The bezels on two sides of its display where narrow thanks to Dell's narrow display upgrade.
It had no Windows Hello fingerprint reader or infrared sensor, so I spent the week logging into the laptop with the password for my Microsoft Account instead of biometrics. I can't say that I enjoyed that. Definitely, spend the money on the Windows Hello fingerprint reader or camera upgrade if you buy this machine.
Performance and Battery Life
I did enjoy how speedy the laptop was. For two weeks, the Latitude 7389 2-in-1 replaced the computer I used daily and the performance difference between the two made me regret my choice of PC. Apps and mission-critical programs, like Microsoft Word, loaded quickly and without issue. Google Chrome and Microsoft Edge, which wreck your system's performance if you have too many tabs open on most PCs, never made this PC struggle. It always started quickly and went to sleep without issue.
Ultimately, all this on-demand processing power comes at a cost. You pay for the Dell Latitude 7389 2-in-1's processing power with battery life and fan noise. Dell says that the laptop can last for 17 hours on a single charge. That's roughly two days of work. Even with the screen dimmed, I only managed around 10 hours. As for the fan noise, this laptop can get very, very loud. Close the apps you're not using and the fan goes completely silent.
Dell's Hybrid Adapter + Power Bank saved me from hunting for a plug on a few occasions. It fully replaces your power cable and can boost the life of a tablet or phone too. Once you pair these two together, you can get that two days of productivity Dell is promising. The Dell Hybrid Adapter + Power Bank costs $129.99.
As a Laptop
The 13.3-inch HD display inside the Dell Latitude 7389 2-in-1 isn't bad at all. At 40% brightness, you can still see everything on your screen comfortably. The display has a gloss finish that makes colors pop and reduces friction between your finger and the display, but there's still not much glare.
For as much as the system costs, Dell should have included a glass trackpad. Instead, the Latitude 7389 2-in-1 has a plastic trackpad. A dip in the keyboard deck underneath the trackpad lets you know if you're close to the left-click and right-click buttons without looking down. Unfortunately, there's too much friction as your finger runs across it, and I had to manually adjust its sensitivity to get multi-touch gestures for switching apps and zooming in on photos to work.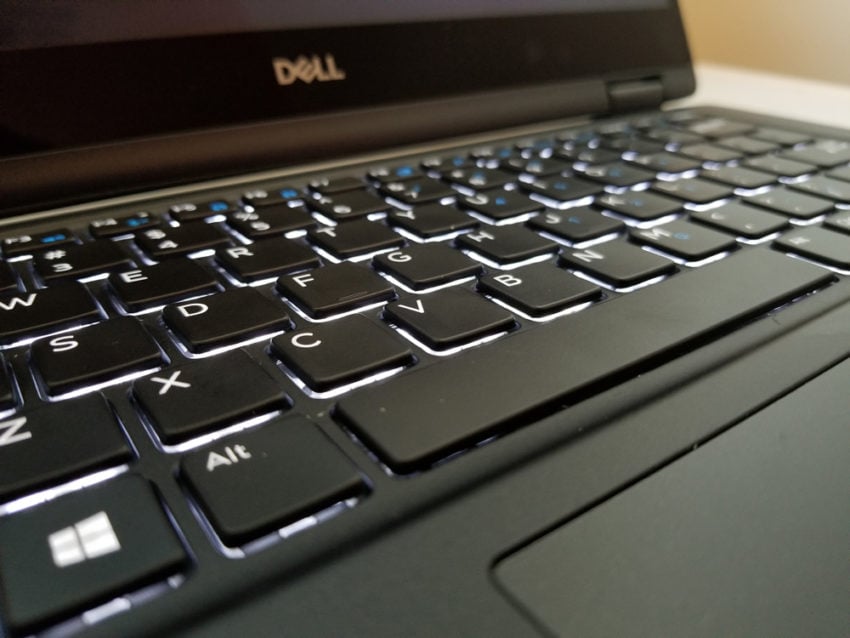 Luckily, the keyboard is solid. Each key has a decent amount of key travel and there are tons of shortcuts that save you from diving into Windows 10's Settings area. Reasonably sized keys keep typing comfortable and the soft-touch coating on the palm rest feels great underneath your wrist. The keyboard's backlight has two brightness options, so you can see what you're typing without each key becoming a huge distraction from the display.
As a Tablet
The first time you transform the Latitude 7389 2-in-1 into a tablet you learn to appreciate the thick border along the bottom edge of the display. It and the curved bezel below provide a comfortable place for you to grip the device in portrait orientation.
The device's thick body doesn't make for an especially thin Windows 10 tablet, but if you're considering this type of Windows 2-in-1, that's not what you're looking for. You want power with the option for touch in a reasonably thin frame. At 0.46-inches thick in tablet mode, the Latitude 7389 2-in-1 delivers that.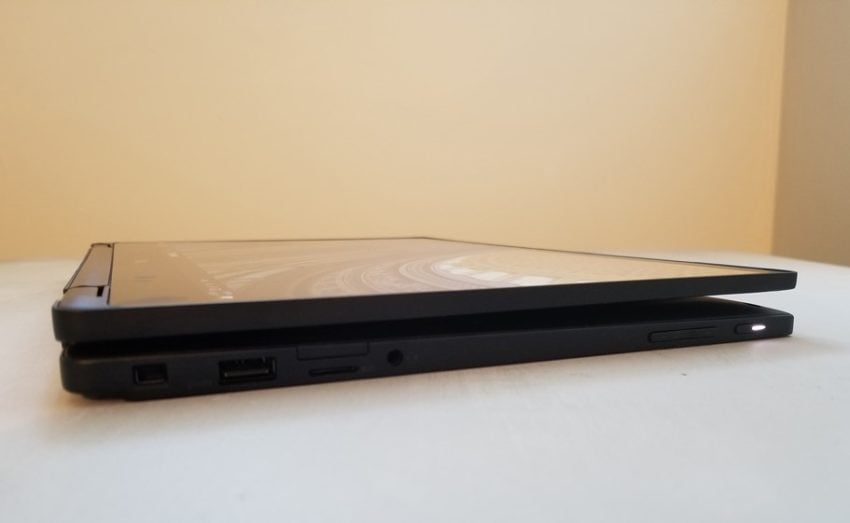 Folding the keyboard back disables your key presses. Because they don't retract into the deck, it feels like you're mashing buttons as you use the device as a tablet. Luckily, the software trick that stops these button presses from registering with Windows works flawlessly. After a few days, your mind finally learns that you're not accidentally adding text when you press a key while reading, taking notes or watching videos.
Too many Windows 10 2-in-1s have glass so thin that it flexes as you tap and swipe on it. The Corning Gorilla Glass 4 surface of the Latitude 7389 Windows 2-in-1's display doesn't flex at all.
Dell Latitude 7389 2-in-1 Specs
Processor & Graphics
7th Generation Intel Dual Core i7-7600U Processor

(7th Generation Intel Core i5-7200U, Core i5-7300U and Core i3-7100U processors optional)

Intel HD Graphics 620

Memory & Storage
Up to 16GB of LPDDR3 RAM

Up to 1TB of SSD Storage

Display
13.3-Inch 1920 x 1080P Touch Display

(Optional Small 1080p display with smaller bezels)

Works with Dell Active Pen

Ports & Extras
2 USB 3.1 Ports

2 USB Type-C Ports

Lock Slot

Memory Card Slot

Light Sensor

Gyroscope

Broadband Connectivity

802.11 AC with Wi-Gig Dock and Bluetooth Connectivity

Backlit Keyboard

Battery Life
17 Hours of Battery Life

(Around 10 Hours with Real-World Usage)

Dimensions & Weight
12-inches x 0.46-inches by 8.26-inches

3.11 Pounds
Should You Buy the Dell Latitude 7389 2-in-1?
Predictability, upgradability and durability are must-haves for any business laptop and the Dell Latitude 7389 2-in-1 delivers on all three. Its keyboard and trackpad are both fine, even if they aren't best-in-class. The processing power and optional features that you can stuff into this laptop even make up for the device's battery shortcomings, though you should definitely plan on dimming the screen by less than half if you really plan to go a long time between charges.
The Dell Latitude 7389 2-in-1 is a solid, dependable laptop that can act as, but does not fully replace, a tablet. If you need solid performance, but think your workflow might involve more touch apps or digital note taking, it's a fine choice. If you need a PC that you can mold into what you need, it's an excellent choice.
[letsreview]

This article may contain affiliate links. Click here for more details.