Dell skipping Eclair on the Streak, going straight to Froyo
So, you have a Dell Streak with a Donut on it? Yes, releasing a device in 2010 with an Android version that came out in September 2009 is unsatisfactory in my book, but it looks like Dell cares. Do they? Well, they care enough to skip Android 2.1 (Eclair) and they plan to take us to Android 2.2 (Froyo) by the end of the year.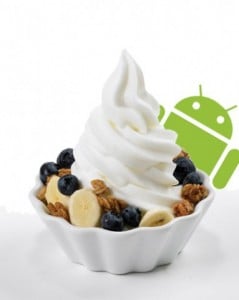 According to a post on Dell.com, they will skip 2.1 and go strait to 2.2…
Due to resources and commitments to get our global customers the 2.2/Froyo update by the end of the year, we will not be publishing another version of 2.1 nor will we be pushing out 2.1 to additional customers.

I know many of you have requested that we publish specific dates for Android OS updates; however, because there are so many variables (some outside of our control), we cannot make a specific commitment other than we will be publishing 2.2 by the end of this year to all of our Dell Streak customers. I can tell you that our target date is NOT December 31st. In fact, the over-the-air update to 2.2 is target date is much sooner than that.
Of course, you could always do it the unofficial way, which I don't personally recommend. I know some of you don't mind experimenting with cooked ROMS, but I don't and I don't advocate it at all. I am not going to deny the resources are out there though. Dell should have come big to begin with. No need to half step with the software when the hardware is so delicious.
Another tidbit for those that are wondering, an infographic put out by electronista, Android isn't as fragmented as many think.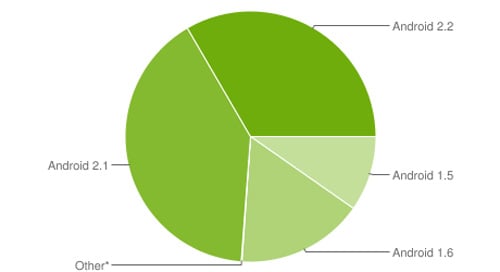 They say that over 73% of Android phones running 2.x or later.
The pie chart was based on data collected on 14 days of Android Market access, ending on October 1. Google regularly builds the charts to help developers prioritize which OS is the most common and therefore which one their apps should support.
I don't think that this data collection method is a good indicator. Think about this with me… This data was collected over 14 days of Android Market access right. I don't know about you, but after I get my phone and set it up with apps and customize it the way I like, I am done. Unless some new, groundbreaking app comes out, I am not perusing the app stores just looking for something to install. Could it at all be possible that the users still running 1.5 and 1.6 are content and aren't looking for new apps now? During that 14 day period, you have to assume that a ton of new phones were sold, most of them running 2.1 and 2.2 right? Sure, the graphic seems like Android isn't as fragmented as many think, but is it? Who knows. I just don't think a 14 day marketplace sample is a clear indicator.
Who cares anyhow? Dell is giving Streak owners 2.2 soon enough.