DirecTV Now vs Sling TV: What You Need to Know
If you recently cut the cord or want to replace cable TV you're likely looking at several internet TV streaming options. In this guide we'll go over everything you need to know about Sling TV vs DirecTV Now. And while there are other choices like YouTube TV, Sling and DirecTV Now are two popular options many are considering.
With these options, you don't need a satellite dish or cable box, and subscriptions are a thing of the past. Instead, everything streams over the web. If this sounds familiar it's because it's what you get from Playstation Vue, YouTube TV, Sling, DirecTV and more.
Read: Sling TV Review: Is $25 a Month Worth It?
DirecTV Now launched in late 2016 and is a great choice. However, both Sling and NOW increased prices in 2018. Meaning the choice is more difficult than it was a few months ago. That said, pricing isn't the only important aspect when it comes to Television. Below is everything buyers need to know.
The selling points for DirecTV Now and Sling TV are simple. For one, there are no contracts. Just pay each month if you want or need the service. For two, users get channels they actually want rather than being strong-armed into 1000+ channels they don't need. Those huge bundles are unnecessary, and we all know it. As a result, the prices are extremely low, starting at $25 a month with Sling TV and $40 a month with DirecTV Now.
Additionally, these services work across a wide array of devices, including mobile, but more on that can be found below. Make sure you pay attention to supported devices before you sign up.
What this all means is that for a low monthly price you can have between 30-160 channels you actually care about anywhere and everywhere. The living room, bedroom, office, and on mobile. Our link at the top of the page details everything Sling TV has to offer, and we recommend you start there. That all said, read on for more details about how these two TV streaming services compare.
DirecTV Now vs Sling TV: Pricing & Channels
One goal of both platforms is to offer a simple solution to our TV needs. And while they come close, it's still TV, and some of the bundles end up a little confusing. There are different tiers, add-on channels like HBO, Showtime, and others, not to mention Sports packages. You'll want to pay close attention and make sure you get what you need. Especially if you're truly cutting the cord and canceling cable.
DirecTV Now Pricing
Live a Little: 60+ channels for $40 per month
Just Right: 80+ channels for $55 per month
Go Big: 100+ channels for $65 per month (Limited Promotion for $35)
Gotta Have It: 120+ channels for $75 per month
Add-ons like HBO or Cinemax for $5 each per month (Which is less than HBO Now)
DirecTV Now allows streaming to TWO devices at a time

Above is a good look at what DirecTV Now has to offer at each respective price. Going from Live a Little to "Just Right" gets you everything the lower tier has, plus some extras. And so on.
However, it's worth noting that while DirecTV offers the NFL Sunday Ticket, DirecTV Now does not. This is a big piece of the puzzle that is missing, so keep that in mind. Sling TV offers both the NFL Network and NFL Redzone in a $5 sports add-on package. Sports fans will want to jump on Sling TV. DirecTV Now is also missing Showtime and CBS. Two big channels for millions of users. This might change in 2018. Now, here's what you'll get from Sling TV.
Sling TV Pricing
Sling Orange: 33+ channels for $25 per month (single device streaming)
Sling Blue: 40+ channels for $25 per month (up to three devices at a time, more kids channels)
Orange & Blue: All channels for $40 per month
HBO for $15 or Cinemax for $10 per month
Add-On Packs (up to 10 channels each) for $5-10 a month
Add-Ons Include: Sports, Kids, Comedy, Spanish TV, Lifestyle, Hollywood (Epix), News, Music, Chinese, World and more
Both DirecTV Now and Sling TV have their pros and cons. It all comes down to what you want or need more, or how much you can afford. The entry-level price of Sling TV simply can't be beaten. Getting 40+ channels and streaming on three devices for $25 a month is pretty good. Or, get around 33 slightly different (but better) channels for the same price as the other plan.
DirecTV Now has more channels but is $15 more each month. You'll want to see if those channels are worth paying extra for. Take note, AT&T customers can stream unlimited DirecTV Now without using their data. Streaming does not count towards your monthly mobile data cap.
DirecTV Now vs Sling TV: Compatible Devices
Like Sling TV, Now works on a wide array of existing platforms that most already have in their home or pocket. Sling TV may have an edge here, but it has been around longer and DirecTV adds more all the time.
As of right now DirecTV Now works with: Apple TV, Amazon Fire TV devices, Android phones, iPhones and iPads, Vizio and LeEco smart TVs, or PC and Mac web browsers. Only some Roku devices work, and it's a hassle to get in on some tablets like the Fire Tablet.
Of course, Sling TV also works with: Apple TV, Amazon Fire TV devices, Amazon Fire tablet, Android and iPhone (including tablets and iPad), Chromecast, Android TV devices, Xiaomi, ZTE, LeEco smart TVs, PC, Mac and Xbox One. Sling TV has the best device support on the market. You can even watch it right from a web browser, which is neat.
DirecTV Now vs Sling TV: DVR Options
Another thing millions of users will want to consider is DVR. The ability to record live TV and enjoy it later. Not to mention pause and rewind. This is a staple in the cable world, but sadly that isn't the case with internet TV streaming services.
Sling allows recording of multiple shows simultaneously up to 100 hours worth. It's free too. Sling TV also offers pause, rewind and start over on select programing. (it's no longer in beta, and works almost everywhere)
As for DirecTV Now, DVR recording is free but you only get 20 hours. And, that's only for 30 days. However, you can pay a little more (around $10) to get up to 100 hours of recorded content.
Other Details & On Demand
A few other things to consider are channels like sports, or local channels including ABC, CBS, Fox, or NBC. As we said above, Sling TV is likely the best option when it comes to sports. Not only do they have NFL Network, RedZone, Fox Sports or FS1, but entire sports packs. Including ESPN 1, 2, 3, U, SEC and Pac-12 Networks and much more. And, throughout 2018 they've added more and more. Not to mention around 400 channels in total if you add other bundles.
Of course, if any of the channels that DirecTV Now offer are showing live sports you'll be able to tune in with any of the above devices and enjoy the game. As for ABC, Fox or NBC, this depends on where you live. They'll either be available or offer select programming On-Demand. This depends on your location and if they operate in your city or use an affiliate. So those channels are a maybe.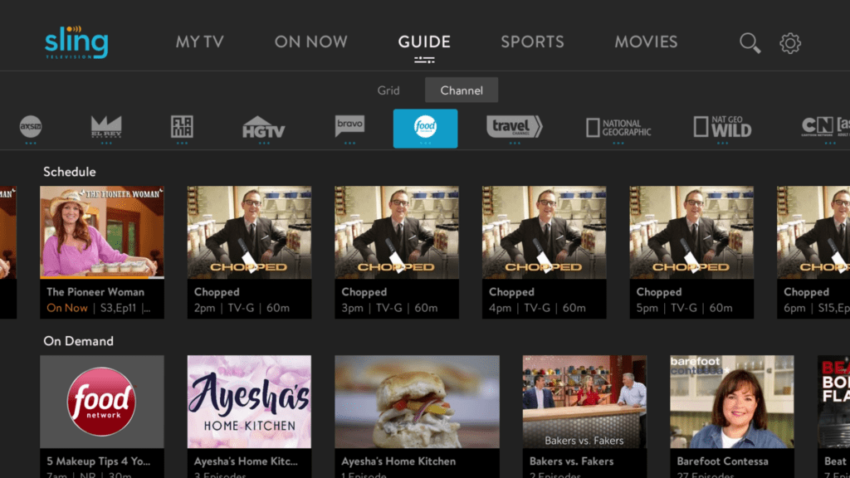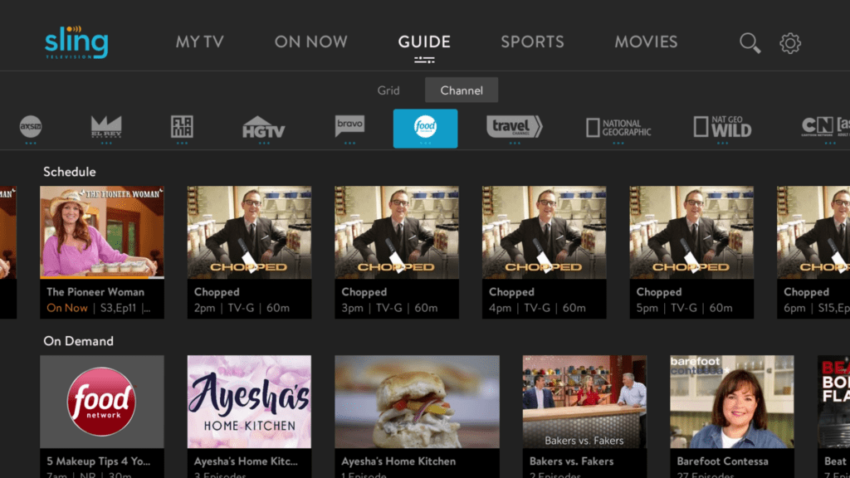 However, one big area where DirecTV potentially has a slight advantage is On-Demand titles. Where you're able to search for, find, and watch thousands of TV shows or movies. Sling has over 70,000 on-demand titles, but DirecTV offers more depending on which plan you sign up for.
All said and done both Sling TV and DirecTV Now are two excellent options for users. They both have a lot to offer for a low price. DirecTV Now has most of the Viacom channels that were recently removed from Playstation Vue. So that's another things to consider. In the end, we recommend doing your research first to see what you need and what's available, then choose whatever is right for you.