10 Best Cable TV Alternatives
If you finally made up your mind and decided to cut the cord and cancel cable, you'll need a cable TV alternative. With that in mind, this comprehensive guide explains the best options available right now and details what you need to know before you switch. Get rid of that huge monthly expense for something more manageable.
Why pay for hundreds of channels you'll never use when Sling TV, DirecTV Now, YouTube, Netflix, or Amazon Prime Video have plenty to binge-watch for a fraction of the cost? These are all cable TV alternatives, better known as "TV streaming services" with live and on-demand content.
Read: How to Watch NFL Football Games Without Cable
And while all these cable-replacements aren't cheap, they're way more affordable than traditional cable. Especially if you know exactly what channels you want or need. These days we have more ways than ever before to stream live TV. So, if you want to watch your budget or are simply trying to save money, this is a great place to start. These are my favorite and what I'd consider the best cable TV alternatives.
Before we begin, it's worth noting that each service has pros and cons, or different channels and content. Sling TV has tons of options, while something like DirecTV Now is somewhat lacking. However, AT&T customers can stream DirecTV Now to their phone for free.
So while you'll need to decide what you want to watch, if you need DVR recording capabilities or streaming for multiple users, our breakdown below will help you decide which one is right for you and your money.
Sling TV – $25 a month
First up is Sling TV. They were one of the first live TV streaming services, and are still one of the best. There are no contracts, no equipment, and no hidden fees. Sling TV starts off at just $25 a month and delivers 35+ of the most popular channels on TV. Some of these include AMC, TNT, CNN, ESPN, ESPN2, HGTV, and Disney Channel.
You can get a slightly different lineup of "a la carte TV" channels that better suits your needs for $30 a month, or, get both for $40. So if you don't want CNN and prefer Fox News or MSNBC, there's a different base package to start with. These are Sling Blue and Sling Orange.
Read: Sling TV Review: Is $25 a Month Worth It?
Then, there are $5-10 add-on packages for sports fans, movie buffs, kids channels, regional sports packs, or foreign language channels. Additionally, they offer on-demand movies or TV, and new release rentals as well. And finally, you can add 100 hours of DVR recording for only $5 more a month, stream to multiple devices at a time, and it works virtually everywhere.
Sling TV works on smartphones, tablets, the Chrome browser, Android or Apple TV, Roku devices and more. Oh, and if your spouse doesn't want to cancel cable to miss sports or football, they have ESPN, NFL Network and Redzone too. Sling TV starts at $25 a month, but can quickly increase to over $40 if you're not careful.
Learn more here, or start a free 7-day trial.
PlayStation Vue – $45 a month
If Sling TV is one of the best overall values, PlayStation Vue is equally impressive if not slightly better. And no, you don't need a PlayStation to subscribe to and enjoy PlayStation's Vue service. It started out as an exclusive, but now it works on almost every platform. PS Vue streams sports, news, movies and your favorite TV shows along with a great user interface and powerful DVR features.
PlayStation Vue lets viewers choose from one of four different packages starting at $44 a month with 45 channels. However, depending on your region that base package might be $39 a month, so keep that in mind. Then, bigger packages or add-ons are available up to over $75 a month. At that point, you're not saving much over traditional cable, but you get a comparable experience.
Each plan delivers most of the essential channels like AMC, TBS, Cartoon Network, Disney, Discovery, CNN, NBC, FX, USA and the main four broadcast networks. The Ultra channel lineup costs $79 and has almost everything you'd ever want.
PS Vue has a great user interface, and you can DVR hundreds of shows with ease. Like Sling TV it works on multiple devices, allows multi-user streams and doesn't have any contracts.
Learn more right here, or start a free 5-day trial.
YouTube TV – $40 a month
YouTube is by far the biggest video site on the internet, so it was only a matter of time before they jumped into live TV. In 2017 Google launched YouTube TV, and it might be the best option for most families. That's because you each get your own login, up to 6 accounts, unlimited live TV DVR recording, and tons of content everyone can appreciate.
The base package of $40 a month gets you 50+ channels of live TV and local sports. There's no cable box required, and you can cancel at any time. Just like Sling TV and everyone else.
With YouTube TV you get the big four broadcasters, NBC Sports, AMC, NCC, CW, Disney, TNT, USA, E, ESPN, TCM, YouTube Red original series and more. The lineup is comparable to everyone else, but they don't have too many expansion packs quite yet.
That said, the best part about YouTube TV is the unlimited DVR recording. You won't hit a 100 hour limit like Sling TV. Furthermore, you can set it to record every Golden State Warriors game, and it will, no matter which channel the game is on.
You can add-on a few things like soccer or Showtime, and YouTube TV works on pretty much everything. Android, iOS, Apple TV, Android TV, browsers and more.
Learn more here, or start a free trial.
DirecTV Now – $40 a month
While DirecTV Now is probably the least exciting option available, they made a ton of changes in 2018 and it's now extremely compelling and a great alternative. Not to mention there are a few important aspects that make it a great choice for millions of potential users. AT&T owns DirecTV. If you have an AT&T family or unlimited plan you can stream endless TV and movies for free, and DirecTV Now is only $20 a month.
For everyone else, the base package starts at $40 a month with 60+ channels. Technically, that's a little more than most, but again, look at which channels they offer. Then, you can choose from three other packages ranging between $45-75 a month. Yes, the base $40 a month gets you ABC, AMC, CMT, ESPN, CW, Disney, CNN, Fox, and tons of sports.
DirecTV has an average user interface, DVR features aren't fully available and it is DirecTV all said and done. If there's one HUGE benefit, it's that they offer the NFL Sunday Ticket.
Additionally, they have $5-8 add-ons for HBO, Showtime, Stars, etc, and allow two simultaneous streams at the same time. Meaning you can watch DirecTV Now in the living room and the kids' room at the same time. If a third account tries to watch TV too, you're out of luck.
Learn more here, or start a free trial.
Hulu with Live TV – $40 a month
Hulu is a lot more than just your favorite TV shows these days. Yes, they still have that $12 Hulu package, but if you cancel cable you'll want the "with live TV" Hulu package. You can actually watch tons of TV and movies from over 50 channels for only $40 a month. If you're looking for the most content, Hulu might be the answer. You'll get everything they've always offered and 50+ channels for one low price.
As you can see above, Hulu has a pretty great selection. You'll get a little of everything from TNT, ESPN, TBS, news, sports, movies, you name it. They have an easy to use and vibrant user interface, and one of the best "recommended" sections in this post-cable era. Meaning it recommends shows you'll like, and you'll actually enjoy what they have to offer.
Hulu charges upwards of $30 extra a month if you want DVR or multiple user streams, and there are ads everywhere. Furthermore, Hulu with Live TV isn't available on nearly as many platforms or devices as something like Sling TV. It works on Android, iOS, Apple TV, Xbox One, and maybe a few other devices. So you're limited to what, when, and how you watch your favorite shows.
Interested in Hulu, start a free trial here.
fuboTV – $39 a month
A new entry on our list is fuboTV, which slowly but surely is becoming one of the best internet TV streaming services available. They are essentially a sports-centric TV streaming service similar to Sling or YouTube TV. Offering the world's most popular live sports and entertainment on top of all the other channels and movies you love. It's the perfect streaming service for dad but has enough for the whole family at the same time.
If there's one complaint I have it's that the $39 price is for the first month, then it goes to $45 a month. That little "gotcha" reminds me of traditional cable, and I don't like it. As long as you know it'll actually cost $44.99 a month, you'll be fine.
With fuboTV, you get national and regional sports networks, 85 channels total, cloud DVR and multi-device streaming for one low fee. And while a lot of those channels are for sports or NBA TV, you still get A&E, AMC, FX, Food, TNT, TBS and much more. Again, it's a little of something for everyone in the house. For a little more money you can get add-ons and well over 110 channels.
Philo TV – $16 a month
Philo TV is a relatively new option and it's very enticing if you're not a sports fan. See, for $16 a month, you'll get 40+ channels but NO sports of any kind. None. Then, you can pay $20 a month for an even better package that'll deliver 52 channels you'll love, including MTV.
Philo TV has a good idea here. They deliver some of the best channels around and cut out any and all sports to get the lowest price available, then offer it to those who want it. The service works on phones, laptops, tablets, Fire TV, Apple TV and a few other devices. It's perfect for kids in college dorms.
Enjoy live TV, truly unlimited recording and more for under $20 a month.
Sign up and start your free trial
Standalone Packages – $8-15 a month
These days almost everyone has Netflix or Amazon Prime. If not, you should probably get one, or both. When you combine Netflix at $8 a month with Sling TV for $25 a month, you're spending WAY less than you ever did on traditional cable. These standalone packages are extremely important when you're looking to replace cable TV.
You can still watch live sports, live TV, and tons of shows from both platforms expansive catalogs.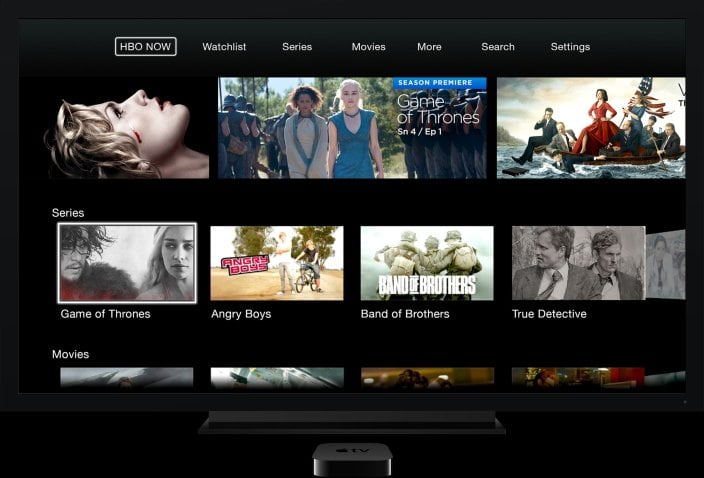 However, the standalone packages we're talking about here are HBO, Showtime, and Starz type channels. HBO Now started this trend, and everyone else followed along. You don't need to spend $200 a month on cable to get HBO and Showtime. Simply sign up for the one you want, when you want it. Then, you already have Amazon Prime, so use Amazon Prime Video too.
Personally, I sign up for HBO Now during Game of Thrones, binge-watch it (and a few other shows) like crazy, then cancel it when the season is over. You could probably watch the entire series during a free 7-day trial. Or, just borrow login information from a friend, and you're all set.
You can subscribe to each of these as a standalone service, or add them to Amazon Prime, Sling TV, Hulu, Roku and others so you don't miss any of your favorite shows.
HDTV Antenna
If you really want to cut back and save thousands of dollars, just get an HDTV Antenna. They're actually cool again, here in 2018, and readily available. An HDTV antenna will give you all the basic live over-the-air local channels in beautiful crisp HD, including some sports.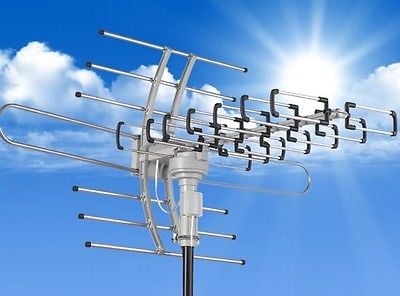 You can get a small indoor HDTV antenna and mount it behind your TV, or get a big one and throw it on your roof. Set up an Antenna and you're all set. Then, get something like the TiVo Bolt to pause and record live TV from that antenna. Or, get an analog to digital converter box and turn it into your own personal live TV DVR system.
Select services like Sling TV even have an Antenna add-on kit. Basically, Sling TV will let you tie in all the local antenna channels to the menu and combine it with what they offer in one easy to use package. It basically integrates the antenna with Sling TV.
Alternatives for Sports Fans
The reason it took me so long to replace traditional cable is that I was afraid of losing sports. I love Football and the NFL, and I'm not giving it up. If you want NFL Network, ESPN, ESPN2, FS1, BTN and multiple other sports channels, we have you covered.
Read: How to Get the NFL Sunday Ticket Without DirecTV
You can easily watch sports on Sling TV, PS Vue, or fuboTV, to name a few. You'll need to check some of these individually and make sure they have what you want. Personally, fuboTV has the most for sports fans, but Sling TV might be more well-rounded. Plus, from 2018 and beyond you can watch NFL games live with the Yahoo Sports app.
And while you can get similar channels and add-on packs from Sling TV and even YouTube TV, fuboTV is probably your best bet. Mainly because they have all the regional channels for college ball, NBA TV, ESPN, NFL Network and much more.
However, as we mentioned earlier, DirecTV Now will give you access to the NFL Sunday Ticket without cable. That by itself could be why you choose one service over the other. Just keep that in mind.
Things to Know
When it comes down to it the main goal here is saving money. You need a fast internet connection to stream live TV over the internet, so you might have to increase your internet plan with your cable provider. Then, once you add in some of the options mentioned above you might not save as much as expected.
Another thing you'll want to keep in mind is data usage. Yes, you might go over your home internet data usage limit, and yes, you probably have one. These days everyone is ditching cable, and providers are starting to put limits on how much monthly data you can use.
I have Cox Cable, and I get 1024GB (1TB) a month. I haven't gone over yet, but I've heard horror stories where some internet providers are putting a limit of 300GB on home internet plans. Then, charging an extra $30-50 a month to increase it to 500 or 750GB. Call your internet provider and check.
Final Thoughts
This is just a small sample of the nearly 200 different alternatives to cable floating around these days. You have tons of options, these are just what we consider the best ones. Our suggestions are a great place to start, but they're not the only options either.
Remember, you can get a free trial to almost everything we just mentioned and try it before making any commitments. At the same time, be smart and keep in mind that these are still cable companies. They'll offer bundles and promotions and try to get as much money from you as possible. Be smart and don't overspend on stuff you don't need.
Read: Best Budget Apps to Keep You on Track
Here's what I did to start 2018, and you can do it right now, or right in time for 2019. I canceled my $240 monthly Cox cable bill and went with a standalone internet package for $75 a month. I have Netflix, Amazon Prime, and Sling TV with one add-on package. All of that comes out to around $119 a month, and I'm saving roughly $1,500 a month and still watching everything I want.
Now that you know what to do, get started.