Domino+ Adds Some Curves to Motorola's Android Hardware Design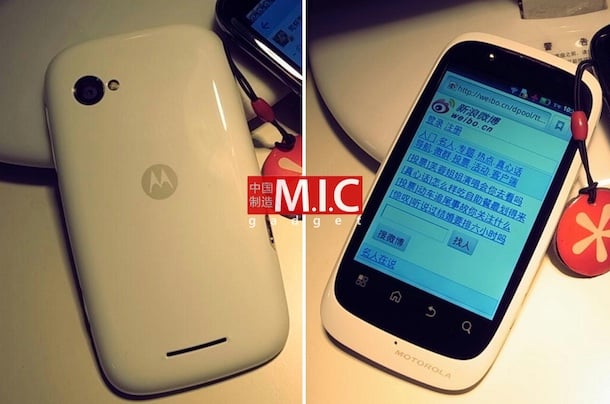 Though the Domino+ is a China release at this time, the smartphone shows that Motorola is capable of straying away from its hard-lined design approach when it comes to designing Android smartphone hardware. For a company that's been infamously linked to sharp edges, lines, and angles from the RAZR and Droid eras, the Domino+ looks to be a slim, aesthetically-pleasing, and ergonomically-friendly design with subtle curves, smooth edges, and tapered lines.
The phone won't be competing with your nearest Droid handset from Verizon Wireless as the Domino+ is geared more towards the entry-level and mid-range market. Priced at the equivalent of 340 USD unlocked and without a contract, the phone boasts an 800 MHz Qualcomm processor, a 3.5-inch HVGA display, 5-megapixel camera with LED flash, Android 2.3.4 Gingerbread, and 512 MB RAM for multi-tasking.
I love how the bottom front edge is straight and flat, but tapers to a nice curve when you look at the handset on the rear. Over dinner earlier tonight, I was talking to a friend–who happens to still sport the original Motorola Droid 1–that Motorola's recent Droid lineup has been a bit lackluster and that I was concerned that Motorola's Android ambition may go the way of the RAZR if the company doesn't offer more different designs. Part of the reasons that Motorola stumbled with the RAZR is that many in the industry thought that Motorola was recycling the same design–which while innovative at the beginning was beginning to look stale after several upgrade cycles. I think the Droid sliding design is getting a bit long in the tooth with three successive handsets all sporting the basic same design with very minimal changes.
Via: IntoMobile