BlackBerry Gets Attacked by Droids: First Impressions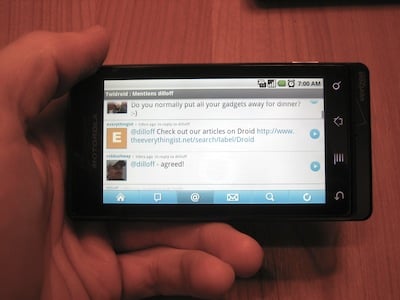 I managed to snag a Motorola Droid from my local Verizon store in Huber Heights, Ohio, after work yesterday.  To my surprise there was no line and the store was fairly empty.  A few customers were checking out the Droid, but the crowd was thin.  I asked the Verizon employee assisting me how the day had gone.  He said that the flow people interested in the Droid had been steady, but not a full-on craze like the iPhone.  That's because the Droid is a different animal than the iPhone.  While the iPhone has been developed for any consumer to pick up and operate, the Droid appeals to the power user.  Compared to the Droid, the iPhone feels more like a novice device.
This is the phone for people who like to tweak things and make them their own.  That is, the Droid is not more complicated than the iPhone to use, but it allows for greater customization.  Many first-time smartphone owners will purchase the Droid and have no problem learning its functions, but power users will love the Droid's options.  As I have read through many online reviews, I would agree that the Droid is not an iPhone killer.  It is an equally aggressive and powerful smartphone with a lot of development yet to be seen.
There is no comparison between the Droid and Verizon's previous smartphone champion, my former first generation BlackBerry Storm.  I was pleased when BlackBerry released their OS 5.0 upgrade which brought many improvements.  The Storm OS upgrade brought enough enhancements that it made my consider keeping it for a while longer.  I'm glad that I didn't.  The Droid makes the BlackBerry Storm a slow, obsolete device.  Here are a few observations after some quality, hands-on time with the Droid.

The Keyboard
I'm not the type of person that must have a physical keyboard.  The fact that the Droid features a physical keyboard is
nice, but it is not a reason I purchased the phone.  Throughout the blogosphere, there have been many reviews discussing how the keyboard is sub-par, not the best, or difficult to use.  The physical keyboard is fully functional, but it's not something on which you'll want to pound out a novel.  Like most QWERTY cell phones, the keyboard is small but fulfills its purpose.  Personally, having no previous experience with Android, I am a fan of Android's landscape software QWERTY keyboard.  I found no issues typing quickly and regularly on the software keyboard.  I prefer a touchscreen, software keyboard similar to the iPhone/iTouch, and I'll probably seldom actually slide the Droid to type things.  Android's software keyboard was fast, accurate, and features good word completion.  If you can type on the iPhone or iTouch, you will have no problem adapting to the Android software keyboard.
Speed
The Droid is crazy fast.  It honestly compares to the experience I've had with the iPhone/iTouch.  Screens transition quickly with plenty of eyecandy.  Applications load in a blink, web browsing is slick, and overall navigation is fun.  Unlike my BlackBerry Storm, there has yet to be a time where I've seen lots of lag.  There would be times on my Storm where I would select and application and visibly see a delay before the program would load.  Surfing on the Storm was painful and awkward.  In many ways, using the Storm felt like using a Windows Mobile 5 phone.  It was slow, ugly, and poorly designed.  Not so with the Droid.  Impatient folks like myself will not be disappointed with the Droid's speed.
Navigation
Navigation on the Droid rocks.  The first thing I did when I got into the car after purchasing the Droid was load up the car navigation feature.  I used the voice-enabled search feature (that actually works very well) to find my destination.  After figuring out how to navigate, I set off on my journey.  Thankfully, I had an unexpected detour on the way home as an exit ramp was closed for repairs.  As I drove past where the Droid was telling me to exit, there was no delay in its rerouting.  The Droid quickly selected an alternate, detour route for me to get back on the Interstate.  For a free feature, the navigation exceeded my expectations.
Camera Video Test
Below is a video that I uploaded directly from the Droid to YouTube.  It was taken in a fairly low-lit room.  Overall, respectable quality for a cell phone.  The Droid has been criticized for it's slow camera and inconsistent quality.  I'd imagine that future software updates will improve the speed of the camera in the same way the Black Berry Storm's camera speed increased with OS 5.0.  The camera does have the typical slow shutter that requires your intended target to remain frozen for 3 seconds after you push the button, but the quality is high for a cell phone.  I am especially pleased by the audio that is picked up.
Development and Openness
The Anroid Market, Android's version of the App Store, is actually a treat to use.  Unlike BlackBerry App world, it's fast, easy to find what you're looking for, and contains many helpful applications.  The Android Market currently features 10,000+ useful and fun applications.  As the Android revolution continues to hit the phone world, I would expect that the quality and quantity of those applications will greatly increase.
When my wife purchased her Motorola Razr from Verizon a few years back, I was disheartened by the lack of Bluetooth options.  I couldn't use Bluetooth to send ringtones or files even though other carriers permitted this option.  Verizon has historically been ultra controlling when it comes to any of their cell products, especially smartphones.  While all of my friends on various networks had Wi-Fi options, I was stuck using my carrier's 3G.  These issues are no more as the game has changed with the Droid.  As I was checking out, the Verizon employee gave me a printed document titled "IMPORTANT CUSTOMER INFORMATION FOR CUSTOMER PURCHASING THE DROID BY MOTOROLA AND THE DROID ERIS BY HTC."  He stated that the document was basically telling me that the Droid was more like a computer and it could get viruses.  After looking at it closely, I see that it states Verizon is not responsible for any mishaps that may happen because of apps that are download.  To me, Verizon is saying, "You're on your own now! Go have fun!"
The Droid will likely be the first phone I have owned that will continue to develop and mature for the duration of my contract.  Thank you, Verizon.  Thank you for finally trusting your consumers enough to manage their own devices.  And thank you, Motorola.  Thank you for reinventing yourself and delivering such a solid product.
Additional Information

Josh Smith has put together a great review roundup from various experts.  If you're looking for a quick and excellent guide to learn what industry analysts think of the Droid, check out his post at Notebooks.com

This article may contain affiliate links. Click here for more details.