Droid Incredible 2 Review (Video) – Verizon Wireless
The Droid Incredible 2 is a followup to one of the most popular Android smartphones from Verizon. Can the new Droid Incredible 2 deliver a worthy replacement to the dated Incredible and compete with 4G smartphones like the HTC ThunderBolt and Droid Charge? Read our Droid Incredible 2 Review to find out.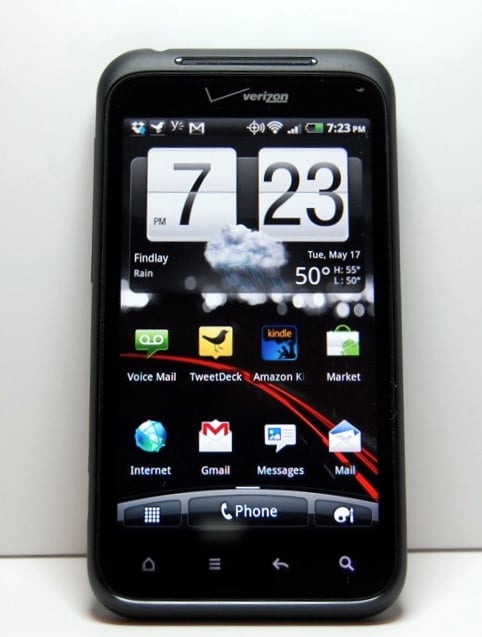 The Droid Incredible 2 is available from Verizon now for $199 and also at WireFly for $149.99
Droid Incredible 2 Hands On Video
Droid Incredible 2 Form Factor
The Droid Incredible 2 maintains the unique form factor from the original Incredible including the thin look and tapered edges that make the smartphone look and feel even thinner.
The Droid Incredible 2 upgrades to a 4″ display that is noticeably larger than on the original phone, adding some width to what is still a very pocketable phone when compared to the HTC ThunderBolt.
The Droid Incredible 2 has a plastic casing that is in a soft rubber type finish that provides a nice amount off  grip when picking up the phone without ever getting stuck in your pocket.
The Incredible 2 lacks the heft of the ThunderBolt, but still feels fairly solid in construction. A drop would likely leave a mark, and could damage the flush 4″ screen, but the internals would likely survive. Good news since we have yet to own a smartphone we haven't dropped.
Droid Incredible 2 Display
The Droid Incredible 2 has a 4″ screen with a 800 x 400 resolution which can be incredibly bright if you have battery life to burn. When compared to the HTC ThunderBolt, the DroiD incredible 2 has a noticeably brighter display and appears to be a bit sharper.
We've had the pleasure of jumping from a 3.7″ display on the original Motorola Droid to the 4.3″ HTC Thunderbolt display and back to the Droid Incredible 2's 4″ display over the past month and while the 4.3″ display is very nice, a 4″ display seems to be the sweet spot for mainstream smartphones.
Droid Incredible 2 Performance
The Droid Incredible 2 has a 1GHz Snapdragon processor and 768MB RAM that delivers a very snappy experience. Internally, the specs are quite similar to the ThunderBolt.
While we could run you a test to tell you how "fast" a phone is, we prefer to tell you about the experience. In making the phone our daily driver for a 4 day stretch, we didn't find ourselves waiting or grinding our teeth a the phone as we have on slower devices.
Switching between apps, even while listening to music in the background, is fast. Games played smoothly, including the all important Angry Birds.
Droid Incredible 2 Camera
The Droid Incredible 2 has an 8MP rear facing camera with a dual LED flash and a front facing 1.3MP camera that can be used with the built in camera app or for video chatting over a service like Fring.
The Built in Droid Incredible 2 camera app is an exact copy of the HTC ThunderBolt, which isn't a surprise given that both of the phones have that traditional HTC Sense interface. One nice touch is the ability tot tap to focus on a specific point. One downside is that you will hear the focusing, though this is should only be an issue if you are trying to shoot a silent movie.
The Camera is straightforward with digital zoom, a collection of effects to change your photo when you take it such as Distortion, Depth of Field, Vintage and others. In our use, the effects will make for fun tweaks for smartphone photographers. The camera app provides quick access to flash settings and to switch from still to video. The Droid Incredible 2 Camera settings allow you to switch to the front camera as well as set a self timer, make adjustments and more.
Overall we are pretty impressed with the camera on the Droid Incredible 2 in bright and in dark settings thanks to the dual LED Flash. It won't replace your DSLR, but you can leave your Point and Shoot at home without worrying that you'll miss a magic moment.
You can also record video with the Droid Incredible 2 in 720P which can be played back on the device or transferred to your computer to watch on a larger screen. We found the video quality to be on par with many point and shoot cameras and like that you can use the touch to focus, just like when you take pictures.
Droid Incredible 2 Speakers
The Droid Incredible 2 has a built in speaker that is situated next to the Dual LED flash and can deliver decently loud music. The music can be enhanced with SRS Sound, by tapping in the music player, which gives the music a boost.
Overall the audio quality is good and delivers a good signal to nice headphones or to your car stereo. When you have headphones or a line out connected, you can turn on an equalizer.
At full volume we could clearly hear the music across our apartment, and you could use it as your sole source for music for a dorm room if you had to, but we'd recommend a nice pair of speakers or headphones for the long haul.
One more nice touch is the ability to connect to media sources on your WiFi network. If you are sharing media on your computer or network storage to play your music on the phone. In our tests this worked great and was a nice feature given our large music collection.
Droid Incredible 2 GPS
The Droid Incredible 2's GPS is fast, blazing fast compared to the HTC ThunderBolt. Indoors we could get a full GPS lock in 15 to 30 seconds with AGPS giving an accurate reading within seconds. On the ThunderBolt we can go over a minute without getting a lock — outdoors.
Droid Incredible 2 Battery Life
This is one area where the Droid Incredible 2 really impressed. While we typically look for a smartphone to last just one day, we were able to last 2 full days during moderate use without charging! That's unheard of even with our ThunderBolt set to 30% brightness and 3G only.
We still think most users will want to charge up every night because wireless tethering and GPS can give the Droid Incredible 2's battery a run, but even power users shouldn't find themselves with a dead battery come 6 PM.
Droid Incredible 2 Software
The Droid Incredible 2 arrives with Android 2.2 and the well-known HTC Sense Interface. Sense is something that most users love or hate. While preferring the standard vanilla Android Interface, HTC Sense doesn't slow down the Incredible 2 and includes a number of widgets and Sense Apps for connecting to social networks and site's like Flickr.
The phone does come preloaded with a collection of Verizon Apps like V Cast Media, Apps, Music, Tones and Videos which most users won't need to use, but don't appear to be something you can uninstall. There are also a number of games and the BlockBuskter app baked in.
The phone includes VZ Navigator, which is a Maps replacement that costs $10 a month. In our testing, it doesn't offer enough value to warrant the monthly fee, but thankfully Google Maps is included as well.
The Droid Incredible 2 supports DLNA Streaming to connected devices with the Connected Media app. We weren't able to test this feature out, but if you have a DLNA compatible device you can use this app to send media like photos, video and music to your HDTV.
Droid Incredible 2 Keyboard
The keyboard on the Droid Incredible 2 is the standard HTC Sense keyboard that you will find on other phones like the HTC ThunderBolt. The keyboard is a bit harder to use in portrait mode on the smaller screen, but overall it is very sensitive and works well. In our opinion it is better than the standard Android 2.2 keyboard.
As for prediction, you can count on the built in prediction and autocorrect to get most of your words right even if you miss a letter while typing. Unfortunately, you won't get perfect autocorrect and there are times where you will be left asking yourself, "how the heck did the phone get that word?", but for the most part is on task.
Droid Incredible 2 Phone and Voice Quality
Another surprise was the voice quality on the Droid Incredible 2. The call quality was nothing shy of amazing her in the midwest. Obviously this will vary based on your signal and location, but when talking on the Droid Incredible 2 the audio quality was much better than the HTC ThunderBolt. The caller was clear, loud and sounded almost like we were in the same room. If you are one of those people who use a smartphone for voice calls, be sure to check the Incredible 2 out.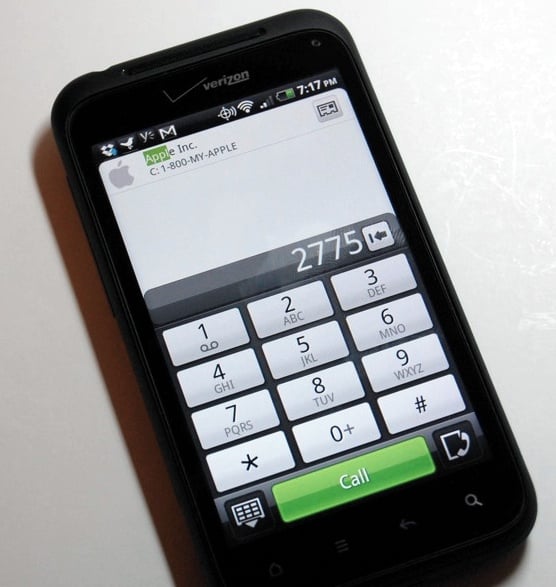 The Phone can be accessed from the middle button on the menu bar of the Incredible 2 and offers fast access to your recent calls and contacts. You can start searching for a contact to dial by dialing their number or using the keypad to type their name. This works well and allows you to find your caller pretty quickly.
If you are a globetrotter, then you'll enjoy the fact that the Droid Incredible 2 is Global Ready with support for GSM networks in more than 200 countries.
Droid Incredible 2 Tethering
The Droid Incredible 2 includes a 3G mobile hotspot app that allows you to tether up to 5 devices to the phone to share the internet connection. The hotspot app is easy to use and in our experience more reliable than the ThunderBolt's app. 3G tethering will cost an extra $20 a month on top of your smartphone plan for 2GB of data.
Droid Incredible 2 vs. HTC Thunderbolt
The Droid Incredible 2 is essentially a thinner, lighter smaller screened HTC ThunderBolt without a 4G radio.
While this may sound like a bad thing, it's actually quite nice. You can have the power of the Thunderbolt with a battery that lasts all day and you can even put the phone in your shirt pocket without looking like you have some weird growth.
The Incredible 2 is smaller than the ThunderBolt in all areas, and is worth considering if size is an important factor in your smartphone choice.
Conclusion
The Droid Incredible 2 is a very nice 3G Android smartphone on the Verizon network. While it lacks 4G, so does much of the country and many average users can go one more contract cycle without 4G before they will likely see the benefits.
If you are looking for a 3G smartphone on the Verizon network, the Droid Incredible 2 is a great phone and certainly worth considering.
Droid Incredible 2 Gallery
Droid Incredible 2 Specs
| | |
| --- | --- |
| Networks: | Network: CDMA 800/1900MHz + UMTS/HSPA 900/2100MHz + GSM/GPRS/EDGE 850/900/1800/1900MHz |
| Operating system: | Android™ 2.2 |
| Display: | 4-inch WVGA TFT |
| Camera: | 8MP with dual-Xenon flash, front facing camera |
| Memory: | 768MB RAM |
| WLAN: | 802.11b, 802.11g, 802.11n |
| Bluetooth: | Yes |
| GPS: | Built in and A GPS |
| Battery: | 1450 mAh |
| Special features: | Global capabilities, Droid branded, HTC Sense |
| Chipset: | 1GHz Qualcomm MSM8655 |
| Included Micro SD: | 16GB MicroSD card preinstalled |

As an Amazon Associate I earn from qualifying purchases.