Droid Incredible 3 Rumor Roundup: Hardware, Release Date, Software
The original HTC Droid Incredible was one of the more popular phones on Verizon's 3G network. It's successor, the Droid Incredible 2, managed to improve upon the original and in our minds, is still one of the best 3G smartphones ever to grace Verizon's network.
So, needless to say, we've been excited about the possibility of a 4G LTE enabled Droid Incredible hitting Verizon's network at some point in the future.
Well, from the looks of things, it appears that that future could be arriving sooner rather than later because Big Red is rumored to be gearing up for release of a new Droid Incredible that will indeed feature LTE data speeds.
Read: Droid Incredible 2 review.
While the device has yet to be confirmed by HTC or Verizon, we're fairly certain that we'll see it arrive in the next couple of months. And, if it's anything like the previous versions of the Droid Incredible, it should definitely be a phone worth taking a look at.
That being said, let's take a look at what we've heard thus far about a device that might be called the Droid Incredible 3 or, more likely, the Droid Incredible 4G.
Keep in mind, at this point, all of this is conjecture but we're fairly certain that most of this, at least the hardware and software, will end up becoming very official.
Hardware
Back at the beginning of February, a mysterious device from HTC leaked out on camera. The device, at the time, didn't have a name, but it did have some interesting rumored features and a design that looked a lot like a Droid Incredible.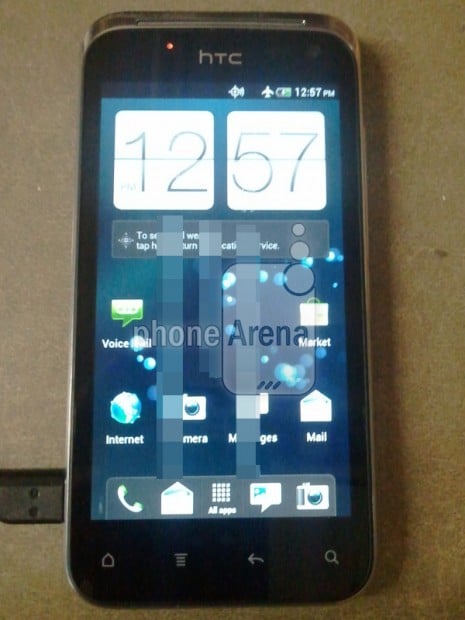 The features rumored to be on board included a 1.2GHz dual-core processor, an 8MP rear camera, a VGA front-facing camera, an AMOLED screen of unknown size, and 1GB of RAM.
One of the key things to think about here is the screen size, something that still hasn't been revealed. The Droid 4 is currently one of the only "smaller" screened 4G LTE high-end devices available. The Galaxy Nexus has a massive display, the Droid RAZRs also have large screens.
The previous Droid Incredibles sported 4-inch displays, which, in my humble opinion, is the absolute sweet spot for the display size on a phone. Not too big, not too small.
Did HTC stick to that size?
I sure hope so.
The Droid Incredible 3 or Droid Incredible 4G as it will, again, likely be called, also should have a 4G LTE radio on board, capable of pulling down data speeds that are 10 times faster than those found on normal 3G.
You can check out those speeds in action below on the Motorola Droid Bionic.
Certainly a huge improvement over the Droid Incredible 2 which was a 3G device launched alongside 4G LTE phones.
No word yet on the size of the battery but we know that HTC has said that it will be improving battery life on its 4G LTE smartphones set to launch in 2012 and we assume that the Droid Incredible 4G falls into those plans.
Software
While the Droid Incredible 2 is currently stuck on Android 2.3 Gingerbread, although HTC has said it will get upgraded, the HTC Droid Incredible 3/4G will very likely come equipped with Google's latest and greatest operating system Android 4.0 Ice Cream Sandwich.
Android 4.0 is a vast improvement over Android 2.3 and it will only serve to make the new Droid Incredible a better device.
We also hope, it has even been rumored yet, that the Droid Incredible 3/4G will be coming with HTC Sense 4.0 over the top of Android 4.0.
It won't be a vanilla version of Android so we can only hope that HTC blesses it with the latest version of its UI which the company says is its best one yet. You can see HTC Sense 4.0 in action on the upcoming HTC One X for AT&T below.
Oddly enough, we believe HTC as our experience with Sense 4.0 was a good one.
Release Date
Back when the device first leaked out, we thought there might be a chance that it would launch at the Mobile World Congress. That, of course, didn't pan out. Fortunately though, we do have an idea about when to expect the device to arrive.

According to a leaked document, the Droid Incredible 3/4G is expected to arrive on April 26, a date that we are, for the moment, inclined to believe.
Why?
Simple.
The device, or a device very similar to it, just passed through the FCC on its way to Verizon's 4G LTE network. That's generally one of the last hurdles that a smartphone needs to leap over before it makes its way to the hands of consumers so as of right now, an April launch is looking good.
Pricing
While we've heard about a specific release date, we haven't yet heard anything about the device's pricing. However, we can speculate about how much Verizon plans to ask for the device.
Last year, Big Red was asking for a $299 on-contract premium for its 4G LTE smartphones. However, that is over now. Partly because the masses didn't want to pay those prices and partly because the competition is making moves.
AT&T already has a network in place and Sprint will be launching its own network by mid-2012, maybe as soon as April.
So, Verizon can no longer afford to charge exorbitant amounts for its LTE smartphones. Just look at the Motorola Droid 4, a premium device that launched with a $199 on-contract price.
With that in mind, we expect the Droid Incredible 3/4G to launch for no more than $199 and no less than $150.
And maybe, just maybe, we'll see it priced lower in an effort to better compete with the upcoming Samsung Galaxy S III which figures to be the hottest phone of the summer.
We should know for sure in the weeks ahead when Verizon finally comes around to making an official announcement regarding the Droid Incredible 3, or Droid Incredible 4G.

As an Amazon Associate I earn from qualifying purchases.