Droid RAZR vs. Galaxy Nexus: Features, Release Date, Carriers
In just a couple of days, many of you have a big decision to make. Do you pick up Verizon's latest Motorola 4G LTE smartphone, the Droid RAZR, or do you wait for the Samsung Galaxy Nexus to arrive? It's not an easy choice in the slightest (and if you throw the HTC Rezound in, it makes it that much more complicated) so we wanted to try and help push you in one direction or the other.
Keep this in mind though. Don't base your decision solely based on what you read. Before you pick up a new smartphone, always (I'm serious) go and get some hands-on time with the device.
It makes a world of a difference.
That being said, let's dive into some of the similarities and differences between two of the most exciting phones of the year, the Motorola Droid RAZR and the Samsung Galaxy Nexus.
Carriers
You might have thought that both of these phones would only be available on Verizon. Well, that's certainly a possibility but from the looks of things, they both will likely be headed to other carriers in the future.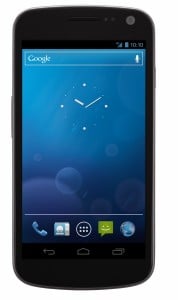 The Droid RAZR actually might be headed to AT&T within the next couple of months (or weeks) as a device that matches up with it has passed through the FCC with bands for AT&T's network. No LTE radio on board though which means that the Verizon version is going to be vastly superior.
Still, if you're grandfathered into an AT&T data plan and want to keep unlimited data and pair it with the Droid RAZR, it might be worth waiting for Ma Bell to make an announcement.
As for the Galaxy Nexus, things are a little more, well, complicated.
There has been talk of launches on AT&T and Sprint after Verizon's initial period of exclusivity but as of right now, nothing is set in stone. We do know this though.
Verizon had put up the words 'exclusive' over a banner of the Galaxy Nexus on its website only to take it down shortly afterwards. We know that it's not exclusive to Verizon because it's launching elsewhere in the world so maybe the move had something to do with that. Or maybe it had to do with the fact that it's coming to other carriers in the future.
We won't know for sure until another carrier announces plans to carry it.
And it could be awhile before one does so.
Hardware
Features
Motorola Droid RAZR
Samsung Galaxy Nexus
Weight and Dimensions

Depth: 0.28 inches (7.1 mm)
Weight: 4.48 ounces (127 grams)

Depth: 0.35 inches (9mm)
Weight: 4.76 ounches (135 grams)

Camera
8 megapixels

1.3MP front-facing camera

5 megapixels

1.3MP front-facing camera

Video Recording
HD video recording
HD video recording
Display
Super AMOLED Display


Advanced qHD resolution (540×960)
4.3-inches

Super AMOLED Plus HD Display

1280 x 720
4.65-inches
Curved Glass

Cellular and Wireless
Other Key Features

Super Thin Design
16GB of storage
1GB of RAM
1.2GHz Dual-Core TI OMAP 4430 processor

32GB of storage
NFC
1GB of RAM
TI OMAP 4460 dual-core Cortex A9 processor clocked at 1.2GHz
So, the main differences here are the fact that the Galaxy Nexus has the newer OMAP 4460 processor from Texas Instruments. It also has a larger display with better resolution.
The Droid RAZR though is thinner and lighter than the Galaxy Nexus.
Pricing
The Motorola Droid RAZR is already up for pre-order which means that it has an official price tag attached to it already. For those of you looking to get it on-contract with Verizon, it's going to cost you $300. For those of you that wish to get it without signing your name over, it's going to be a little more expensive. $350 more expensive.
Yes, the off-contract Droid RAZR is $650. That's probably a little too expensive for most.
Don't expect the Galaxy Nexus to be any cheaper though.
And while Verizon has announced the Galaxy Nexus, the carrier hasn't offered up any sort of pricing as of yet. We fully expect it to cost the same $300 on-contract as the Droid RAZR and the Droid Bionic before it and we expect that the $650 price tag might also be applied to the Galaxy Nexus off-contract.
That's guesswork but it's not a stretch.
Release Date
Motorola's Droid RAZR has been up for pre-sale since October 27th and while Verizon hasn't explicitly said when it will come out, it has confirmed that it will be out no later than November 10th.
November 10th is actually the projected release date for the device so don't be surprised to see Big Red launch this phone, officially, on Thursday of next week.
The Galaxy Nexus' release date is currently unknown. Verizon said that it would be launching later this year and we've heard a few rumored launch dates but nothing has been set in stone yet.
For awhile, the front-runner was November 10th, then eyes turned to November 17th – the day that the phone will arrive in Europe, and now, a report has claimed that the U.S. won't see the device until after the European launch.
So, it's possible that we won't see the Galaxy Nexus hit Verizon until later on this month but rest assured, it's coming.
Software
Last but not least, the Galaxy Nexus and the Droid RAZR will be coming with two different versions of Android. While Samsung's device will be the first smartphone with Google's Android 4.0 Ice Cream Sandwich on board, Motorola's Droid RAZR will have Android 2.3.5 Gingerbread out of the box.
And that's not the only disadvantage that the Droid RAZR has in this department.
The Galaxy Nexus is a Nexus device which means that it will likely be the first device to get any old update.  Droid RAZR owners will have to wait for Motorola and Verizon and sometimes, that's an unpleasant experience.
Moto and Big Red have promised future Droid RAZR owners an upgrade to Android 4.0 at some point in early 2012.
If  you're unfamiliar with the benefits of Android 4.0, have a look at our in-depth preview right here.
You might just see why having it out of the box would be satisfying.

As an Amazon Associate I earn from qualifying purchases.