DROID Turbo 2 Release: Everything We Know So Far
Tomorrow Verizon and Motorola will be announcing two rather impressive smartphones they hope will take on the iPhone 6s, Galaxy Note 5, LG V10, and Google's new devices. Those are the new Verizon DROID Turbo 2, and the return of the battery life king with a new Motorola DROID MAXX 2. Below is everything we know so far as the launch date nears.
Last year following the Moto X 2nd Gen and a few other smartphones, Verizon and Motorola surprised everyone in late October with the DROID Turbo. A powerful 5.2-inch phone with a Quad-HD display and one of the biggest batteries in any Verizon smartphone to date. It lasted for over two days on a single charge, and now two new replacements are set to be unveiled tomorrow, but we know plenty already.
Read: DROID Turbo 2 Teased Ahead of Release
The first DROID Turbo 2 rumors started swirling in August, but last week, and the week before, we learned everything about this phone. From customization on MotoMaker.com like the Moto X, a shatterproof display, and tons of other details that should have these phones on all buyers radar this holiday season. Below is a collection of leaked information, a teaser from Verizon, and more details for those considering one of these two powerful new phones.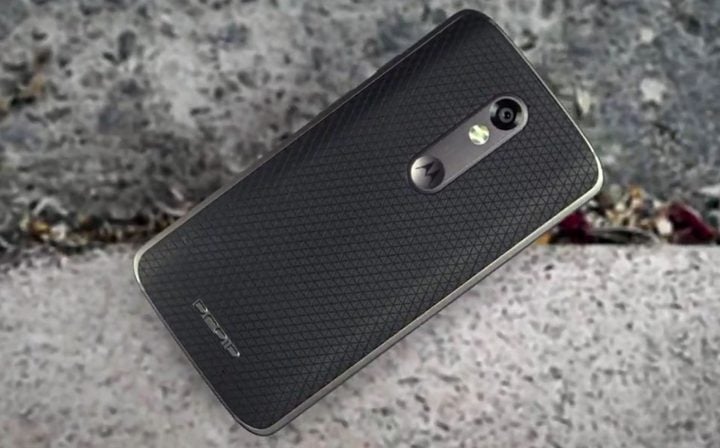 Most of the details we've heard thus far have been about the main phone, the DROID Turbo 2, but we also will be going over a few small details regarding the DROID MAXX 2 as well, with what's currently available. Both phones were recently leaked as well, over on Twitter.
Some of the key highlights of the new DROID Turbo 2 and MAXX 2 aside from having great specs and big batteries inside, is the fact that the Turbo 2 will have a "shatterproof" display. Verizon and Motorola are so confident, they're giving owners a 4-year warranty that the screen won't crack or shatter. At least according to a few sources.
There's about to be one less thing to worry about on a night out.https://t.co/VY7bQM1uUk

— Verizon (@verizon) October 26, 2015
Above is a quick teaser released today by Verizon, claiming there is one less thing to worry about during a night out. Without saying it, they're teasing the new shatterproof display on the DROID Turbo 2. This phone will "shatter your expectations" is a hint at it, too. That said, here's what we can expect from these new phones.
DROID Turbo 2
The Verizon DROID Turbo 2 by Motorola will be very similar to last years, but with some of the new treats introduced with this years Moto X, along with some other neat features. This year Verizon and Motorola want to offer a truly unbreakable and "shatterproof" smartphone. This will be one of a few key selling points.
It will handle wear and tear unlike most smartphones, pack a powerful punch, and have a battery big enough to last nearly two days, as we've come to expect from the DROID lineup. Here's the latest information, for those interested.
DROID Turbo 2 Specs (Rumored)
5.43-inch 2560 x 1440 Quad-HD "Shatter-proof display" (last year was 5.2″)
8-core Snapdragon 810 Processor with 3GB of RAM (Faster than the Moto X)
32 and 64GB storage options, micro-SD slot unknown
Android 5.1 Lollipop, but could debut with Android 6.0 Marshmallow
21 Megapixel rear and 5 megapixel front camera
3,760 mAh Battery with Turbo & Fast Wireless Charging
Re-enforced metal frame around the display
Plastic-OLED display tech so display can't break if dropped
more
As you can see above, this year the screen will be bigger, it will have tons of storage, have a powerful 8-core processor with 3GB of RAM, and could debut with Android 6.0 Marshmallow, but most likely we're looking at Android 5.1.1 Lollipop with a quick update to Marshmallow. Android 6.0 was released on October 5th, so it's possible these will have it, but we're not counting on it.
Using a technology similar to the LG G Flex, the DROID Turbo 2 will reportedly have a P-OLED display, and the P stands for plastic. This is a new very durable, flexible, and scratch-resistant plastic that will cover the 5.43-inch Quad-HD panel. So it will look good, and never scratch. Or shouldn't, technically.
This phone will be fast, look good, and even be customizable on Motorola.com similar to the Moto X.
Design Refresh
After seeing countless leaks confirming this, we're hearing that the Moto DROID Turbo 2 and MAXX 2 will be customizable on Motorola.com just like the Moto X. Options will include plastic, leather, wood backs, and even ballistic nylon like the phone came with last year.
Buyers will be able to choose storage amount, colors, accent colors, the back and more. Then, during MotoMaker customization will be an option to purchase what's called a "design refresh". This will cost money, from what we're hearing, but will allow owners to redesign the phone and get another one, brand new, one time during the 2-year contract of the phone. So if you don't like the custom colors or nylon back, swap it out for another and try something different. That's unique, and unheard of.
We're not sure if these same options and customizable choices will be on the MAXX 2, but we're hearing it will have some level of customization. Most likely just replacement backs, but we'll have to wait until tomorrow to know for sure.
Release Date
Last year the DROID Turbo was released in late October and was very late to the game, and took over six months to receive an update to Android 5.0 Lollipop, which was already out when it was released. Hopefully these phones launch with Android 6.0, or get it extremely quick. That said, here's what we've heard regarding a release date.
A source from Phandroid claimed that the DROID Turbo 2 would be released in October 29th, but they had it being announced on the 15th. Obviously it's coming later than expected, but the 29th could still be the target release date. If not, the new phones will most likely be available for pre-order starting tomorrow, October 27th, moments after being announced live on stage.
The original Turbo debuted on the 30th of October, so we could see a similar release this year. Of course release dates are subject to change, and with such a late announcement, it might not be available for purchase, or start shipping, until sometime in November. We'll know come tomorrow when Verizon and Motorola announce both new phones.
If all of this ends up being true the new Moto DROID Turbo 2 could be a slightly smaller, more durable, and more powerful version of the Moto X. With more customization, a huge battery that lasts for days, and on one of the nations biggest wireless networks.
Again, the DROID Turbo 2 and MAXX 2 will be announced tomorrow, October 27th, so we'll have all the details soon enough.

As an Amazon Associate I earn from qualifying purchases.