eLocity Brings Dual-Core Tegra 2 Experience to U.S. Today
For those who are holding out on purchasing an Android tablet for dual-core processing power, eLocity has announced that its A7 Android tablet with a 7-inch WVGA tablet is now shipping with Android 2.2 Froyo, not the latest Android 2.3 Gingerbread, along with NVIDIA's Tegra 2 processor which delivers gigahertz dual-core performance and NVIDIA's ULP GeForce graphics performance. The power-packed tablet is now available through Amazon.com, and the company's press release says that it is also available through https://Sears.com, https://Newegg.com, https://Walmart.com, https://BJs.com, https://TigerDirect.com, https://Amazon.com and https://MicroCenter.com.
Though the eLocity A7 will deliver an Android 2.2 experience, complete with Adobe Flash 10.1 Mobile support, it looks like the Android Market and Google Experience is being left off. For its part, the company is recommending that you use GetJar as your app store to download apps, rather than the official Android Market. The Gmail app is also being left off, though the device ships with its set of pre-loaded apps and widgets.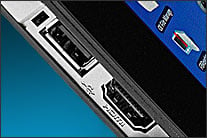 Hardware-wise, the device does have a USB host port, an HDMI out port, micro SD card slot, 3.5 mm headphone jack, DC connector for charging, and a port for a dock connector. Looks like you won't be able to charge and sync via a standard micro USB cable. If you max out the device, you'll be able to get quite a bit of storage via the USB host port and micro SDHC card slot. The eLocity A7 tablet can handle up to 64 GB via a USB memory drive and another 32 GB through a micro SDHC memory card, giving you a total of 96 GB of storage with USB dongle in tow.
The multitouch display does support multitouch with 2-finger input for pinch and zoom gestures. There's also a light sensor and three-axis accelerometer.
The unit measures just over 1 pounds and features a front-facing camera, WiFi, Bluetooth, and a number of sensors. For the $400 price tag, you'll forego an integrated mobile broadband modem or phone radio and will rely on WiFi for Internet connectivity. For the full specs, you can visit eLocity.

This article may contain affiliate links. Click here for more details.