Google Assistant: Everything That's New from CES 2020
Here's everything that's new from the Google Assistant in 2020. Each year Google's home products get better, smarter and more helpful, and at CES 2020 Google announced a slew of software changes and AI smarts to improve your house and daily life.
Unlike last year, Google didn't build an entire amusement park and roller coaster at CES, but they do have a big presence and took a moment to announce all types of helpful changes to a wide array of Google Assistant-enabled products.
Here's everything that's new and what to expect from your smart home devices in 2020 and beyond.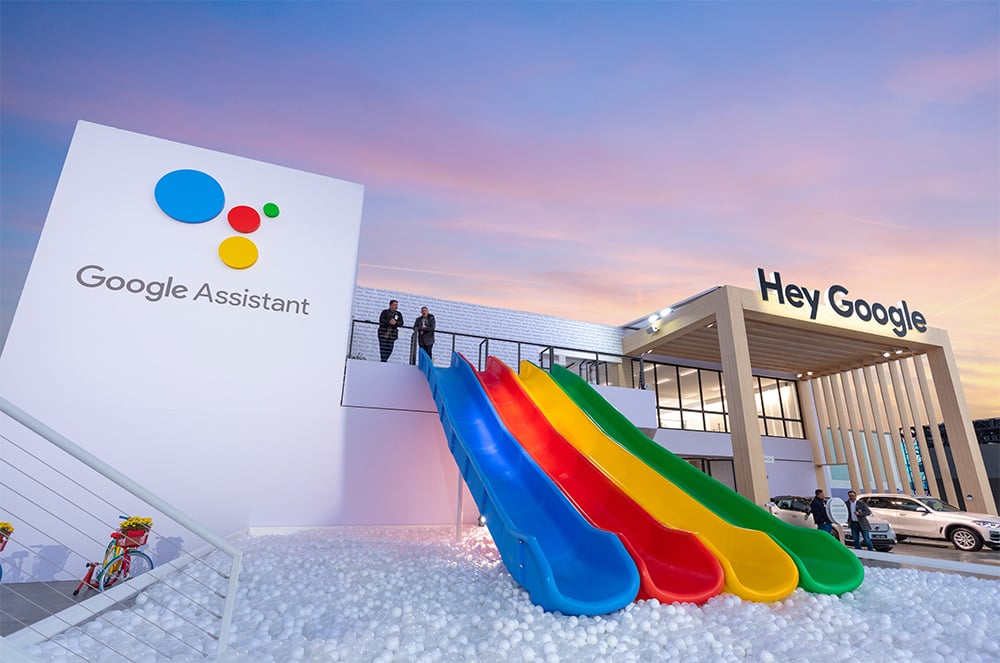 The Assistant had a lot to say and show us this year, more than just answering questions or making phone calls for you. Google is working hard to make the setup process easier, help entire households communicate, or even let you listen to the Google Assistant read an entire webpage back to you. It's all pretty neat although Google didn't say exactly when we'll get all these goodies.
Easier & Faster Smart Device Setup: When setting up a smart device from a manufacturer other than Google (like Lenovo or JBL) you'll see a notification or suggestion to "finish setup within the Google Home app" to make things easier. This skips much of the setup, account credentials and more.
Hey, Forget What I Just Said: Privacy remains a big priority, and this year Google is making it easier for users to delete the entire Assistant history, recent communications, or even your last question. Just say "Hey Google, delete everything I said to you this month." Or, when you're talking and your smart speaker wakes up when you didn't want it to, you can say "Hey Google that wasn't for you," which makes Google delete the last thing you said, and stop listening to the conversation.
Webpage Reading Out Loud: This next one is awesome. Google will soon let the Google Assistant read an entire article or webpage out loud, for you, and to you. Just say, "Hey Google, read this page" and it'll start reading any webpage in over 40 different languages, auto-scroll, and even highlight the current place on the page. I can't wait for this feature!
Sticky Notes: Later this year you'll be able to leave yourself little sticky notes, instead of asking Google to remind you about something. Tell your smart display "Hey Google, leave a note that says I left to get the kids" etc, and it'll show a digital note on the screen for you or other family members to see. Perfect for leaving yourself a note, or to simply say "I Love You" to a significant other.
Scheduled Actions: Life continues to get easier with Scheduled Actions. You can ask the Assistant to turn on the TV at 5:30 PM when you get home or set the coffee machine to brew a cup at 6AM when you wake up.
More Appliances & Products: In 2020 Google will keep pushing the Assistant into more devices. This morning the company confirmed over 20 new devices will join the Assistant and Google Home club this year. Everything from coffee machines, washers, dryers, more refrigerators, and even your bathtub — seriously.
Better Interpreter Mode: Last year Google added Interpreter mode, but they're making it better and more helpful in 2020. Your smart display can translate a conversation between two people each speaking a different language. Now, more businesses and brands jumped on board. Including American Airlines, HSBC banks, Vegas hotels, and many others around the US.
Speed Dial: Later this year you'll be able to use your smart display to quickly and easily call numbers you frequent thanks to Speed Dial. You can use your voice or even a button on the screen to instantly call a friend, family member, or husband/wife.
Far-field Android TV Support: Your smart TV from TCL, Hisense and others will get a little better later this year thanks to far-field mic support. Basically, you'll be able to talk to your TV like you do a smart speaker, even from far away, and it'll actually work. This is a buggy area on TV's and Google is about to make it far better.
Assistant coming to Samsung TVs: And finally, the other big announcement is that the Google Assistant is coming to Samsung's new voice-enabled Smart TVs in 2020.
Unfortunately, almost everything announced at CES 2020 in January is coming "later this year" and that's about all we know. Last year, some of these features arrived in March during the yearly Google I/O developer event, while others didn't show up until the fall with the release of Android 10.
Basically, get excited about more Google Assistant features, but don't expect them to hit your device for a little while. We'll update this article once we know more.